AV receivers are an essential component of any home theater or media center, serving as a connection hub with gaming consoles, TVs, players, set-top boxes, and streaming media players. With a budget of up to $1000, you can get an excellent unit that meets most of your requirements. However, it's essential to research and read expert opinions and reviews to ensure you're getting a reliable and high-quality product that will provide you with years of enjoyment. For your convenience, I systematized information on the subject to let you choose which model will be the best AV receiver under $1000 for your exact case.
Our pick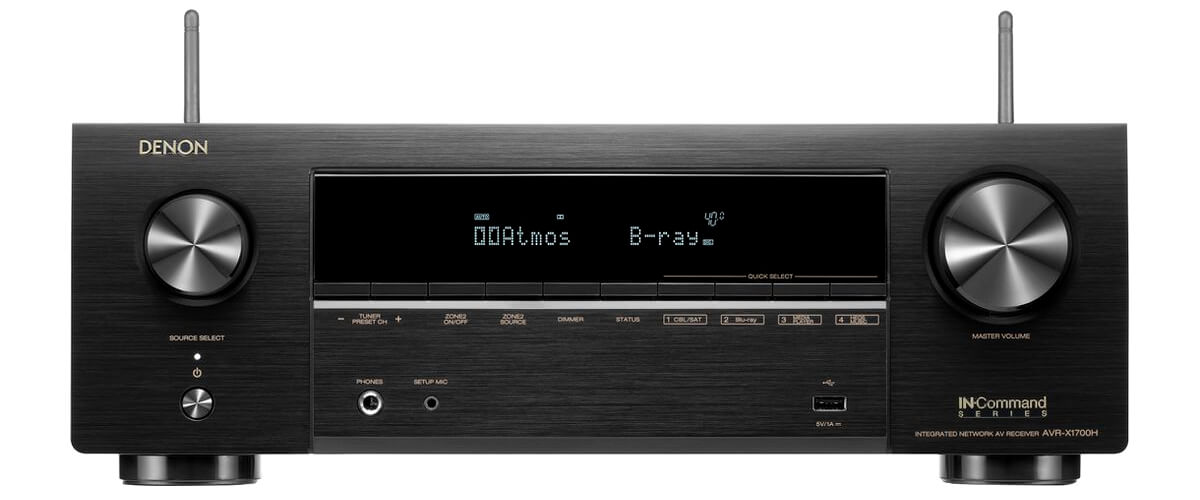 Denon AVR-X1700H
Best AV receiver under $1000
The Denon AVR-X1700H is a powerful receiver designed for 4K or 8K setups that delivers an immersive experience. With support for the latest HDMI specifications, it enables seamless connectivity and crystal-clear audio.
Read the full review
.
AV receiver under $1000 comparison table
Name
Channels
Power output
HDMI inputs/outputs
Bluetooth/Wi-Fi
Review
Denon AVR-X1700H

best overall

7.2
80W/8 Ohm, 120W/6 Ohm
6/1
yes/yes
Review
Yamaha RX-A2A
7.2
100W/8 Ohm
7/1
yes/yes
Review
Marantz NR1510
5.2
50W/8 Ohm, 60W/6 Ohm
6/1
yes/yes
Review
Denon AVR-S660H
5.2
75W/8 Ohm, 100W/6 Ohm
6/1
yes/yes
Review
What offers a home theater receiver under $1000?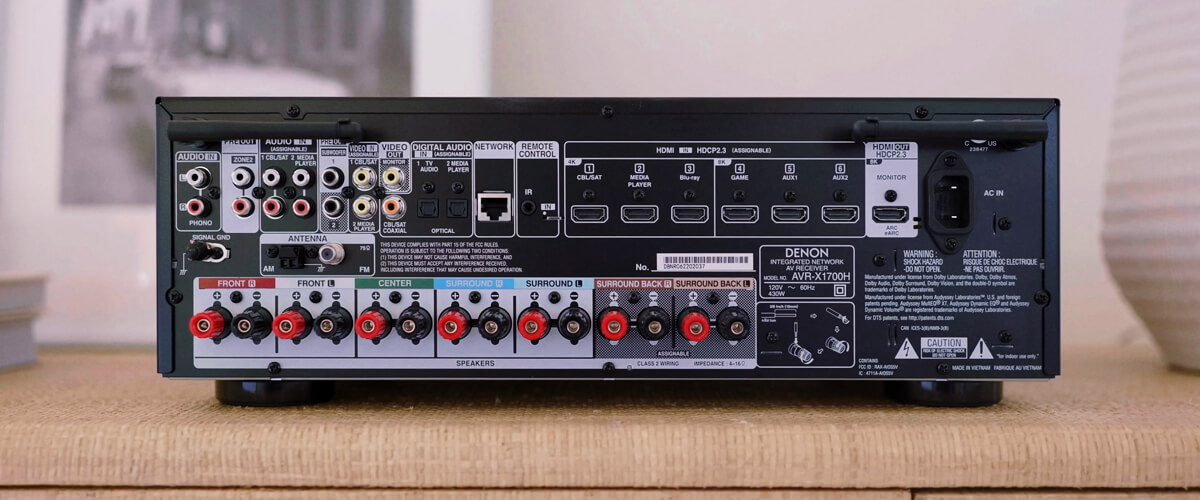 8K video HDMI inputs
With the evolution of 8K displays, it's essential to have a receiver that can handle this resolution. Therefore, most models in this budget come equipped with 8K video HDMI inputs that allow for smooth transmission of such content. This feature ensures you can enjoy your favorite movies and TV shows with the highest level of clarity.
Latest HDR formats
HDR (High Dynamic Range) is another important feature to search for in the best home theater receiver under $1000. Models in this budget range typically support the latest HDR formats, including HDR10/10+, HLG, Dolby Vision, and Dynamic HDR. These formats provide a wider range of colors and better contrast, producing more realistic and vibrant images.
Surround sound
Surround sound is a crucial feature in a home theater setup, and most models in this price range support the latest surround sound technologies, such as Dolby Atmos, DTS:X, and Auro 3D. These technologies provide 3D audio, creating a more immersive and realistic sound experience, and can be found in the best AV receivers under $1000.
Wireless streaming
Wireless streaming is a feature that is now considered a must-have in AV receivers. Most models in this budget range come equipped with Wi-Fi and Bluetooth capabilities, enabling you to stream your favorite music and movies from your mobile devices or services like Spotify or Netflix. This feature provides a convenient and hassle-free way of enjoying your media without extra cables or devices.
Best AV receiver under $1000 reviews
There is hardly a company that can make a real revolution in the receiver market. Yet, this doesn't stop Denon from trying. Judging by the AVR-X1700H specifications, I can already state that while it may not be the revolution, it is an interesting product. Especially compared to the competitors sharing the same price range, such as the NR1510 from Marantz and RX-V4A from Yamaha. Well, let's take a closer look at what it is.
Build and design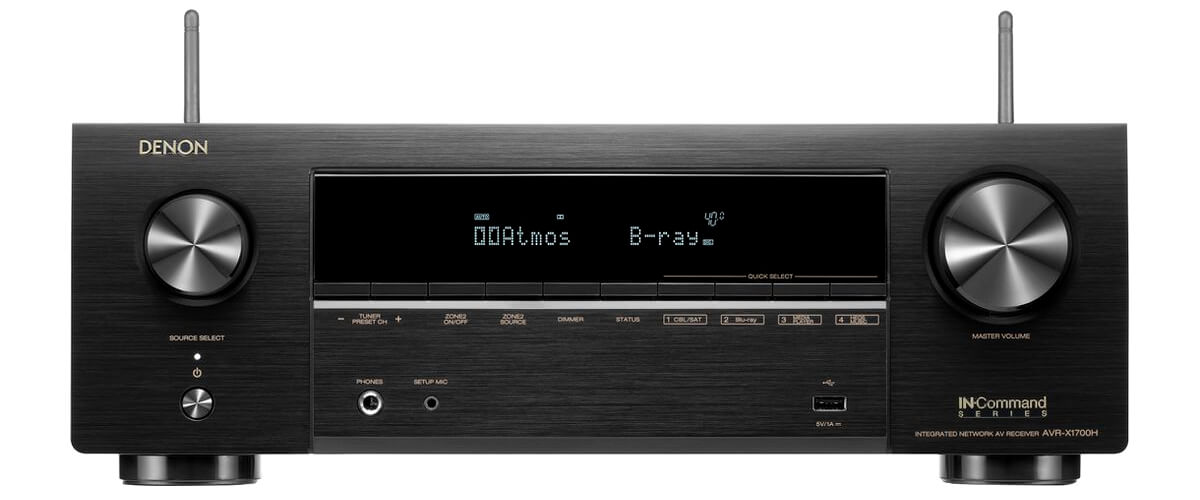 Starting the Denon AVR-X1700H review with design may not be the best way to promote this model. While Marantz comes with a slim NR1510, Yamaha tried to add new features to standard receiver looks with their RX-V4A. The AVR-X1700H resembles a classic black box with a screen onboard. It comes in a standard for this price range size of 17.1×13.3×6 inches and weighs less than the more expensive model, the AVR-X2700H.
The unit is far from impressive in terms of design–a standard but convenient-to-use receiver with buttons located just exactly where you would expect them to be. However, I can't deny Denon their passion for quality. It only takes one to open the cardboard box to get a feeling of holding a quality product. By the way, the AVR-X1700H and the more expensive model X2700H have the same chassis, which adds another plus for my "hero" in terms of quality.
Ports and connectivity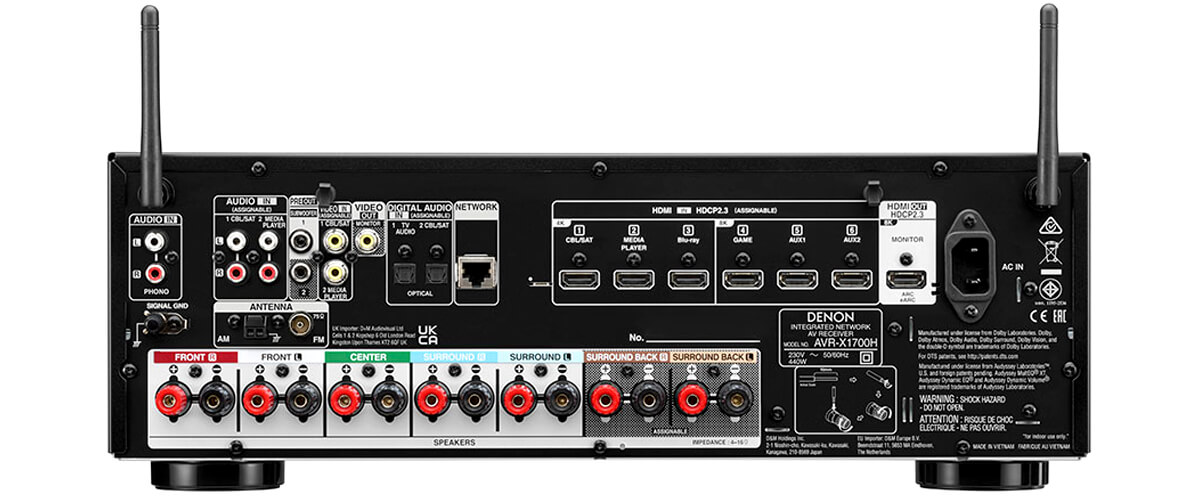 Being the 7.2ch AV receiver, the AVR-X1700H surpasses its 5.2 channel peers from Yamaha and Marantz. And this is while they come in the same price range. So, Denon offers 6 HDMI inputs with HDCP 2.3 support. Only 3 of the ports can work with 8K 60Hz content. It is typical for entry-level units. Like the competitors, the AVR-X1700H comes with a single HDMI output. Other ports include single composite output and 2 inputs, 7 speaker connectors, 2 subwoofer terminals, and Bi-amping. Regarding radio connections, it has an FM antenna and offers b/g/n Wi-Fi and Bluetooth support.
The support of Zone 2 allows for building a multi-room audio setup. Even though it only allows you to use two separate rooms, the difference is significant, as we should not forget that Yamaha and Marantz in this price range can only offer HEOS or Bluetooth, which is essentially not a true multi-room.
Features
The AVR-X1700H looks mightier than its counterparts in terms of power – with 8-Ohm speakers, and one can squeeze stable 80W from it, 20hz-20Khz range, and a THD of 0.08%. This is more than enough power to build a surround sound setup in a small to medium room.
The unit only lacks the DTS Neo:X while offering all the other DTS:X technology tree solutions. The same can be said about the support of Dolby technologies. Sadly, I didn't find Dolby ProLogic II here. The AVR-X1700H has the same upscaling capabilities as its peers, and they all offer HDR10+. As you can see, the Denon AVR-X1700H features are quite extensive and impressive.
Listening impression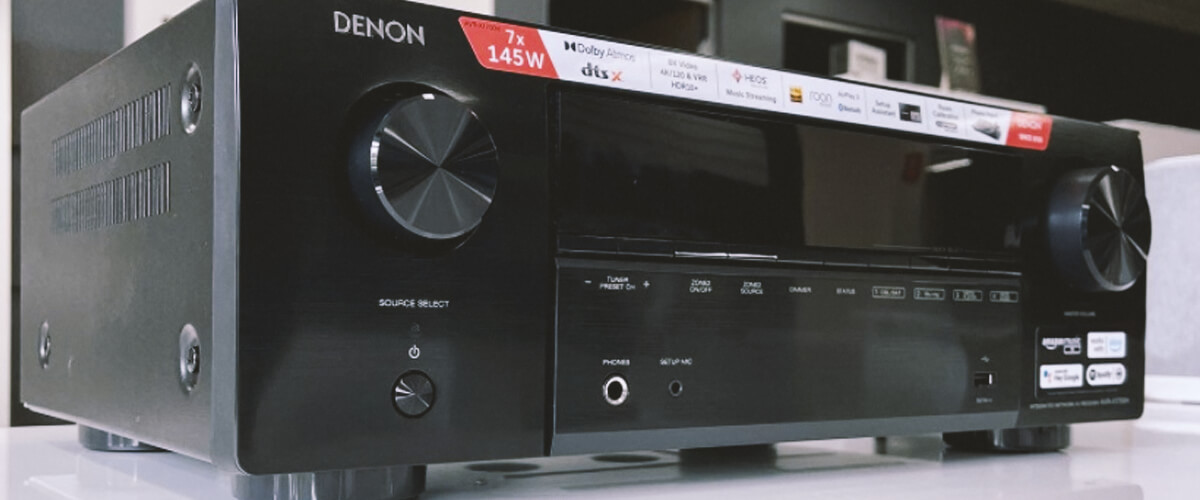 I decided to start testing this unit with music. True, it is not why one buys an AV receiver, but we all love listening to quality music. Regardless of the genre, it showed itself very well. It was stable during high peaks, juicy with lows, and offered a detailed sound, giving the ability to pick single instruments from the symphony. Well done, Denon. I barely heard the difference from the AVR-X2700H. Maybe these have more in common than just the chassis.
Switching to the movies, I used it in a medium room and tested the Audyssey MultEQ XT. It measured my room and automatically tuned the receiver. With the automatic setup, it performs just as you would expect - hitting with its theatrical sound. A single subwoofer offered clear bass sections. Then I tried to tune it myself to match my taste, but even without this adjustment, the sound was pure and energetic. No complaints and only positive impressions!
Key specs
Channels: 7.2.
Power output: 80W/8 Ohm, 120W/6 Ohm.
HDMI inputs/outputs: 6/1.
Video functions: 8K/60Hz, 4K/120Hz, 4K/60Hz pass-through, upscaling to 8K.
Bluetooth/Wi-Fi: yes/yes.
Streaming services: AirPlay2, Deezer, Tidal, Pandora, SiriusXM, Napster, SoundCloud, Amazon Music, Amazon Music HD, Mood mix.
Supports: HDMI ARC, HDMI eARC, HDMI CEC, HDCP2.3, HDR10, HDR10+, Dolby Vision.
Surround sound: DTS HD Master, DTS:X, DTS Neural:X, DTS Virtual:X, Dolby TrueHD, Dolby Surround, Dolby Atmos Height Virtualization, Dolby Atmos, Multichannel stereo.
This unit may not be a revolutionary product, but it is still an impressive Atmos AV receiver for home theater under $1000. The AVR-X1700H can impress with its ability to produce an elaborate and high-quality audio experience. It is stable during high peaks and offers excellent lows, which is crucial for an audiophile receiver under 1000 dollars. This receiver is definitely the leader of my top.
Yamaha RX-A2A
In 2021 Yamaha made a bold attempt to take a part of the market from Denon with their AVR-X2800H. To achieve this goal, they released a new receiver - RX-A2A, which was supposed to compete in this niche. And now I'll tell you what came out of it.
Let's start the Yamaha RX-A2A review with a comparison to the main competitor. It has 7 channels, with 100 watts per channel if using 8-ohm speakers with 20Hz-20Khz at 0.06% THD. The AVR-X2800H offers the same 7 channels but with lower power. Not much of a difference. At first glance, these two units are very close, but Yamaha has an ace up their sleeve — Intelligent Power Amp Assign. It allows using two speakers in another room even while using the 7.1 system in the main one. And now, let's look at this model's other features and specifications.
Build and design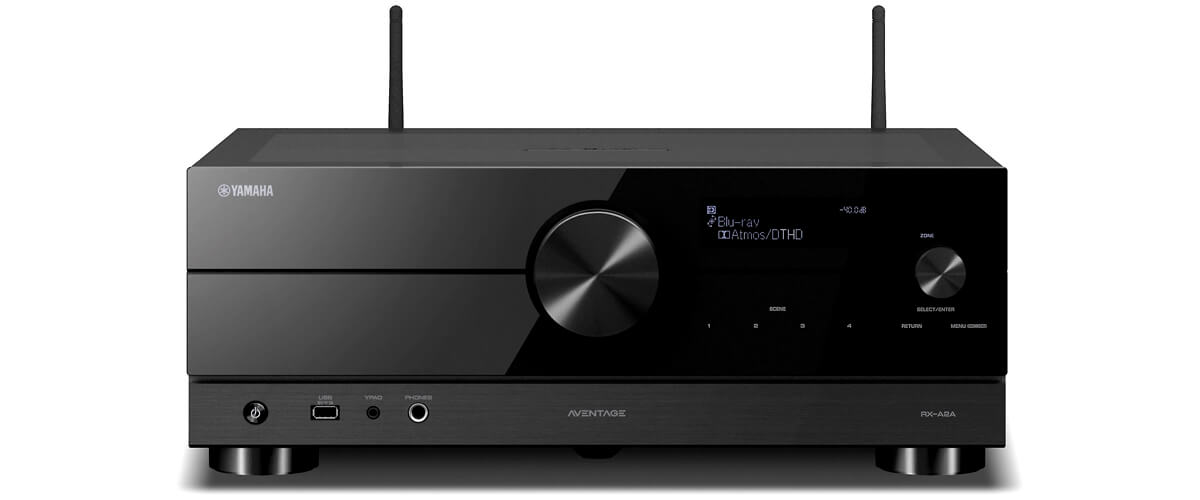 Yamaha also tried to rework the design. They moved the control surfaces to the side of the receiver and paired it with an LCD screen. Although the positioning of the control surfaces is up to the user's taste, and it matched mine, I was disappointed with the size of the LCD screen. It is too small to be readable from any feasible distance.
The unit measures 17.1 × 9.6 × 14.6/22.49 kg, and the build quality and components used are of a fairly high standard. Therefore, Denon and Yamaha retain parity in this aspect.
Ports and connectivity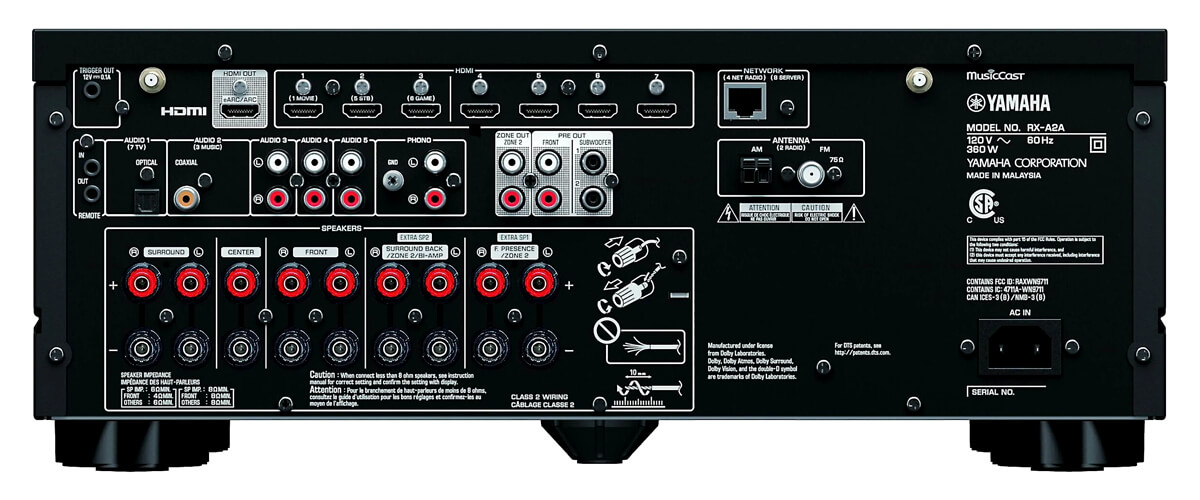 The Yamaha RX-A2A features multiple inputs—7 HDMI 2.1 with the latest HDCP version. Analog inputs include 3 stereo, single optical, and coaxial outputs. The unit supports Ethernet, Wi-Fi, Bluetooth, FM, and DAB+ radio and online streaming services. By the way, the receiver has a front USB connector, making it much easier to use the USB drivers.
When it comes to outputs, the model offers a standard for its price range 2 HDMI, single 2.1 analogs, 9 lines for speakers, and a 6.5 mm headphone jack.
Features
According to the RX-A2A specifications, the unit can play 4K 120Hz video and supports HDR10+. The receiver also works great with 8K content, but only at 60 Hz. Talking about watching movies on this receiver, it doesn't cause the wow effect. Despite this, the RX-A2A offers a fairly good picture quality and can even enhance it if the source material allows it.
And now for the nice part. Yamaha developed a proprietary technology—Cinema DSP HD3 processing. It pretty often has several precepts for a different genre, and this truly makes a tremendous positive difference, but sometimes I prefer the original picture. Anyway, it is always good to have more options. What truly always brings improvement is the support of various sound enhancement technologies, such as Dialogue lift, Virtual and Silent Cinema DSP, and Atmos Height Virtualiser from Dolby.
Some receivers in this price range lack a Zone 2 feature. The RX-A2A comes with a fully functional multiroom feature. It surpasses its counterparts with Bluetooth by allowing users to deliver sound into two separate rooms from independent sources.
Listening impression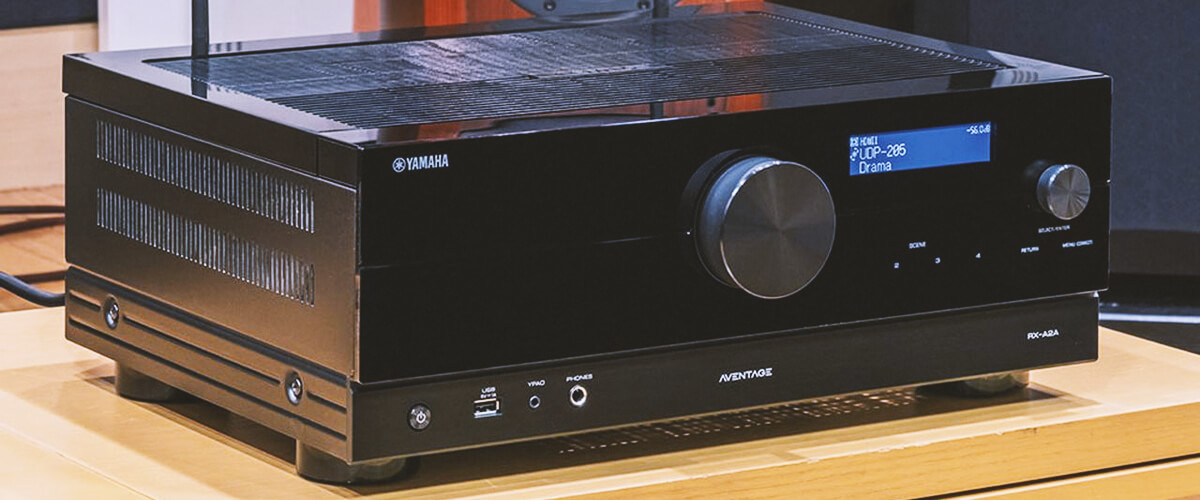 Firstly, I tested the self-configuration option to let the receiver set itself on auto, but I didn't like the result. So, I had to manually set it up and adjust it to my room. Not the easiest thing to do, especially if it's your first receiver.
In movies, Dolby Atmos technology offers highly immersive sound. The bass line was rigid, and the unit didn't max out on heights. The power and quality of the sound are beyond any concern. The model worked as I expected.
The RX-A2A also performed very well with the music of different genres—a pleasant and smooth experience regardless of the track complexity. Plus, various sound processing features may also be helpful to adjust the stereo sound to their needs.
Key specs
Channels: 7.2.
Power output: 100W/8 Ohm.
HDMI inputs/outputs: 7/1.
Video functions: 8K/60Hz, 4K/60Hz, 4K/120Hz, HDMI Upscaling up to 4K.
Bluetooth/Wi-Fi: yes/yes.
Streaming services: AirPlay2, Deezer, Tidal, Pandora, SiriusXM, Napster, SoundCloud, Amazon Music, Amazon Music HD, Mood mix.
Supports: HDMI ARC, HDMI eARC, HDMI CEC, HDCP2.3, HDR10, HDR10+, Dolby Vision.
Surround sound: DTS HD Master, DTS:X, DTS Virtual:X, DTS Neural:X, Dolby TrueHD, Dolby Surround, Dolby Digital Plus, Dolby Atmos Height Virtualization, Dolby Atmos, Virtual Cinema DSP.
This device has a traditional Yamaha design and comes with a rich set of features. Yet, the most appealing aspect of the Yamaha RX-A2A is its several sound enhancement technologies. Those allowed me to adjust the sound to my taste both in music and movies while not making it sound unnatural. It's a very attractive receiver, which I'm sure many users will appreciate.
Marantz NR1510
There are many reasons to love Marantz products, and their NR series receivers are definitely among them. In this little Marantz NR1510 review, I will share my own experience with their lowest-level 5-channel receiver model. It is not expensive and therefore is affordable for most people. But will it work for you? That's a question you'll be able to answer in just a few minutes.
The NR receiver line is limited to only 50 watts per channel 20Hz – 20kHz, 0.08% THD. Indeed, the power is pretty low. For example, Denon AVR-X550BT (also a budget option) offers 70 watts per channel with the same 8-ohm speakers. So, it is clear that the NR1510 can only perform in small rooms due to the lack of power. So if you plan to use the receiver in a spacious room, look at other models.
Build and design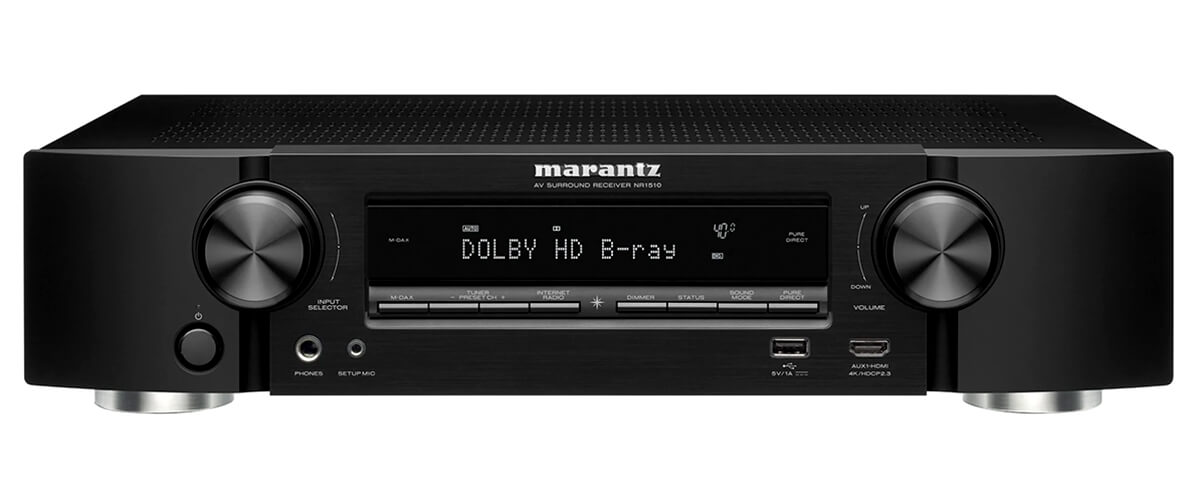 Marantz may not be as brave as Yamaha when experimenting with their receivers' looks. So instead, they tried new sizes. As a result, the NR1510 is considerably smaller than its counterparts from the same price range offered by other manufacturers. Talking about sizes, according to the NR1510 specifications, it comes in the following dimensions 17.3″ x 14.9″ x 4.1″ and weighs about 18.1 lbs which makes it a little black box in the world of huge ones. And this is a definite plus of this model!
As expected from a company with such a long history as Marantz, the NR1510 has a quality body made from quality metal and plastic. The chassis felt rigid without making those crackling noises when you try to squeeze and bend it, as often happens to cheaper receivers.
Ports and connectivity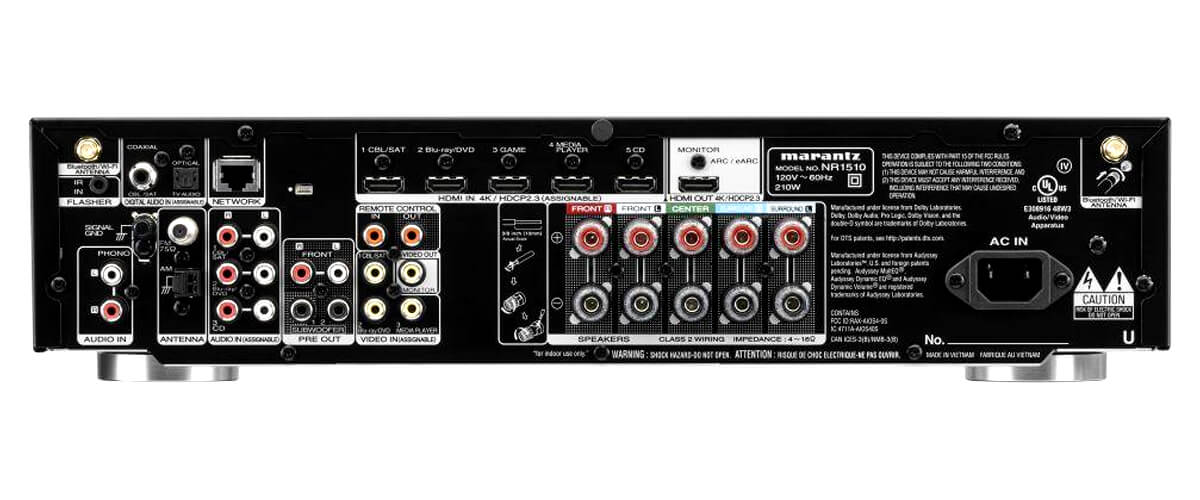 The NR1510 is smaller than other units but features almost the same ports as the older NR1710. Considering it is a 5-channel unit, we are offered 5 speaker terminals and 6 HDMI inputs which is unusual in its class, including a single front one. All HDMI inputs and a single output support HDCP 2.3 protocol and eARC.
Other connectors include 3 composite video inputs with a single output, 3 analog stereo and a single phono, digital coaxial and optical inputs, 2 ports for subwoofers, 2.2 pre-out channels, remote control IR receiver, flasher, Ethernet, Wi-Fi, Bluetooth, and FM/AM antenna connectors and support for modern streaming services.
Features
Regarding multiroom support, the NR1510, traditionally for Marantz, offers the HEOS technology. Of course, it is not a full-fledged multi-room, but in general, HEOS and Airplay 2 do a good job.
Marantz NR1510 features 4k video at 60Hz and comes with starting Dolby Vision, 3D Pass-Through, and HLG. In addition, Dolby TrueHD and DTS HD Master Audio allow for quality movie pictures. The lack of Dolby Atmos and DTS:X could have been an unpleasant problem if the receiver belonged to an advanced line and offered more power. And for budget models, it is absolutely normal. In turn, the ALLM technology enhances the gaming experience when using comparable devices.
While watching movies, the receiver utilizes the full power of DTS HD. It is a bit outdated but still offers astonishing picture quality. You have to understand that with only 50 watts per channel, DTS:X or Atmos technologies are useless because of insufficient power and space. I was also a little saddened that the unit lacks the up-mixing and virtual technologies. That is pretty strange, as those can be found in much cheaper units.
Listening impression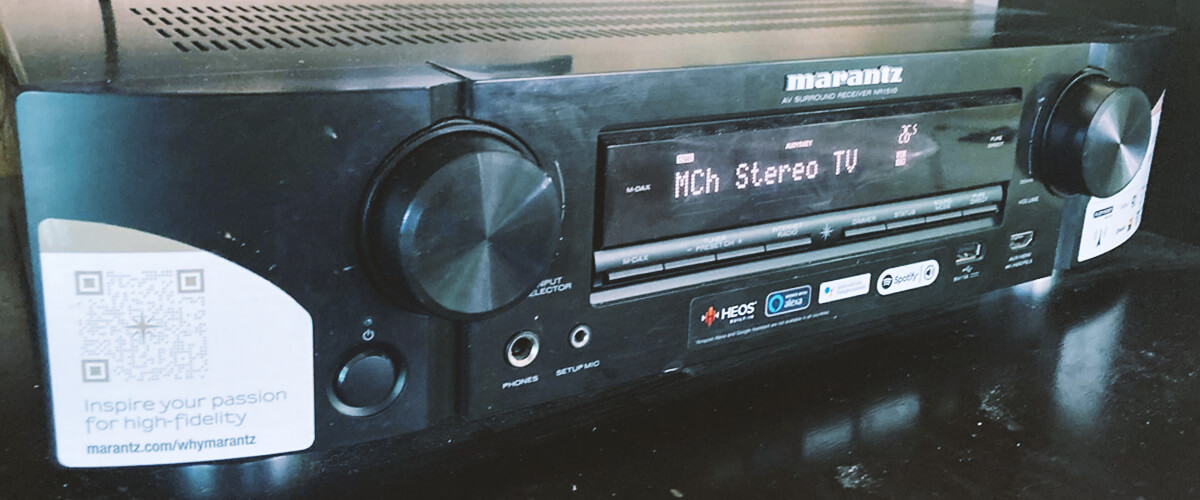 Firstly I tested the unit in movies, and despite the lack of certain technologies, the sound quality was still good. I tried it in a bigger room, but it showed an obvious lack of power. So, to get the clear bass and juice sound in movies, you definitely need to pick the proper sized room considering the small power of the unit.
In music, using only two channels and a subwoofer, the model shows decent results with a pleasant sound quality without drops and instabilities of any kind. So while music is not its element, the NR 1510 still shows itself rather capable.
Considering that the unit would be most attractive for those new to AV receivers, the Audyssey MultEQ automatic sound calibration technology would be very helpful. However, while manual adjustments are precise and exact, it requires certain knowledge and skills.
Key specs
Channels: 5.2.
Power output: 50W/8 Ohm, 60W/6 Ohm.
HDMI inputs/outputs: 6/1.
Video functions: 4K/60Hz pass-through.
Bluetooth/Wi-Fi: yes/yes.
Streaming services: AirPlay2, Deezer, Tidal, Pandora, SiriusXM, Napster, SoundCloud, Amazon Music, Amazon Music HD, Mood mix.
Supports: HDMI ARC, HDMI eARC, HDCP2.3, HDR10, HLG, Dolby Vision.
Surround sound: DTS HD Master, Audyssey Dynamic EQ.
Marantz NR1510 is a budget-friendly AV receiver offering decent features and connectivity options. It may lack power, making it more suitable for small rooms, but its compact size and quality build make it a plus. While it lacks Dolby Atmos and DTS:X, it still provides quality and immersive sound in movies and sounds pleasantly in music.
Denon AVR-S660H
The Denon AVR-S660H review is dedicated to a rather interesting entry-level receiver from the S-series. It is a 5.2-channel unit with 75 watts per channel with 8-ohm speakers with 0.08% THD. Note that the power would decrease when using all five channels. Still, the receiver is more powerful than the Marantz NR1510 and many other analogs.
This model's power and some other facts clearly show that this receiver is designed for use in small rooms with a standard 5.1 setup. That's why its size and weight allow one to place it almost in any room on any surface.
Build and design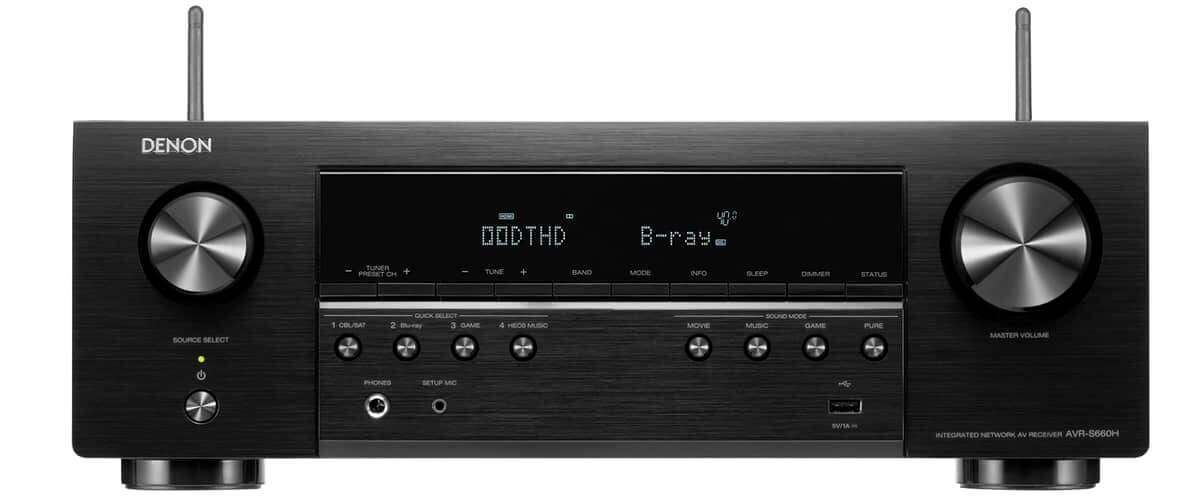 The unit shares the same design as the more expensive S760H. In terms of dimensions, the S660 measures 17.1″ x 13.3″ x 8.5″, including vertically put antennas. The only feasible difference is weight, meaning that the S660 has less powerful hardware. Overall, the size and weight of the device are in line with what you can expect in this price range.
Traditionally for Denon, the device has a large display in the center and several control surfaces and buttons on the sides. Those acquainted with other receivers in this manufacturer's line will find it familiar. Another thing that the AVR-S660H shares with its more expensive brothers is quality. The chassis is good; considering its weight, it holds up awesomely well.
Ports and connectivity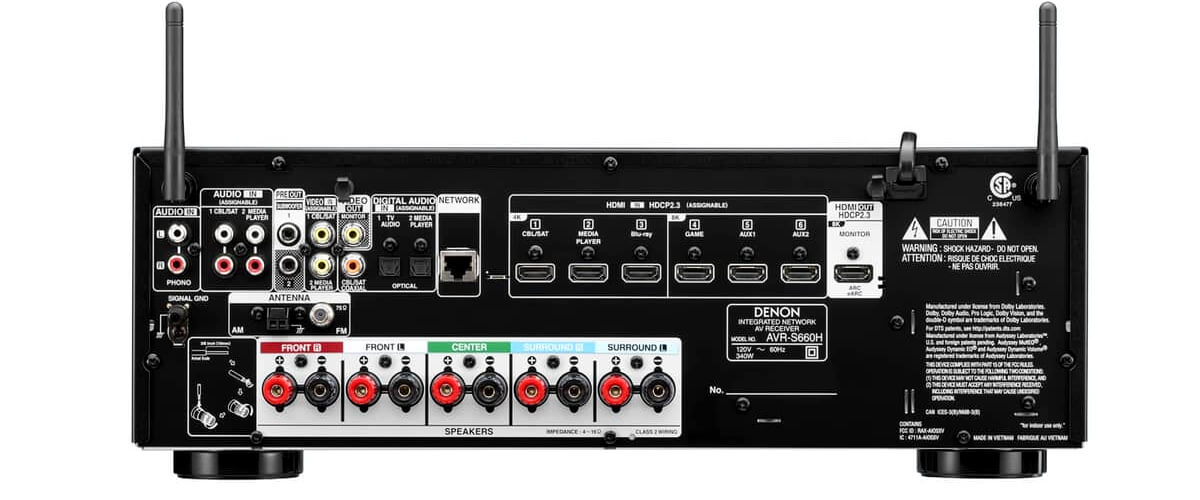 As it goes from the AVR-S660H specifications, the unit has 5 speaker terminals, 6 HDMI inputs, a single front one, and 3 HDMI 2.1 inputs, which distinguishes the receiver from the S650H as it has only 5. Two composite video inputs and an output, 2 optical and single coaxial input, Ethernet, 2 pre-outs, 2 analog audio, and a phono.
The receiver supports FM/AM radio, so it has a radio antenna, Wi-Fi, and Bluetooth. Compared with the S650H, the S660H also has a single coaxial input. So, the receiver surpasses its predecessor by the number of ports and stands in line with receivers from other manufacturers in this price range.
Features
The S660H lacks the Zone 2 feature but offers only HEOS multi-room integrated features, which is not surprising for this price range. It is also compatible with the Denon Home system.
Denon AVR-S660H features HDR10+, and its predecessor, Dolby Vision, HLG, supports Dynamic HDR, sub-sampling, Pure color, QMS, and QFT. The receiver also has ALLM, so you can significantly benefit if you have a device supporting this technology.
Altogether a very rigid number of features and technologies surpasses even the Marantz NR1510. The S660H supports 8K video at 60Hz, which puts it above many other units in its price range. Other ports support 4k at 120Hz, which is standard for this level of models.
The receiver also supports virtual Dolby Atmos technologies, providing multidimensional sound. Which again makes it more interesting than other receivers. However, it is essential to understand that the receiver won't show any good results with powerful speakers in a large room due to the relatively low power. So, Dolby Atmos requires one to pick speakers carefully and set them in a small room.
Listening impression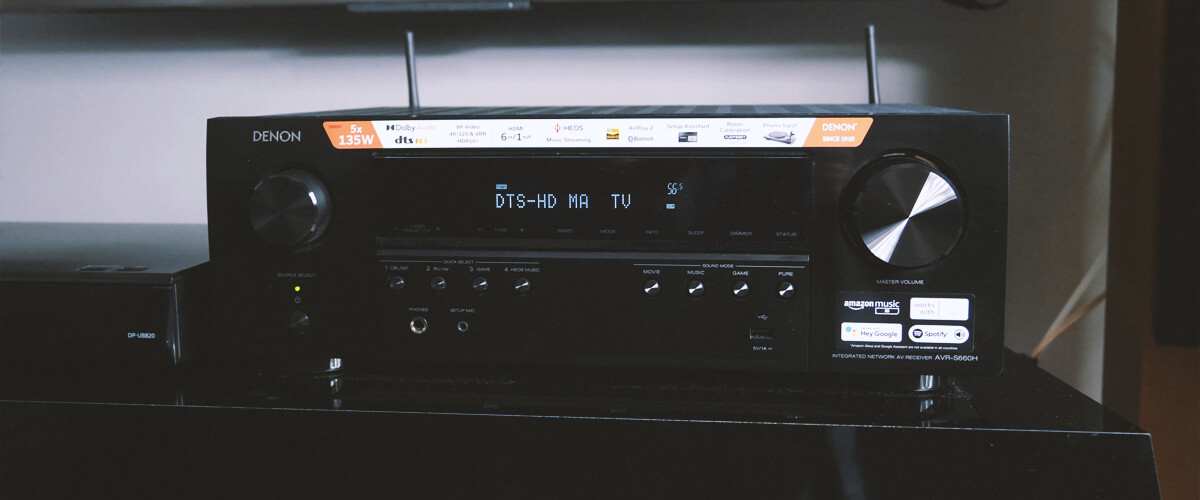 Since the unit supports only virtual Dolby Atmos and older Dolby Pro Logic II and DTS Neo:6, those still show great immersive sound. Undoubtedly, virtual Atmos doesn't work as well as the real thing, but it still can give one an understanding of what to expect from real technology. Also, despite a relatively low power, the unit never maxed out during my tests.
The receiver has several presets, including one for music. It helps a great deal the receiver to deliver a clear and nice sound. At the same time, while showing great results, Denon still can't catch up with Yamaha receivers when it comes to listening to music.
Key specs
Channels: 5.2.
Power output: 75W/8 Ohm, 100W/6 Ohm.
HDMI inputs/outputs: 6/1.
Video functions: 8K/60Hz, 4K/120Hz, 4K/60Hz pass-through, upscaling to 8K.
Bluetooth/Wi-Fi: yes/yes.
Streaming services: AirPlay2, Deezer, Tidal, Pandora, SiriusXM, Napster, SoundCloud, Amazon Music, Amazon Music HD, Mood mix.
Supports: HDMI ARC, HDMI eARC, HDMI CEC, HDCP2.3, HDR10, HDR10+, HLG, Dolby Vision.
Surround sound: DTS HD Master, Dolby TrueHD, Dolby ProLogic II, Multichannel Stereo, Dialog Enhancer.
From the first look and touch, the unit gives a feeling of holding a quality product with proper design. Unlike many other 5.1 receivers, the AVR-S660H offers a rich set of connectors. Yet, the most exciting aspect of this unit is its ability to play 8K content at 60Hz and quality upscaling capabilities. All things considered, it has everything to be among the best AV receivers under $1000.
FAQ
If you are looking for an audio-video receiver, you might have questions about how they work and what to look for. Especially for you, I've examined the most frequently asked questions in enough detail to give you comprehensive answers that will help you make the right decision.
How to control speakers in different rooms?
If you want to control speakers in different rooms, you'll need a receiver with a multiroom. This setup allows you to play music or other audio in one room while someone else listens to something else in another room. You can use the
remote control
that comes with your receiver to control the speakers in each room. Always check the instructions for your particular model to see how to set up and control multiroom audio.
Do expensive AV receivers sound better than cheap ones?
Price doesn't necessarily correlate with sound quality in AV receivers. While more expensive models may have additional features, better build quality, or more power, a budget receiver can still produce quality sound. Ultimately, it comes down to your personal needs and preferences. So consider your budget and what features you require.
How many watts is a good receiver?
The number of watts you require in a receiver depends on several factors, such as the size of your room and the speakers you have. I think a receiver should have at least 50 watts per channel, but you may need a more powerful unit if you have more capable speakers or a larger room.
Keep in mind that a high wattage doesn't necessarily mean better sound quality, so focus on finding a receiver that meets your needs in terms of functionality rather than just the highest wattage.
Do more watts mean better sound?
While it's true that more watts can mean more volume and headroom, it doesn't necessarily mean better sound quality. Factors such as the quality of the amplifier, the speakers, and the source material all play a role in the overall sound quality. Additionally, if you're in a smaller room or have sensitive speakers, you may not need as many watts as someone with larger speakers or a larger room. Ultimately, it's about finding the right balance for your exact setup and needs.