The AV receiver is the heart of your home theater, acting as a media center to which you can connect TV, video players, audio players, and games consoles. Of course, inexpensive devices can't give you all the modern features, but it's possible that you won't use half of them. From this selection of best AV receivers under $500, you will learn about good models with basic features to provide the main task of delivering quality video with surround sound when watching movies for more realism.
Before reviewing specific models, I want to answer some of the most important questions about receivers in this class. This information will be most interesting to beginners, so I recommend not skipping it.
Our pick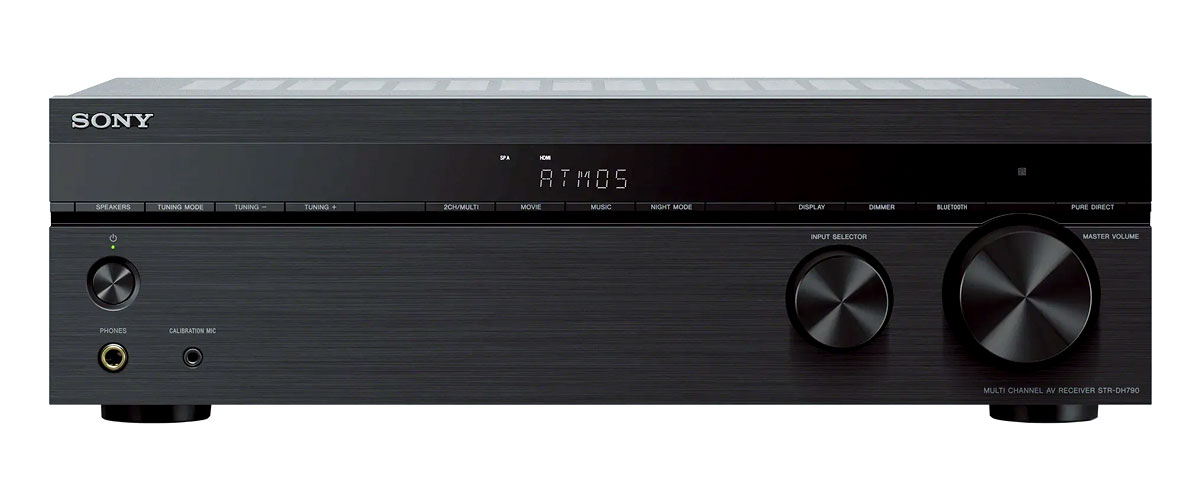 Sony STR-DH790
Best AV receiver under $500
The STR-DH790 brings your home entertainment system a cinematic experience. Enjoy all-encompassing surround sound with Dolby Atmos and DTS:X support, plus 4K HDR pass-through for superior picture quality.
Read the full review
.
AV receiver under $500 comparison table
Name
Channels
Power output
HDMI inputs/outputs
Bluetooth/Wi-Fi
Review
Sony STR-DH790

best overall

7.2
145W/6 Ohm
6/2
yes/no
Review
Denon AVR-S660H
5.2
75W/8 Ohm, 100W/6 Ohm
6/1
yes/yes
Review
Denon AVR-S570BT
5.2
70W/8 Ohm, 90W/6 Ohm
4/1
yes/yes
Review
Yamaha RX-V385
5.1
70W/8 Ohm, 130W/6 Ohm
4/1
yes/no
Review
What offers a home theater receiver under $500?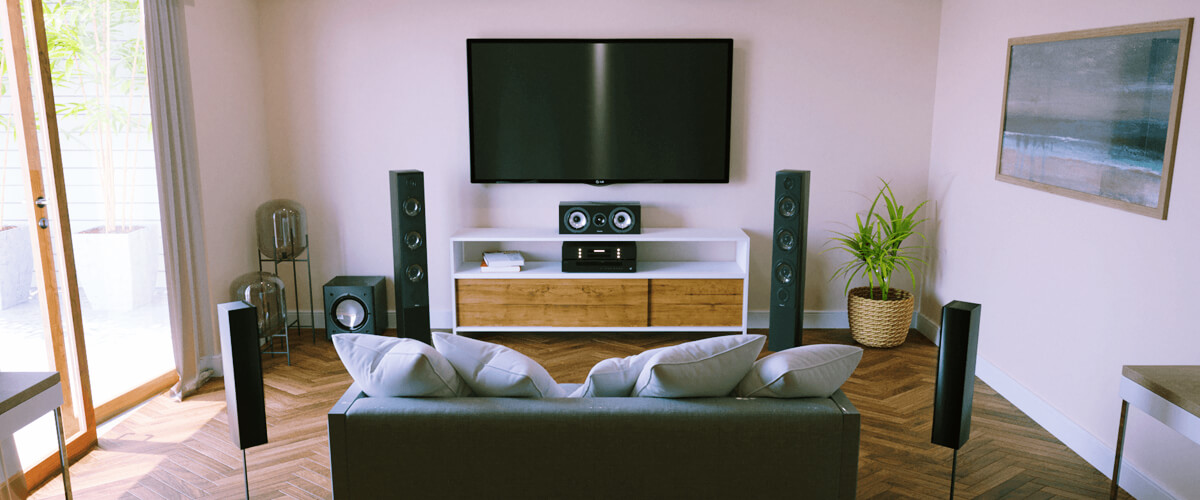 4K video HDMI inputs
It's hard to find 8K video in this price range, but you can count on 4K video quality with these receivers. Since most content today is presented in 4K resolution, you can get by with such a device for the next few years. Moreover, you do not need expensive cables to transmit high-definition video. All you need to do is match your TV to your receiver.
Multichannel Surround Sound
AV receivers under $500 provide you with the ability to connect multi-channel audio. Multiple independent audio channels are placed in front of and behind the viewer to create a realistic perception of sound exactly as the person hears it. With devices of this rank, 5 or 7 channels of surround sound are available and will completely change how you experience what's happening on the screen, creating the feeling of being right in the middle of the action.
HDR
HDR, or a high dynamic range of light and dark tones, determines the degree of light intensity. It tells your TV exactly how to display colors at a certain brightness level (the TV must support HDR video). Thus, you get brighter saturated colors, clearer images (contrast), and, eventually, a more realistic picture.
Best AV receiver under $500 reviews
Sony is one of those companies that operate almost in every industry one can find on the market of various modern equipment. Today's Sony STR-DH790 review uncovers their aspiration in the receiver market in a lower price range. Compared to STR-DH590, the DH790 has two more channels and supports certain modern features. It is a 7.2 channel receiver with 145 watts per channel 8 ohm 0.9% THD. The unit is capable of delivering 60–70 watts per single channel, all channels driven, yet it's not all that clear-cut. We will return to this matter later. Note that 4-ohm speakers are a go for this unit.
Build and design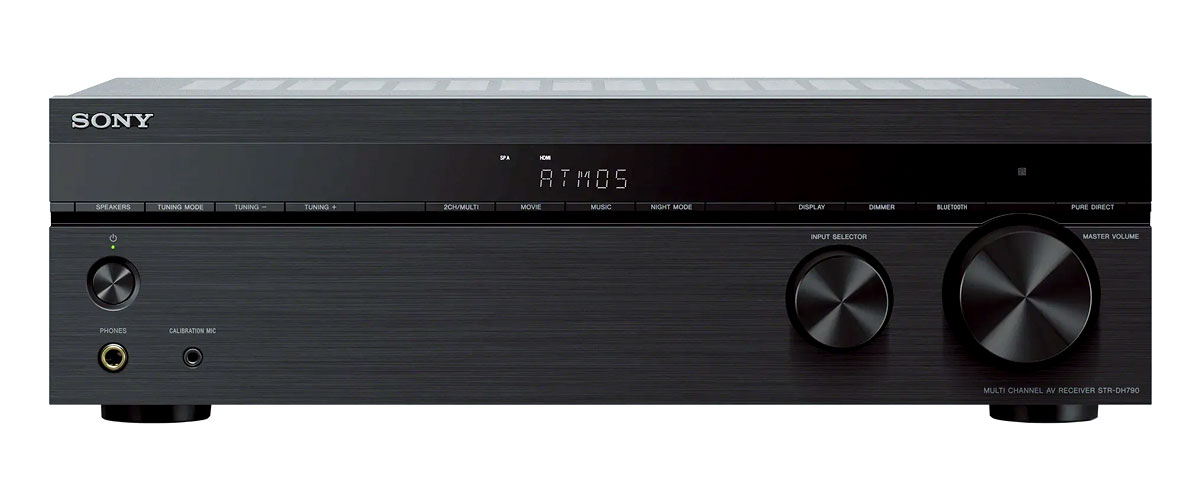 The STR-DH790 is one of the shortest units in its price range, meaning you won't have trouble finding a place for it. The receiver weighs about 17 lb. In terms of size, it is similar to the STR-DH590 - 17" x 5.2" x 11.8". Consequently, both units share the same chassis. Even though it was initially developed for the lower-end model, it is reliable and rigid with additional anti-vibration built.
With this unit, Sony sticks to their approach to receiver looks. Typically, it has volume control surfaces shifted to a side that looks refreshing and stylish. However, they could have installed a bigger screen and buttons.
Ports and connectivity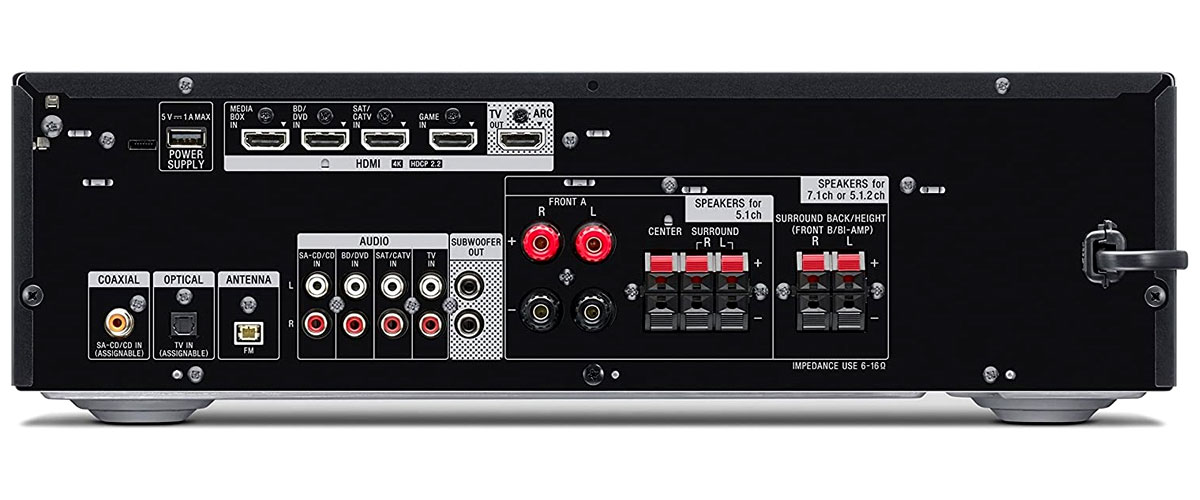 Following the STR-DH790 specifications, the unit has 4 HDMI inputs and a single output, 2 subwoofer outs, 2 binding posts for left and right channels, and 5 spring clip connectors for speaker terminals that support up to 1.5 mm thick cables. A rather disputable decision. Single digital audio, coaxial, and four analog audio inputs. The receiver has no analog video connectors but has a 6.35 mm headphone and USB socket.
The STR-DH790 doesn't support networking features at all. It lacks both Wi-Fi and Ethernet. At the same time, the unit has Bluetooth with AAC codec. So you can expect a quality sound with Apple devices. The device hasn't the aptX and Sony's proprietary LDAC as well. Altogether it has a decent number of ports to drive a low-end system but no more than that.
Features
As the manufacturer claims, Sony STR-DH790 features Dolby Atmos and DTS:X formats. All HDMI supports up to 4K at 60Hz with HDR10 and modern HDCP 2.2 protection technology. Sadly, no HDR10+ support. Apart from Atmos, the receiver supports Dolby Vision, Deep Color, 3D technology, and BT.2020.
Despite the lack of some popular technologies and functions, the receiver offers an amazing, concerning price range and 4K HDR pass-through capability - it can still be a reliable and modern heart for a home entertainment system at a mild price. The receiver can also be used for gaming, but I would not recommend buying one with this purpose in mind. For example, while coming in approximately the same price range, Denon AVR-X1700H has more to offer from this perspective.
The receiver has no support for the Zone 2 feature, even though it is a 7.2-channel unit. However, one can still use Bluetooth speakers, as the receiver supports a high-quality Bluetooth sound. This is not going to be a fully functional Zone 2, but it is still a valid option to bring quality sound to other rooms.
Listening impression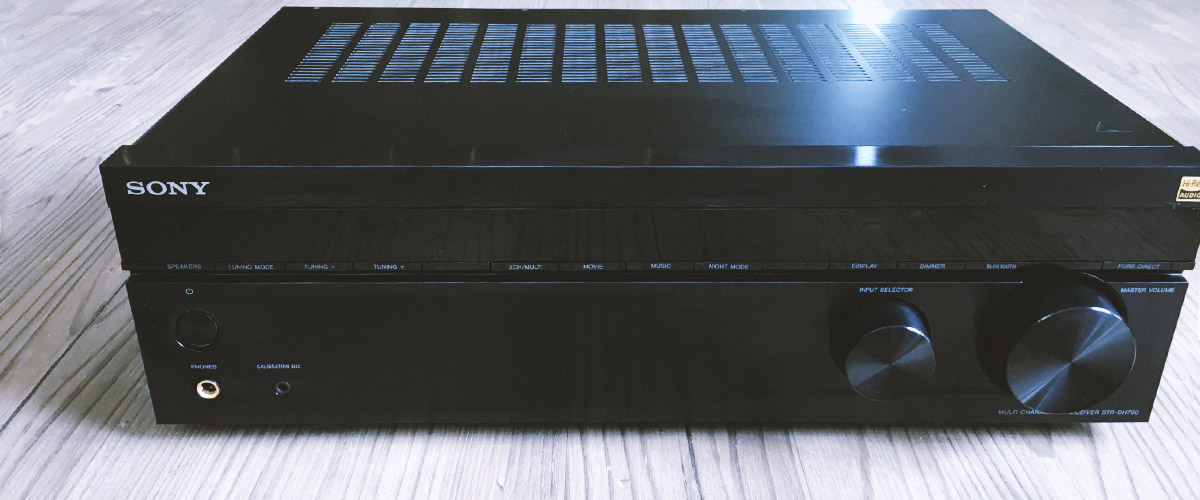 The sound quality is something that cannot be taken away from the STR-DH790. I was pleasantly surprised at how well the unit handles Atmos effects. I could easily notice them in movies. The receiver handled quiet moments very well. It also transitioned to loud ones keeping dialogues nice and readable. Yet, going too loud shows a power shortage, as it loses detail and focuses while adding noises.
The receiver handles music relatively well. However, commonly for the price range, it is better to buy a dedicated stereo receiver or even an external amplifier. The DH790 offers pleasant sound regardless of what genre you prefer. But in the case of movies cranking the volume too high showed problems with music, as it shows a clear lack of power.
Key specs
Channels: 7.2.
Power output: 145W/6 Ohm.
HDMI inputs/outputs: 6/2.
Video functions: 4K/60Hz pass-through.
Bluetooth/Wi-Fi: yes/no.
Streaming services: no.
Suppots HDMI ARC, HDMI eARC, HDCP2.2, HDR10, Dolby Vision.
Surround sound: DSD, DTS-HD Master, DTS:X, Dolby Digital, Dolby Dual Mono, Dolby Atmos.
The best AV receiver under $500 on my list combines 7 channels of audio and provides Dolby Atmos and DTS:X surround sound support. You will be pleasantly surprised by the surround sound quality, activating "quiet" moments, providing crisp dialog, and powerful enough action scenes at medium power, which is enough to fill a medium-sized room. In addition, this model is multifunctional and will please you not only with good sound but also with additional pluses, including easy setup and use.
Denon AVR-S660H
The Denon AVR-S660H review is dedicated to a rather interesting entry-level receiver from the S-series. It is a 5.2-channel unit with 75 watts per channel with 8-ohm speakers with 0.08% THD. Note that the power would decrease when using all five channels. Still, the receiver is more powerful than the Marantz NR1510 and many other analogs.
This model's power and some other facts clearly show that this receiver is designed for use in small rooms with a standard 5.1 setup. That's why its size and weight allow one to place it almost in any room on any surface.
Build and design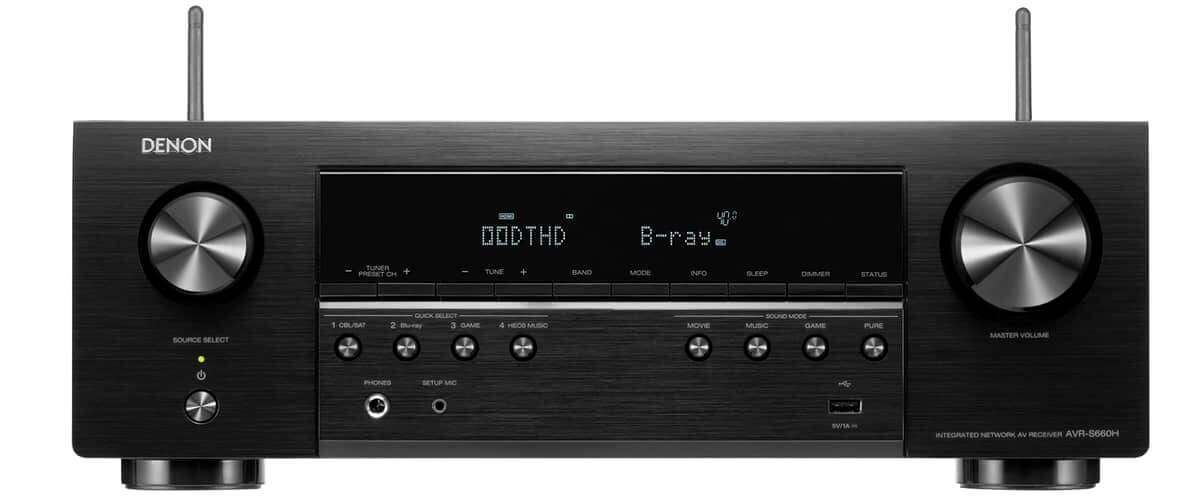 The unit shares the same design as the more expensive S760H. In terms of dimensions, the S660 measures 17.1″ x 13.3″ x 8.5″, including vertically put antennas. The only feasible difference is weight, meaning that the S660 has less powerful hardware. Overall, the size and weight of the device are in line with what you can expect in this price range.
Traditionally for Denon, the device has a large display in the center and several control surfaces and buttons on the sides. Those acquainted with other receivers in this manufacturer's line will find it familiar. Another thing that the AVR-S660H shares with its more expensive brothers is quality. The chassis is good; considering its weight, it holds up awesomely well.
Ports and connectivity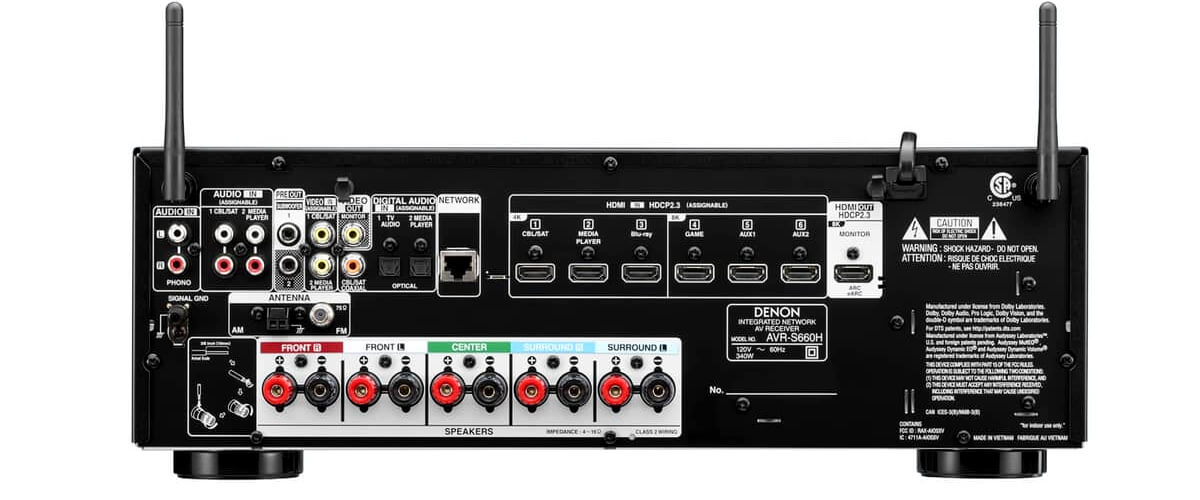 As it goes from the AVR-S660H specifications, the unit has 5 speaker terminals, 6 HDMI inputs, a single front one, and 3 HDMI 2.1 inputs, which distinguishes the receiver from the S650H as it has only 5. Two composite video inputs and an output, 2 optical and single coaxial input, Ethernet, 2 pre-outs, 2 analog audio, and a phono.
The receiver supports FM/AM radio, so it has a radio antenna, Wi-Fi, and Bluetooth. Compared with the S650H, the S660H also has a single coaxial input. So, the receiver surpasses its predecessor by the number of ports and stands in line with receivers from other manufacturers in this price range.
Features
The S660H lacks the Zone 2 feature but offers only HEOS multi-room integrated features, which is not surprising for this price range. It is also compatible with the Denon Home system.
Denon AVR-S660H features HDR10+, and its predecessor, Dolby Vision, HLG, supports Dynamic HDR, sub-sampling, Pure color, QMS, and QFT. The receiver also has ALLM, so you can significantly benefit if you have a device supporting this technology.
Altogether a very rigid number of features and technologies surpasses even the Marantz NR1510. The S660H supports 8K video at 60Hz, which puts it above many other units in its price range. Other ports support 4k at 120Hz, which is standard for this level of models.
The receiver also supports virtual Dolby Atmos technologies, providing multidimensional sound. Which again makes it more interesting than other receivers. However, it is essential to understand that the receiver won't show any good results with powerful speakers in a large room due to the relatively low power. So, Dolby Atmos requires one to pick speakers carefully and set them in a small room.
Listening impression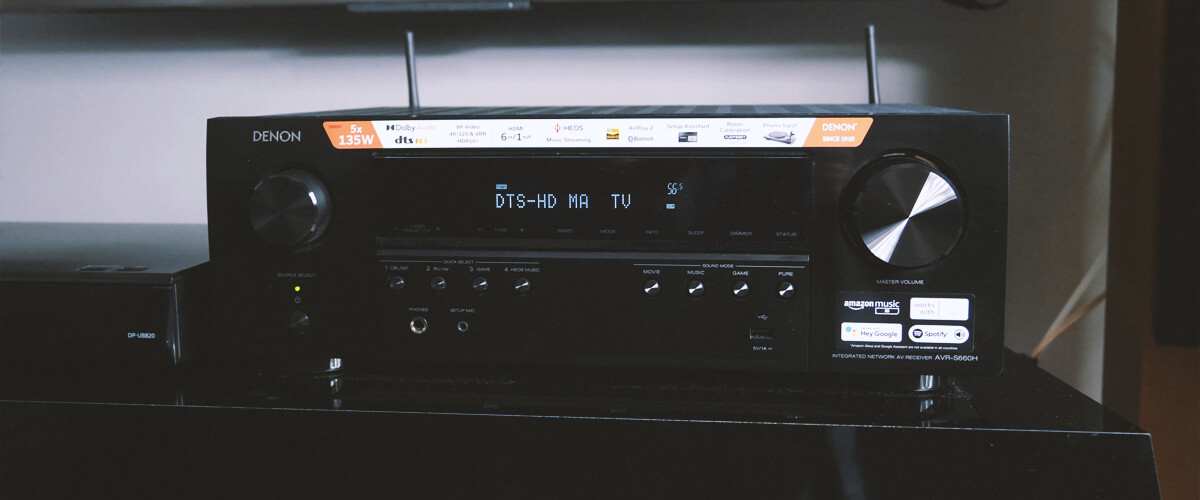 Since the unit supports only virtual Dolby Atmos and older Dolby Pro Logic II and DTS Neo:6, those still show great immersive sound. Undoubtedly, virtual Atmos doesn't work as well as the real thing, but it still can give one an understanding of what to expect from real technology. Also, despite a relatively low power, the unit never maxed out during my tests.
The receiver has several presets, including one for music. It helps a great deal the receiver to deliver a clear and nice sound. At the same time, while showing great results, Denon still can't catch up with Yamaha receivers when it comes to listening to music.
Key specs
Channels: 5.2.
Power output: 75W/8 Ohm, 100W/6 Ohm.
HDMI inputs/outputs: 6/1.
Video functions: 8K/60Hz, 4K/120Hz, 4K/60Hz pass-through, upscaling to 8K.
Bluetooth/Wi-Fi: yes/yes.
Streaming services: AirPlay2, Deezer, Tidal, Pandora, SiriusXM, Napster, SoundCloud, Amazon Music, Amazon Music HD, Mood mix.
Supports: HDMI ARC, HDMI eARC, HDMI CEC, HDCP2.3, HDR10, HDR10+, HLG, Dolby Vision.
Surround sound: DTS HD Master, Dolby TrueHD, Dolby ProLogic II, Multichannel Stereo, Dialog Enhancer.
Another best home theater receiver under 500 dollars can be Denon AVR-S660H with Virtual Dolby Atmos, matching all audio and video transmission parameters, including 8K resolution. Clean, detailed pleasant sound without delays and interruptions, with clear separation of audio tracks – this is what you can expect from Denon quality!
Denon AVR-S570BT
Today's Denon AVR-S570BT review features an entry-level receiver with 5.2 channels. It also has a surprising amount of power - 70 watts, 20 - 20000 kHz when using 8-ohm speakers, and a THD of 0.08%. The receiver can deliver 70 watts only per 2 channels, so when fully loaded, the amount of power distributed to every single speaker will decrease correspondingly.
Compared with solutions from Marantz - one of a few of Denon's rivals, the AVR-S570BT surpasses the Marantz NR1510 and shares the same power with their stereo amplifier NR1200. It means that the receiver has everything it needs in terms of power to fill a medium-sized room with quality sound using a 5.2 setup.
Build and design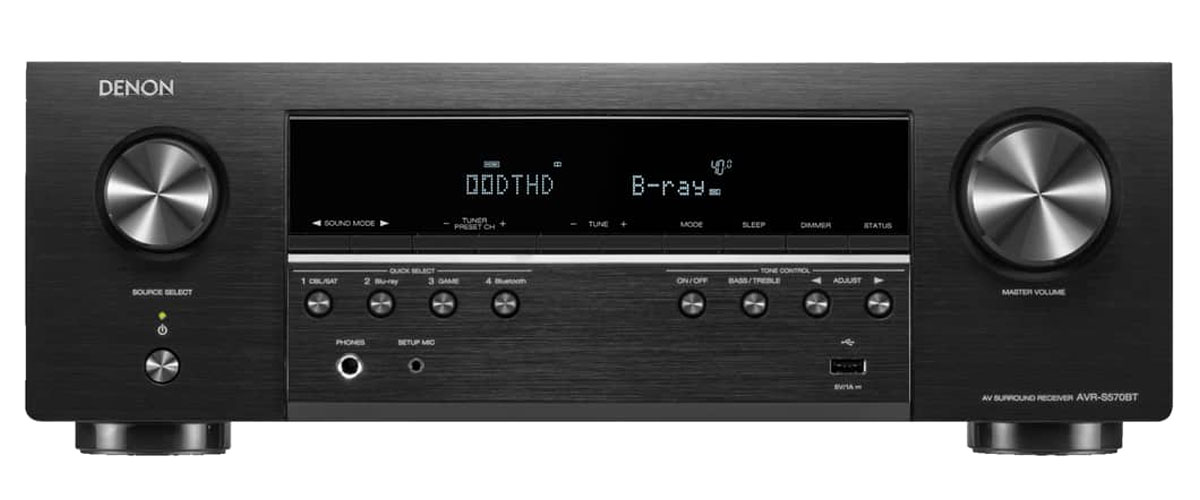 The receiver sticks to the traditional Denon design - with large control surfaces on the sides and a decently-sized screen on the front with small control buttons below it. It looks pretty dated to me, but good luck finding a person who judges receivers by their looks. A well-readable display is definitely what makes Denon and the AVR-S570BT stand out from the crowd.
Altogether, it is a classic black box, and I don't see anything terrible about it. It fits all the traditional environments and interiors. What bothers me is that I could have enjoyed larger buttons. In terms of size, the receiver is pretty standard for its class - 17.1 x 6.0 x 13.0 and weighs a little less than 17 lb. What Denon can't be blamed for is for following the tradition of building rigid, reliable, and firm chassis. The AVR-S570BT is not an exception.
Ports and connectivity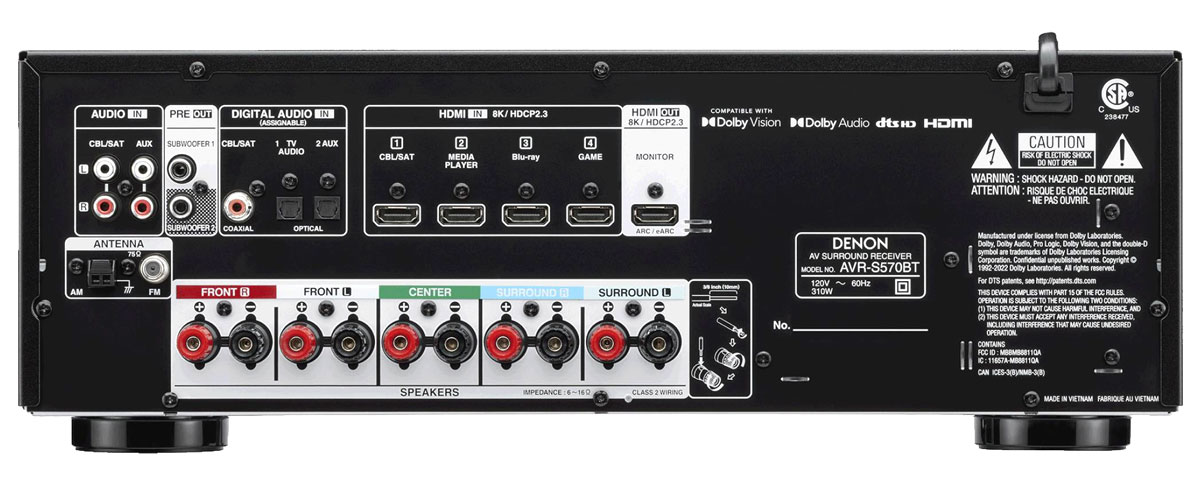 Denon is not one of those companies that fancy changes, so the list of AVR-S570BT specifications can hardly surprise anyone. The receiver has 4 HDMI inputs, a single HDMI output, a conveniently placed front USB, 2 RCA subwoofer outputs, 2 SPDIF inputs, 2 audio line-in ports, 5 speaker terminals, and a front 6.3 mm headphone jack.
The unit offers modern wireless streaming capabilities, including support for Spotify, Pandora, TuneIn, etc. With this in mind, the receiver has a solid set of connectors and ports without excesses. Denon managed to conveniently place them on the chassis and avoided saving money on things one shouldn't. Well done, Denon.
Features
Since the AVR-S570BT is a 5.2 channel receiver representing Denon in a relatively low-end market segment, it won't be right to expect it to support the Zone 2 function. However, the good news is that one can play music from multiple audio sources via Bluetooth. Thus, creating an integrated multi-room audio setup. Not an actual one, but still pretty capable.
From a video perspective, Denon surfaces the competitors by offering the support of 8K 60 Hz video tight out of the box and supports 8K upscaling on all 4 HDMI ports. Typically for its class, the unit offers 4K at 120 Hz and includes a pretty rich set of technologies enhancing the video experience - HDR10+, Dolby Vision, HLG, etc. In addition, Denon AVR-S570BT features DTS-Hd and Dolby TrueHD technologies enabling it to work with high-bitrate audio and video.
From a gaming perspective, the receiver supports 3 major technologies: QFT, VRR, and ALLM. This results in a pleasant lag and stutter-free gaming experience. It was a pleasure to return to Detroit Become Human again and experience it in full 4k 120 Hz with immersive sound. Those who are more into active games would enjoy the benefits of QFT and VRR, as it offers minimal latency.
Listening impression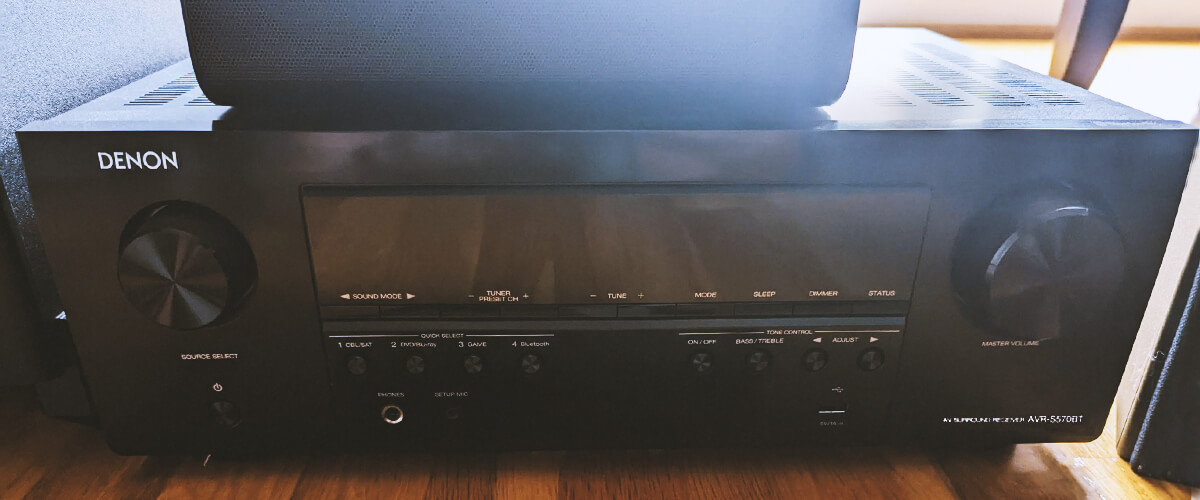 This time I began my tests with music to get me in a good mood. So, the AVR-S570BT first had to handle energetic classic rock sections with lyric ballads. The unit showed itself well during the active parts, with multiple instruments kicking in and vocal solos between them. Still not the finest choice solely for music, but it won't disappoint with the quality.
When watching movies, the receiver impressed me with its dynamic range, bravely handling the action movies I love. The receiver filled the room with immersive sound and juicy bassy sections. My wife and I also enjoyed several romantic movies. There wasn't a single flaw that could distract us from dialogues and soundtracks playing on the heartstrings of our souls. A pretty good result. Though, I don't recommend going bigger than a moderate-sized room. After all, it is only a 5.2-channel receiver, even if it carries similar technologies and offers as much power as some more advanced models.
Key specs
Channels: 5.2.
Power output: 70W/8 Ohm, 90W/6 Ohm.
HDMI inputs/outputs: 4/1.
Video functions: 8K/60Hz, 4K/120Hz, 4K/60Hz pass-through, upscaling to 8K.
Bluetooth/Wi-Fi: yes/yes.
Streaming services: AirPlay2, Deezer, Tidal, Pandora, SiriusXM, Napster, SoundCloud, Amazon Music, Amazon Music HD, Mood mix.
Supports: HDMI ARC, HDMI eARC, HDMI CEC, HDCP2.3, HDR10, HDR10+, Dolby Vision.
Surround sound: DTS HD Master, Dolby TrueHD, Multichannel Stereo.
This Denon model on my list has only 5 channels, but you'll be amazed at the receiver's dynamic range, which will immerse you in the atmosphere of any movie you want to watch, providing optimal realism. Perhaps it lacks several features and capabilities, but it copes with basic tasks perfectly!
Yamaha RX-V385
My Yamaha RX-V385 review aims to determine whether it gives Yamaha an edge in the competition in the low-end price segment of the market. It is a 5.1 channel AV receiver that can provide 70 Watts per 2 channels with 8 Ohm speakers at 0.08% THD and offers a standard 20 Hz – 20 kHz frequency. Furthermore, because RX-V385 is bi-amping capable, it helps the receiver to provide decent power and quality for movies.
At the same time, Denon has the Denon AVR-S570BT, and the NR1510 from Marantz doesn't fall far behind these two. So, it seems that a significant struggle has flared up in the low-end receiver price segment. Let's take a closer look at what Yamaha RX-V385 offers and whether it will look decent compared to similar devices.
Build and design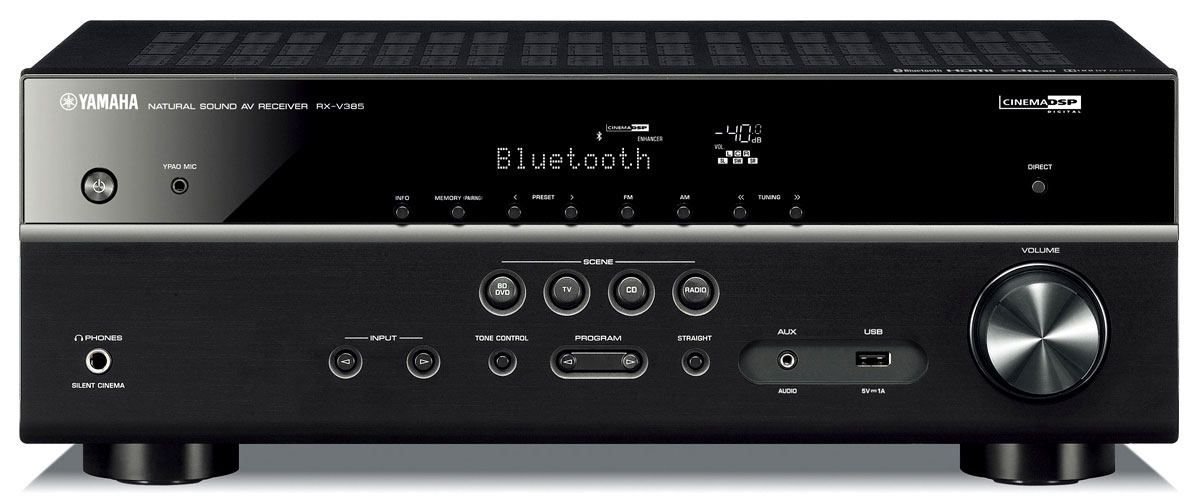 The RX-V385 has nothing surprising in terms of design in its sleeve, as it looks exactly like its predecessor. And it is not something unusual, as it is typical for receivers from different brands to share the same chassis inside one line of products.
While the design is common to this Yamaha line, it may surprise you if you've owned a receiver from another brand. Yamaha has developed its unique approach to design, button, and control surfaces positions. If this is your first model of this brand, you'll quickly get to grips with the layout of the buttons, and you'll love the glossy finish combined with the brushed metal. And if you've owned a different brand of receiver, the RX-V385 will be quick and easy to navigate. However, getting used to the rather unusual button layout might take some time. One can't mistake Yamaha for any other company.
Yamaha indeed pays the most attention to the Aventage line, as it is their flagship, but they also devote the same attention to their RX-V series. That's why the unit is quality built, with reliable and proven components inside.
Ports and connectivity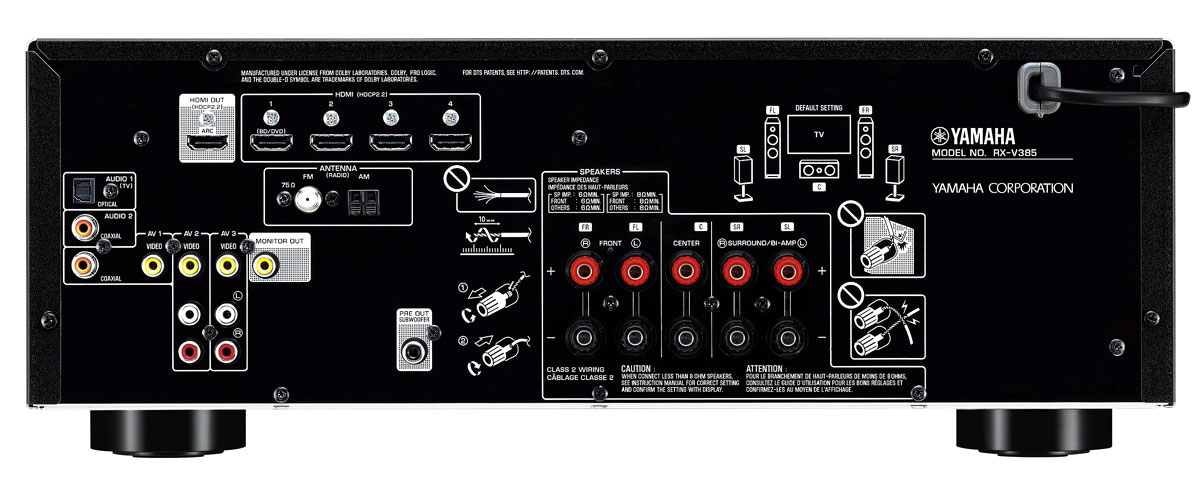 Yamaha RX-V385 features the following set of ports: 4 HDMI inputs and a single output, 2 coaxial audio inputs, single optical audio, only one composite video input and output, 3 RCA stereo line-in ports and a single out, 3 USB including a single front one and a headphone jack.
Talking about other connectivity features, it's important to mention that the unit has no Wi-Fi. Thus, it has no support for any streaming services. However, a 2.1+EDR Bluetooth somewhat compensates for this. Altogether, compared with the older RX-V383, the new RX-V385 has improved not only in terms of quality but also in the set of possibilities.
Features
I want to start analyzing the RX-V385 specifications from the bitter part. Primarily due to its low cost, the unit doesn't have multi-room capability. By the way, just like one of its main competitors, the Denon AVR-S570BT. Since the receiver doesn't support Airplay or MusicCast, the only option is to use Bluetooth speakers to build a setup that would resemble a multi-room feature. The receiver also lacks voice control, which isn't much of a problem but is still worth mentioning.
All the HDMI ports support HDCP 2.3 standard and 4K at 60 Hz. The unit doesn't work with 8K content and upscaling and supports older HDR10 and basic Dolby Vision technology. On the good side, there is support for Deep color and Lip-Sync. I was also surprised that the unit has eARC right out of the box. Recently it was only available via an update. Following modern trends, the RX-V385 offers an advanced ECO mode.
Sadly, the receiver doesn't support Dolby Atmos and DTS:X. So, one searching for a cheap unit with modern surround sound formats will be somewhat disappointed in this unit.
Listening impression
Considering the lack of modern surround sound technologies, I didn't expect much from this receiver. So, when I began testing the unit with 4K movies, I didn't have any real expectations from the RX-V385. However, it has proven itself pretty well, with quality sound and deep bass, and even its surround sound was pretty decent. Considering the price range, you can get a quality unit with everything you need to try the 5.1 channels surround sound setup.
At the same time, I felt a lack of power when listening to music. You see, I am one of those folks who love cranking the volume up to hear every bit of my favorite songs. On the other hand, listening to music is not its primary objective, but it does it well unless you set some special requirements. I would also like to mention Yamaha's proprietary technology called Parametric Room Acoustic Optimizer, which could automatically adjust the receiver to my room.
Key specs
Channels: 5.1.
Power output: 70W/8 Ohm, 130W/6 Ohm.
HDMI inputs/outputs: 4/1.
Video functions: 4K/60Hz, upscales HD video signals to 4K Ultra HD.
Bluetooth/Wi-Fi: yes/no.
Streaming services: no.
Suppots: HDMI ARC, HDMI eARC, HDMI CEC, HDMI Upscaling.
Surround sound: DTS HD Master, Dolby TrueHD, Dolby Digital Plus, Cinema DSP.
The best 5.1 AV receiver under $500 from Yamaha on my list is a 5-channel device with high-quality video support (8K). Yamaha again delighted with simple and intuitive controls. RX-V385 transmits sound without distortion. I would especially like to note the Direct mode and its incredible DAC; it is extremely difficult to find such music to use in full. And for dessert, I will leave the rigorous design and high-quality assembly.
FAQ
How important are rear surround speakers?
Rear surround speakers are very important if you want to watch movies with more realism. The fact is that their positioning, and the soundtracks emanating from them, correspond to the perception one has in real life. So, when you watch content with these speakers, you get the impression of being in the middle of what's happening on the screen. Learn more about how they work in
our article
.
Do AV receivers improve sound quality?
AV receivers improve the sound quality of your home theater or, at the very least, deliver it in its original quality without spoiling it. Above all, it provides multi-channel audio transmission, so that surround sound makes your experience more realistic when you watch videos. The units also amplify the audio signal and adjust it within the size of the room. You can customize and control the sound, adjusting it to your taste.
Can AV receiver damage speakers?
The AV receiver can damage your speakers if they have different playback power. Not always louder is better, so don't try to use your system at maximum volume right away, especially for long periods. If you hear distortion, clicks, or overheated speakers, turn the gain down, or better yet, turn the system off. Read the manual, make sure the speakers and receiver are rated correctly, and adjust the signal transmission. It is possible that your equipment needs to be resonated/replaced and is not working correctly; this fact is also worth considering.
Is 5.1 or 7.1 surround sound better?
Objectively, 7.1 surround sound is better than 5.1. It is essentially the same system with 2 additional overhead surround speakers. These two additional speakers deliver sound according to the movement of objects on the screen.
Modern content contains many audio tracks, so the more channels, the more detailed the sound is. In addition, a 7.1 system is the minimum configuration for Dolby Atmos; no 5.1 receiver delivers this technology as it should.