My Yamaha RX-V385 review aims to determine whether it gives Yamaha an edge in the competition in the low-end price segment of the market. It is a 5.1 channel AV receiver that can provide 70 Watts per 2 channels with 8 Ohm speakers at 0.08% THD and offers a standard 20 Hz – 20 kHz frequency. Furthermore, because RX-V385 is bi-amping capable, it helps the receiver to provide decent power and quality for movies.
At the same time, Denon has the Denon AVR-S570BT, and the NR1510 from Marantz doesn't fall far behind these two. So, it seems that a significant struggle has flared up in the low-end receiver price segment. Let's take a closer look at what Yamaha RX-V385 offers and whether it will look decent compared to similar devices.
Build and design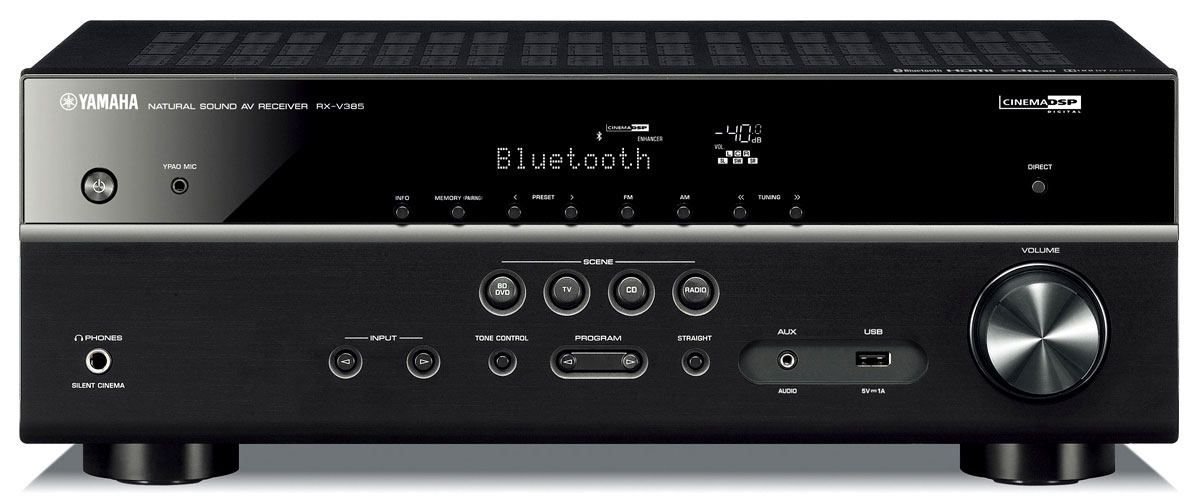 The RX-V385 has nothing surprising in terms of design in its sleeve, as it looks exactly like its predecessor. And it is not something unusual, as it is typical for receivers from different brands to share the same chassis inside one line of products.
While the design is common to this Yamaha line, it may surprise you if you've owned a receiver from another brand. Yamaha has developed its unique approach to design, button, and control surfaces positions. If this is your first model of this brand, you'll quickly get to grips with the layout of the buttons, and you'll love the glossy finish combined with the brushed metal. And if you've owned a different brand of receiver, the RX-V385 will be quick and easy to navigate. However, getting used to the rather unusual button layout might take some time. One can't mistake Yamaha for any other company.
Yamaha indeed pays the most attention to the Aventage line, as it is their flagship, but they also devote the same attention to their RX-V series. That's why the unit is quality built, with reliable and proven components inside.
Ports and connectivity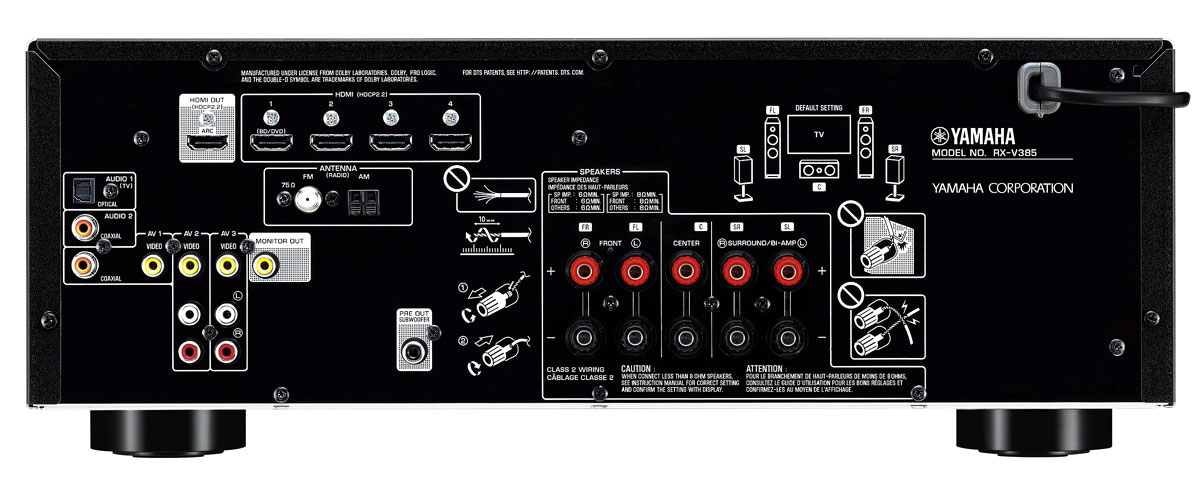 Yamaha RX-V385 features the following set of ports: 4 HDMI inputs and a single output, 2 coaxial audio inputs, single optical audio, only one composite video input and output, 3 RCA stereo line-in ports and a single out, 3 USB including a single front one and a headphone jack.
Talking about other connectivity features, it's important to mention that the unit has no Wi-Fi. Thus, it has no support for any streaming services. However, a 2.1+EDR Bluetooth somewhat compensates for this. Altogether, compared with the older RX-V383, the new RX-V385 has improved not only in terms of quality but also in the set of possibilities.
Features
I want to start analyzing the RX-V385 specifications from the bitter part. Primarily due to its low cost, the unit doesn't have multi-room capability. By the way, just like one of its main competitors, the Denon AVR-S570BT. Since the receiver doesn't support Airplay or MusicCast, the only option is to use Bluetooth speakers to build a setup that would resemble a multi-room feature. The receiver also lacks voice control, which isn't much of a problem but is still worth mentioning.
All the HDMI ports support HDCP 2.3 standard and 4K at 60 Hz. The unit doesn't work with 8K content and upscaling and supports older HDR10 and basic Dolby Vision technology. On the good side, there is support for Deep color and Lip-Sync. I was also surprised that the unit has eARC right out of the box. Recently it was only available via an update. Following modern trends, the RX-V385 offers an advanced ECO mode.
Sadly, the receiver doesn't support Dolby Atmos and DTS:X. So, one searching for a cheap unit with modern surround sound formats will be somewhat disappointed in this unit.
Listening impression
Considering the lack of modern surround sound technologies, I didn't expect much from this receiver. So, when I began testing the unit with 4K movies, I didn't have any real expectations from the RX-V385. However, it has proven itself pretty well, with quality sound and deep bass, and even its surround sound was pretty decent. Considering the price range, you can get a quality unit with everything you need to try the 5.1 channels surround sound setup.
At the same time, I felt a lack of power when listening to music. You see, I am one of those folks who love cranking the volume up to hear every bit of my favorite songs. On the other hand, listening to music is not its primary objective, but it does it well unless you set some special requirements. I would also like to mention Yamaha's proprietary technology called Parametric Room Acoustic Optimizer, which could automatically adjust the receiver to my room.
Key specs
Channels: 5.1.
Power output: 70W/8 Ohm, 130W/6 Ohm.
HDMI inputs/outputs: 4/1.
Video functions: 4K/60Hz, upscales HD video signals to 4K Ultra HD.
Bluetooth/Wi-Fi: yes/no.
Streaming services: no.
Suppots: HDMI ARC, HDMI eARC, HDMI CEC, HDMI Upscaling.
Surround sound: DTS HD Master, Dolby TrueHD, Dolby Digital Plus, Cinema DSP.