I waited to make the Pioneer VSX-534 review for quite some time, and finally, I have got the unit in my hands. It is a very unusual and interesting 5.2-channel unit that offers 80 Watts of power per 2 channels when using 8 Ohm speakers and providing the usual 20 Hz – 20 kHz frequency range. Furthermore, the unit supports 4-ohm speakers, which is rather unusual even for the more expensive receivers. Most importantly, the receiver shares the same chip (84 kHz/32-bit D/A Conversion with AK4438 (AKM)) with older models, which partially gives the unit the same sound quality as the older models.
Build and design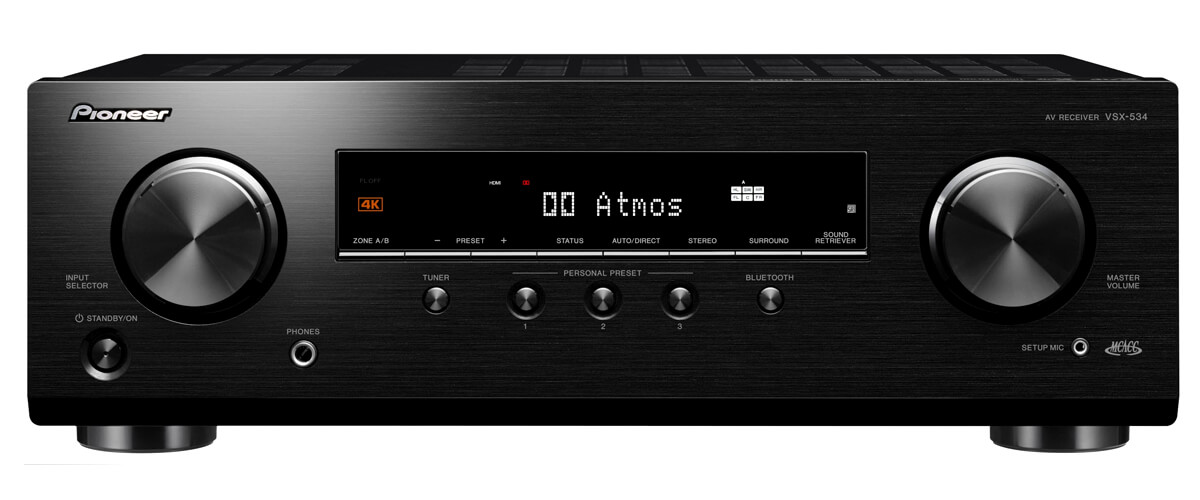 Pioneer is not very fond of making adjustments to the design of its devices. Marantz, Denon, and Pioneer stick to the traditional approach with two large control surfaces on the sides of their receivers and pretty large displays and control buttons above them. This receiver has a strong vibration-resistant chassis. When I unpacked the device, it already felt like a far more costly unit. It also has a pretty standard for its class size – 17-1/8″ x 5-13/16″ x 12-5/8″, and weighs a little less than 17.6 lbs.
Ports and connectivity
According to the VSX-534 specifications, it has 4 HDMI inputs and a single 2.0 HDMI output that come with HDCP 2.2 technology, 3 Line RCA inputs with a single output, two subwoofer connectors, single coaxial and optical input, 6.3 mm headphones jack, FM/AM and USB port. However, despite the overall improvement, the unit has fewer composite video inputs and outputs than the older VSX-532. Plus, it lacks a front USB present in its predecessor.
The unit doesn't have a Wi-Fi connection, so it doesn't support online streaming services. At the same time, similarly to Yamaha RX-V385, the unit has modern Bluetooth technology, which adds more flexibility, but doesn't compensate for the lack of Wi-Fi.
Features
Pioneer VSX-534 features typical for Onkyo and Pioneer Zone B audio output technology. While it's not a fully-functional multiroom feature, it allows connecting the wireless headphone dock to the expanding terminal. Thus, one can listen to music in other rooms. It also allows connecting a separate amplifier and delivering the same audio signal into two different rooms. Additionally, one can use a built-in Bluetooth board to connect the wireless speakers.
The receiver doesn't support 8K content and only can play 4K at 60 Hz. It includes upscaling from 1080p to 4K, but only at 60 Hz. Typically, for the price range, the unit offers only HDR10 support. However, the receiver supports Dolby Atmos, which allows it to deliver an immersive sound of quality. In turn, Dolby Surround Upmixer allows installing even the ceiling speakers.
DTS:X is another technology similar to Dolby Atmos supported by the receiver. It supports the whole family of technologies, including DTS Neural:X, Virtual:X, and DTS Express. Unlike the older model, the VSX-532 supports DTS Virtual X and Dialog Control.
Listening impression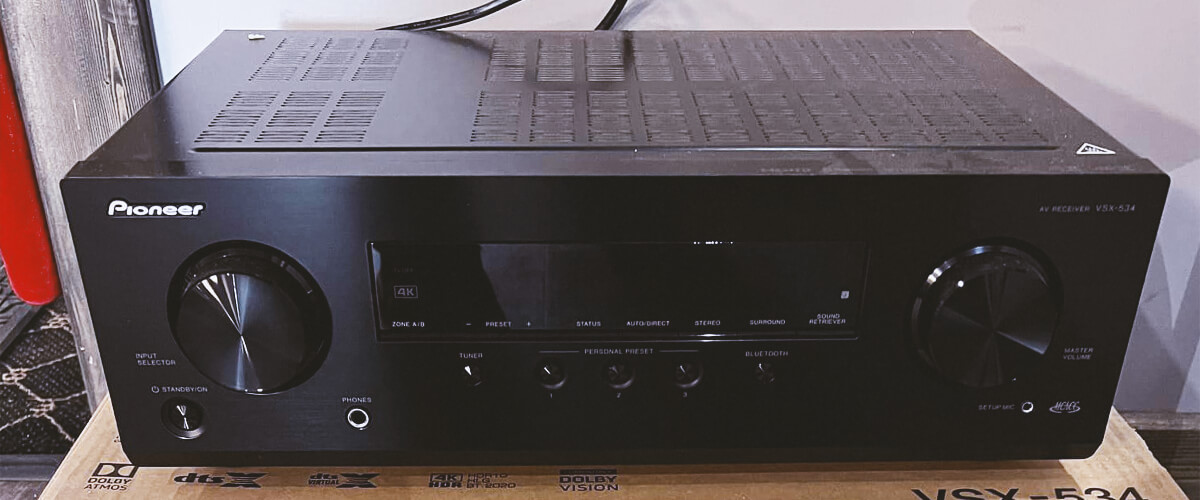 More than once, I saw Pioneer mentioning their Advanced Sound Retriever when they advertised the VSX-534 receiver. The unit even managed to surprise me with the clarity and detail of its sound. DTS Dialog Control worked great to keep the dialogues clear even through the most active moments. In addition, I have never heard such a classy and warm bass in this price range of receivers. Combined with the ability to separately control dialog loudness, a powerful amplifier makes a unit a solid choice in its class.
I hadn't noticed a moment when a receiver maxed out when listening to music because it didn't happen. Most of the time, the music sounded just like the authors intended, regardless of the genre. But, at the same time, the quality significantly decreased the more compressed MP3 or WMA files I used. So, keep in mind, when using a USB port or smartphone to listen to music, ensure that you have high-bit-rate music files.
Key specs
Channels: 5.2.
Power output: 80W/8 Ohm, 150W/6 Ohm.
HDMI inputs/outputs: 4/1.
Video functions: 4K/120Hz, 4K/60Hz, upscaling to 4K.
Bluetooth/Wi-Fi: yes/yes.
Streaming services: AirPlay2, Deezer, Tidal, Pandora, SiriusXM, Napster, SoundCloud, Amazon Music, Amazon Music HD, Mood mix.
Supports: HDMI ARC, HDMI eARC, HDMI CEC, HDCP2.3, HDR10, HDR10+, Dolby Vision.
Surround sound: DTS HD Master, DTS:X, DTS Neural:X, DTS Virtual:X, Dolby TrueHD, Dolby Surround, Dolby Digital Plus, Dolby Atmos Height Virtualization, Dolby Atmos, Auro-3D.