Home theater is a desirable attribute for any modern person, and the AV receiver is an integral part of it, performing the function of the central unit of signal transmission from one system device to another. And if you are new to home theater and have decided to get a better idea of what it is without investing a lot of money in the purchase, there are quite a few low-cost models which can use a 5.1 surround sound system.
My list of best budget receivers will help you decide on your search. I have selected the optimal devices in this category in which price, sound quality, and functionality merge to give you a new experience when watching movies.
Our pick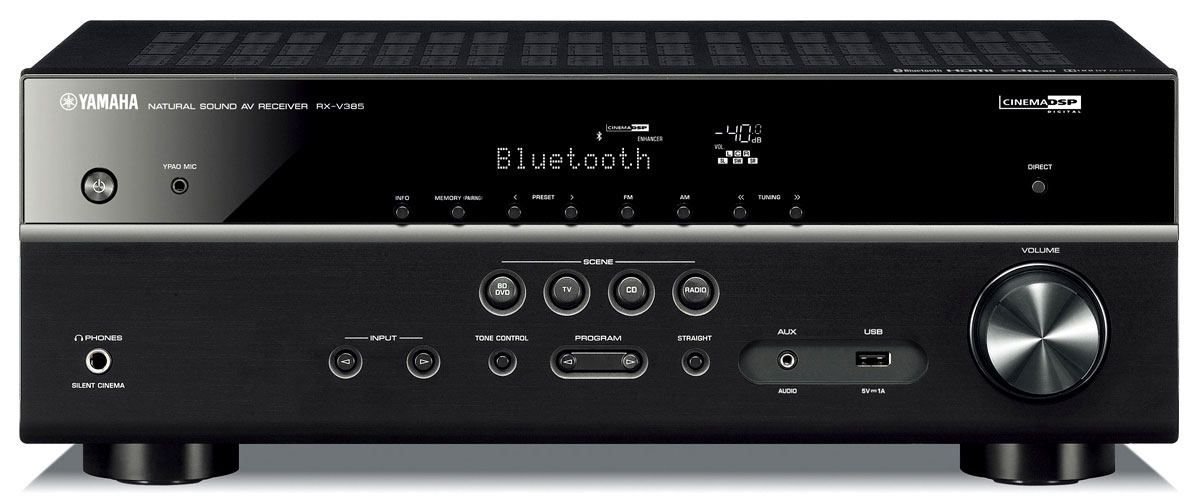 Yamaha RX-V385
Best budget AV receiver
The Yamaha RX-V385 AV receiver is engineered for crystal-clear sound. With virtual 5-channel surround sound, it offers an immersive. So enjoy stunning audio quality with every movie, TV show, or game.
Read the full review
.
Budget AV receivers comparison table
Name
Channels
Power output
HDMI inputs/outputs
Bluetooth/Wi-Fi
Review
Yamaha RX-V385

best overall

5.1
70W/8 Ohm, 130W/6 Ohm
4/1
yes/no
Review
Denon AVR-S570BT
5.2
70W/8 Ohm, 90W/6 Ohm
4/1
yes/no
Review
Pioneer VSX-534
5.2
80W/8 Ohm, 150W/6 Ohm
4/1
yes/yes
Review
Onkyo TX-SR393
5.2
80W/8 Ohm, 155W/6 Ohm
4/1
yes/yes
Review
What to expect from a budget receiver?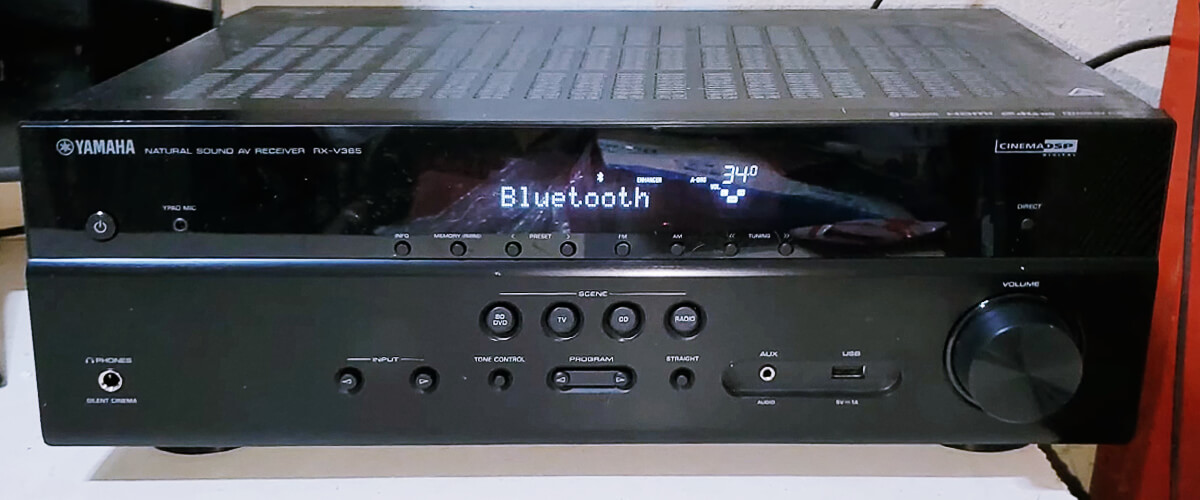 5.1 channels
So what can inexpensive AV receivers for home theater offer you? First of all, it is the 5-channel surround sound, thanks to which you can feel yourself literally like in the cinema, when the sound envelops you from all sides, making you a participant in the events on the screen. This configuration will be enough for many users, not only at first but probably for many years.
Multiple HDMI inputs
Secondly, with a receiver, you can connect multiple devices, including Blu-ray players, CD players, and games consoles, because AVRs have multiple HDMI inputs. And as you have probably already guessed, the more ports the receiver has, the more different devices you can connect to it.
HDR
And, of course, you'll watch video content in HDR format, seeing the picture as the creator intended (or as close to it as possible). Because HDR is a high dynamic range of light and dark tones, it affects contrast and displays rich colors on the screen. The result is a realistic, detailed image.
Best budget AV receiver reviews
My Yamaha RX-V385 review aims to determine whether it gives Yamaha an edge in the competition in the low-end price segment of the market. It is a 5.1 channel AV receiver that can provide 70 Watts per 2 channels with 8 Ohm speakers at 0.08% THD and offers a standard 20 Hz – 20 kHz frequency. Furthermore, because RX-V385 is bi-amping capable, it helps the receiver to provide decent power and quality for movies.
At the same time, Denon has the Denon AVR-S570BT, and the NR1510 from Marantz doesn't fall far behind these two. So, it seems that a significant struggle has flared up in the low-end receiver price segment. Let's take a closer look at what Yamaha RX-V385 offers and whether it will look decent compared to similar devices.
Build and design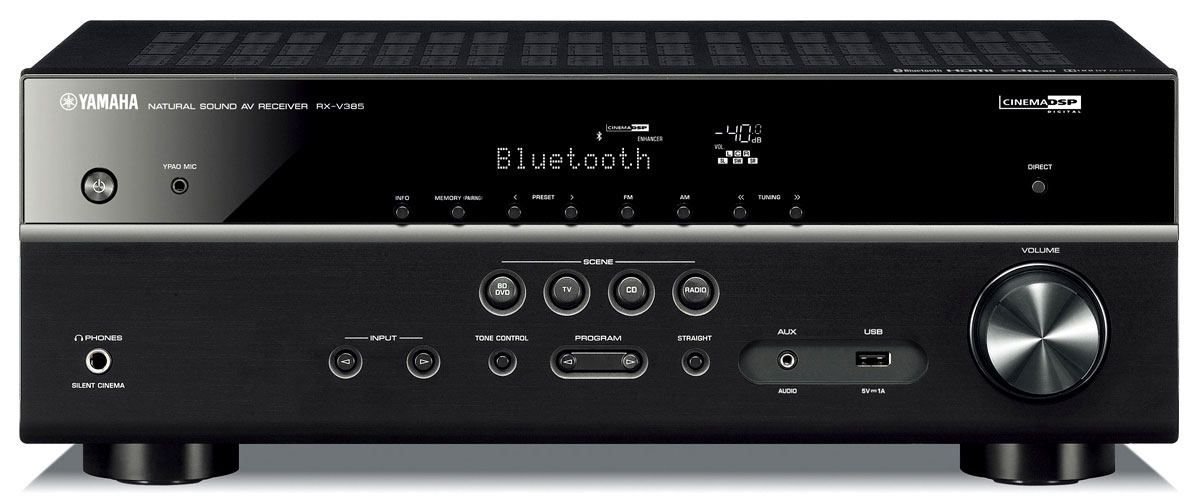 The RX-V385 has nothing surprising in terms of design in its sleeve, as it looks exactly like its predecessor. And it is not something unusual, as it is typical for receivers from different brands to share the same chassis inside one line of products.
While the design is common to this Yamaha line, it may surprise you if you've owned a receiver from another brand. Yamaha has developed its unique approach to design, button, and control surfaces positions. If this is your first model of this brand, you'll quickly get to grips with the layout of the buttons, and you'll love the glossy finish combined with the brushed metal. And if you've owned a different brand of receiver, the RX-V385 will be quick and easy to navigate. However, getting used to the rather unusual button layout might take some time. One can't mistake Yamaha for any other company.
Yamaha indeed pays the most attention to the Aventage line, as it is their flagship, but they also devote the same attention to their RX-V series. That's why the unit is quality built, with reliable and proven components inside.
Ports and connectivity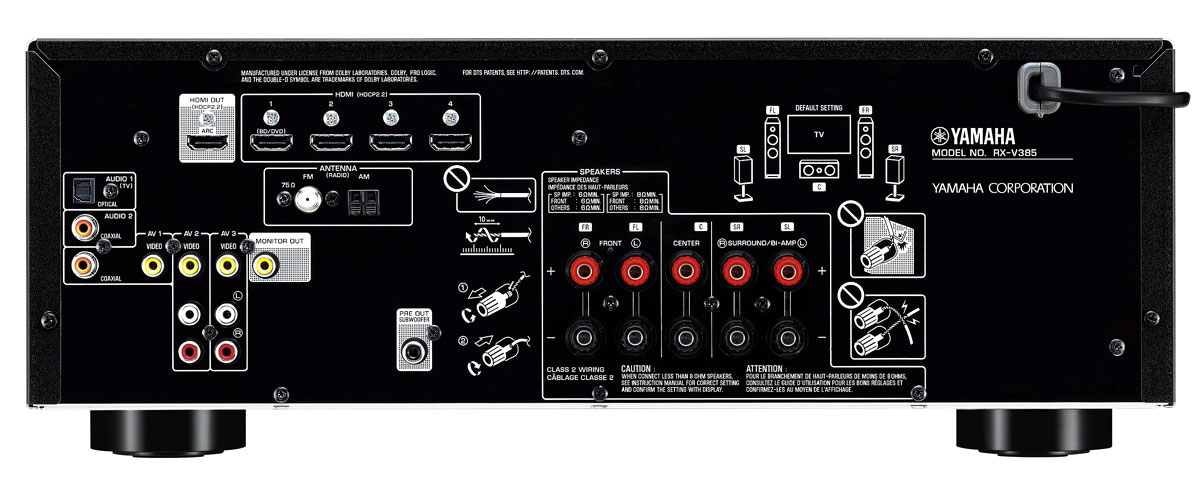 Yamaha RX-V385 features the following set of ports: 4 HDMI inputs and a single output, 2 coaxial audio inputs, single optical audio, only one composite video input and output, 3 RCA stereo line-in ports and a single out, 3 USB including a single front one and a headphone jack.
Talking about other connectivity features, it's important to mention that the unit has no Wi-Fi. Thus, it has no support for any streaming services. However, a 2.1+EDR Bluetooth somewhat compensates for this. Altogether, compared with the older RX-V383, the new RX-V385 has improved not only in terms of quality but also in the set of possibilities.
Features
I want to start analyzing the RX-V385 specifications from the bitter part. Primarily due to its low cost, the unit doesn't have multi-room capability. By the way, just like one of its main competitors, the Denon AVR-S570BT. Since the receiver doesn't support Airplay or MusicCast, the only option is to use Bluetooth speakers to build a setup that would resemble a multi-room feature. The receiver also lacks voice control, which isn't much of a problem but is still worth mentioning.
All the HDMI ports support HDCP 2.3 standard and 4K at 60 Hz. The unit doesn't work with 8K content and upscaling and supports older HDR10 and basic Dolby Vision technology. On the good side, there is support for Deep color and Lip-Sync. I was also surprised that the unit has eARC right out of the box. Recently it was only available via an update. Following modern trends, the RX-V385 offers an advanced ECO mode.
Sadly, the receiver doesn't support Dolby Atmos and DTS:X. So, one searching for a cheap unit with modern surround sound formats will be somewhat disappointed in this unit.
Listening impression
Considering the lack of modern surround sound technologies, I didn't expect much from this receiver. So, when I began testing the unit with 4K movies, I didn't have any real expectations from the RX-V385. However, it has proven itself pretty well, with quality sound and deep bass, and even its surround sound was pretty decent. Considering the price range, you can get a quality unit with everything you need to try the 5.1 channels surround sound setup.
At the same time, I felt a lack of power when listening to music. You see, I am one of those folks who love cranking the volume up to hear every bit of my favorite songs. On the other hand, listening to music is not its primary objective, but it does it well unless you set some special requirements. I would also like to mention Yamaha's proprietary technology called Parametric Room Acoustic Optimizer, which could automatically adjust the receiver to my room.
Key specs
Channels: 5.1.
Power output: 70W/8 Ohm, 130W/6 Ohm.
HDMI inputs/outputs: 4/1.
Video functions: 4K/60Hz, upscales HD video signals to 4K Ultra HD.
Bluetooth/Wi-Fi: yes/no.
Streaming services: no.
Suppots: HDMI ARC, HDMI eARC, HDMI CEC, HDMI Upscaling.
Surround sound: DTS HD Master, Dolby TrueHD, Dolby Digital Plus, Cinema DSP.
This receiver tops my chart because it meets all the above parameters and has good power for a medium-sized room. It will give you quality surround sound with deep bass, clear and detailed dialogue, and Yamaha's build quality. I am happy to give it the rank of the best budget receiver.
Denon AVR-S570BT
Today's Denon AVR-S570BT review features an entry-level receiver with 5.2 channels. It also has a surprising amount of power - 70 watts, 20 - 20000 kHz when using 8-ohm speakers, and a THD of 0.08%. The receiver can deliver 70 watts only per 2 channels, so when fully loaded, the amount of power distributed to every single speaker will decrease correspondingly.
Compared with solutions from Marantz - one of a few of Denon's rivals, the AVR-S570BT surpasses the Marantz NR1510 and shares the same power with their stereo amplifier NR1200. It means that the receiver has everything it needs in terms of power to fill a medium-sized room with quality sound using a 5.2 setup.
Build and design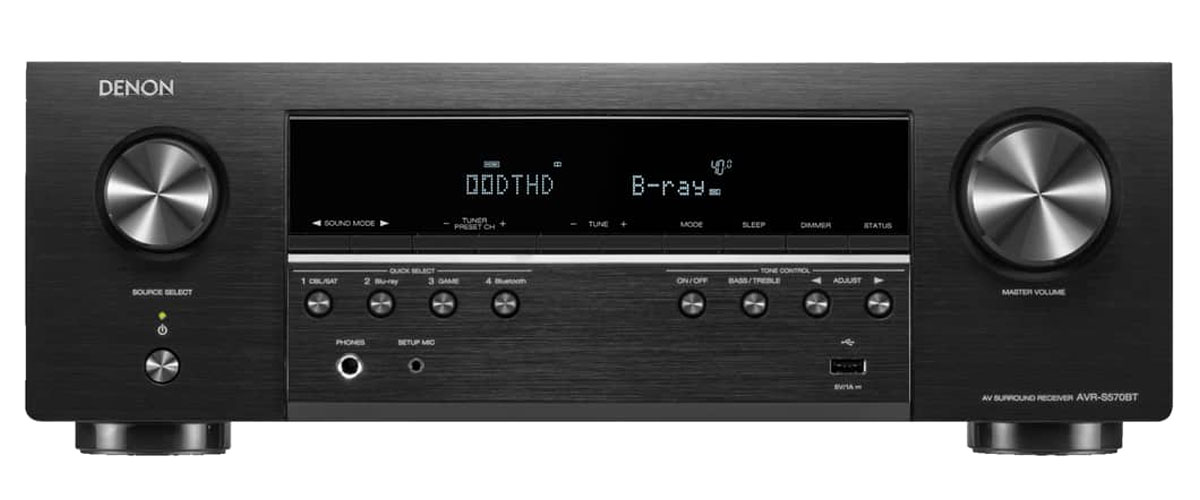 The receiver sticks to the traditional Denon design - with large control surfaces on the sides and a decently-sized screen on the front with small control buttons below it. It looks pretty dated to me, but good luck finding a person who judges receivers by their looks. A well-readable display is definitely what makes Denon and the AVR-S570BT stand out from the crowd.
Altogether, it is a classic black box, and I don't see anything terrible about it. It fits all the traditional environments and interiors. What bothers me is that I could have enjoyed larger buttons. In terms of size, the receiver is pretty standard for its class - 17.1 x 6.0 x 13.0 and weighs a little less than 17 lb. What Denon can't be blamed for is for following the tradition of building rigid, reliable, and firm chassis. The AVR-S570BT is not an exception.
Ports and connectivity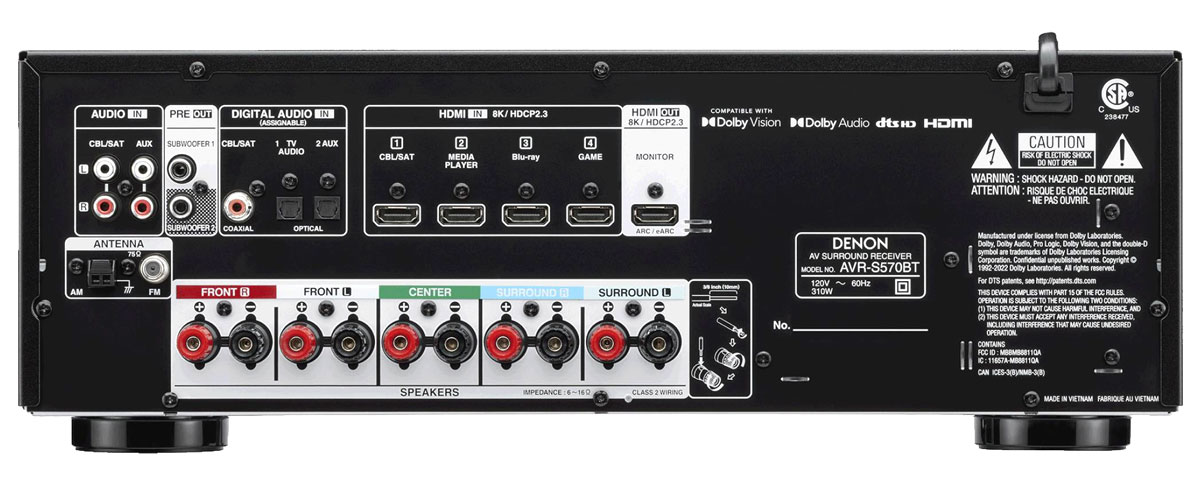 Denon is not one of those companies that fancy changes, so the list of AVR-S570BT specifications can hardly surprise anyone. The receiver has 4 HDMI inputs, a single HDMI output, a conveniently placed front USB, 2 RCA subwoofer outputs, 2 SPDIF inputs, 2 audio line-in ports, 5 speaker terminals, and a front 6.3 mm headphone jack.
The unit offers modern wireless streaming capabilities, including support for Spotify, Pandora, TuneIn, etc. With this in mind, the receiver has a solid set of connectors and ports without excesses. Denon managed to conveniently place them on the chassis and avoided saving money on things one shouldn't. Well done, Denon.
Features
Since the AVR-S570BT is a 5.2 channel receiver representing Denon in a relatively low-end market segment, it won't be right to expect it to support the Zone 2 function. However, the good news is that one can play music from multiple audio sources via Bluetooth. Thus, creating an integrated multi-room audio setup. Not an actual one, but still pretty capable.
From a video perspective, Denon surfaces the competitors by offering the support of 8K 60 Hz video tight out of the box and supports 8K upscaling on all 4 HDMI ports. Typically for its class, the unit offers 4K at 120 Hz and includes a pretty rich set of technologies enhancing the video experience - HDR10+, Dolby Vision, HLG, etc. In addition, Denon AVR-S570BT features DTS-Hd and Dolby TrueHD technologies enabling it to work with high-bitrate audio and video.
From a gaming perspective, the receiver supports 3 major technologies: QFT, VRR, and ALLM. This results in a pleasant lag and stutter-free gaming experience. It was a pleasure to return to Detroit Become Human again and experience it in full 4k 120 Hz with immersive sound. Those who are more into active games would enjoy the benefits of QFT and VRR, as it offers minimal latency.
Listening impression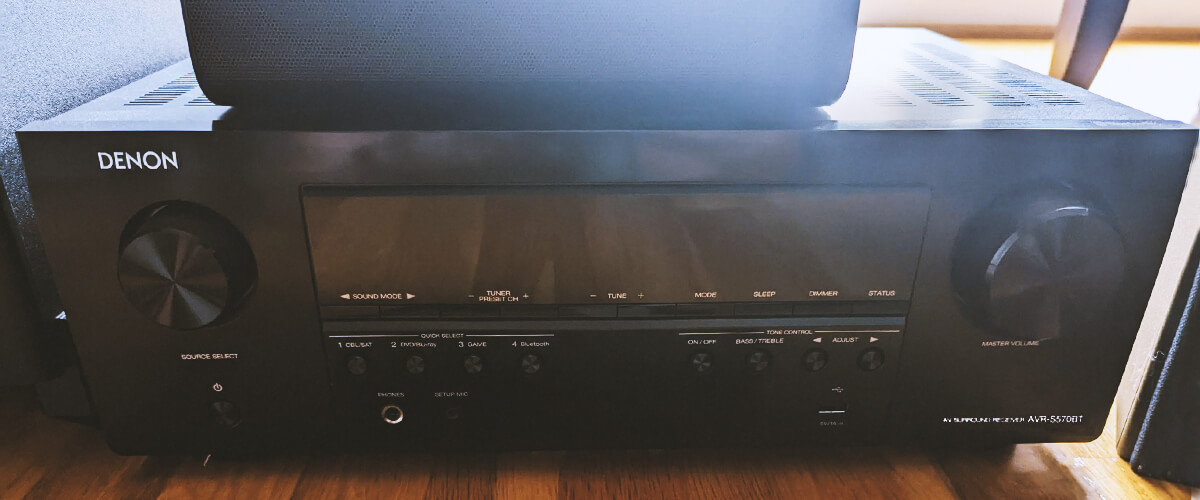 This time I began my tests with music to get me in a good mood. So, the AVR-S570BT first had to handle energetic classic rock sections with lyric ballads. The unit showed itself well during the active parts, with multiple instruments kicking in and vocal solos between them. Still not the finest choice solely for music, but it won't disappoint with the quality.
When watching movies, the receiver impressed me with its dynamic range, bravely handling the action movies I love. The receiver filled the room with immersive sound and juicy bassy sections. My wife and I also enjoyed several romantic movies. There wasn't a single flaw that could distract us from dialogues and soundtracks playing on the heartstrings of our souls. A pretty good result. Though, I don't recommend going bigger than a moderate-sized room. After all, it is only a 5.2-channel receiver, even if it carries similar technologies and offers as much power as some more advanced models.
Key specs
Channels: 5.2.
Power output: 70W/8 Ohm, 90W/6 Ohm.
HDMI inputs/outputs: 4/1.
Video functions: 8K/60Hz, 4K/120Hz, 4K/60Hz pass-through, upscaling to 8K.
Bluetooth/Wi-Fi: yes/yes.
Streaming services: AirPlay2, Deezer, Tidal, Pandora, SiriusXM, Napster, SoundCloud, Amazon Music, Amazon Music HD, Mood mix.
Supports: HDMI ARC, HDMI eARC, HDMI CEC, HDCP2.3, HDR10, HDR10+, Dolby Vision.
Surround sound: DTS HD Master, Dolby TrueHD, Multichannel Stereo.
The next low-cost home theater receiver is from Denon, whose quality is unquestionable. It sounds equally good in surround sound as in music, showing a warm, colorful wide range of tones and bass. In addition, it is one of my favorites among the best budget AV receivers because it supports 8K video.
Pioneer VSX-534
I waited to make the Pioneer VSX-534 review for quite some time, and finally, I have got the unit in my hands. It is a very unusual and interesting 5.2-channel unit that offers 80 Watts of power per 2 channels when using 8 Ohm speakers and providing the usual 20 Hz - 20 kHz frequency range. Furthermore, the unit supports 4-ohm speakers, which is rather unusual even for the more expensive receivers. Most importantly, the receiver shares the same chip (84 kHz/32-bit D/A Conversion with AK4438 (AKM)) with older models, which partially gives the unit the same sound quality as the older models.
Build and design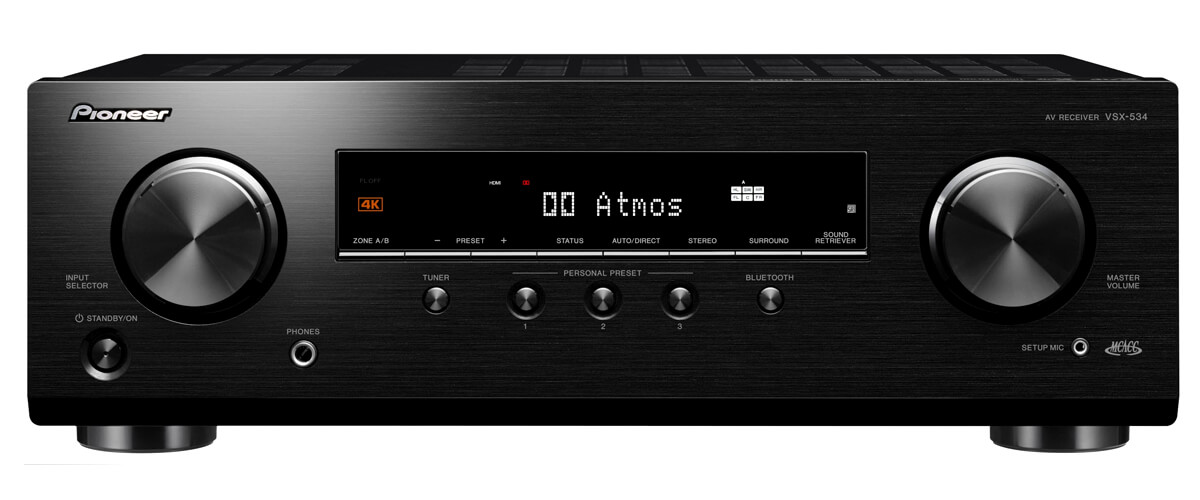 Pioneer is not very fond of making adjustments to the design of its devices. Marantz, Denon, and Pioneer stick to the traditional approach with two large control surfaces on the sides of their receivers and pretty large displays and control buttons above them. This receiver has a strong vibration-resistant chassis. When I unpacked the device, it already felt like a far more costly unit. It also has a pretty standard for its class size - 17-1/8" x 5-13/16" x 12-5/8", and weighs a little less than 17.6 lbs.
Ports and connectivity
According to the VSX-534 specifications, it has 4 HDMI inputs and a single 2.0 HDMI output that come with HDCP 2.2 technology, 3 Line RCA inputs with a single output, two subwoofer connectors, single coaxial and optical input, 6.3 mm headphones jack, FM/AM and USB port. However, despite the overall improvement, the unit has fewer composite video inputs and outputs than the older VSX-532. Plus, it lacks a front USB present in its predecessor.
The unit doesn't have a Wi-Fi connection, so it doesn't support online streaming services. At the same time, similarly to Yamaha RX-V385, the unit has modern Bluetooth technology, which adds more flexibility, but doesn't compensate for the lack of Wi-Fi.
Features
Pioneer VSX-534 features typical for Onkyo and Pioneer Zone B audio output technology. While it's not a fully-functional multiroom feature, it allows connecting the wireless headphone dock to the expanding terminal. Thus, one can listen to music in other rooms. It also allows connecting a separate amplifier and delivering the same audio signal into two different rooms. Additionally, one can use a built-in Bluetooth board to connect the wireless speakers.
The receiver doesn't support 8K content and only can play 4K at 60 Hz. It includes upscaling from 1080p to 4K, but only at 60 Hz. Typically, for the price range, the unit offers only HDR10 support. However, the receiver supports Dolby Atmos, which allows it to deliver an immersive sound of quality. In turn, Dolby Surround Upmixer allows installing even the ceiling speakers.
DTS:X is another technology similar to Dolby Atmos supported by the receiver. It supports the whole family of technologies, including DTS Neural:X, Virtual:X, and DTS Express. Unlike the older model, the VSX-532 supports DTS Virtual X and Dialog Control.
Listening impression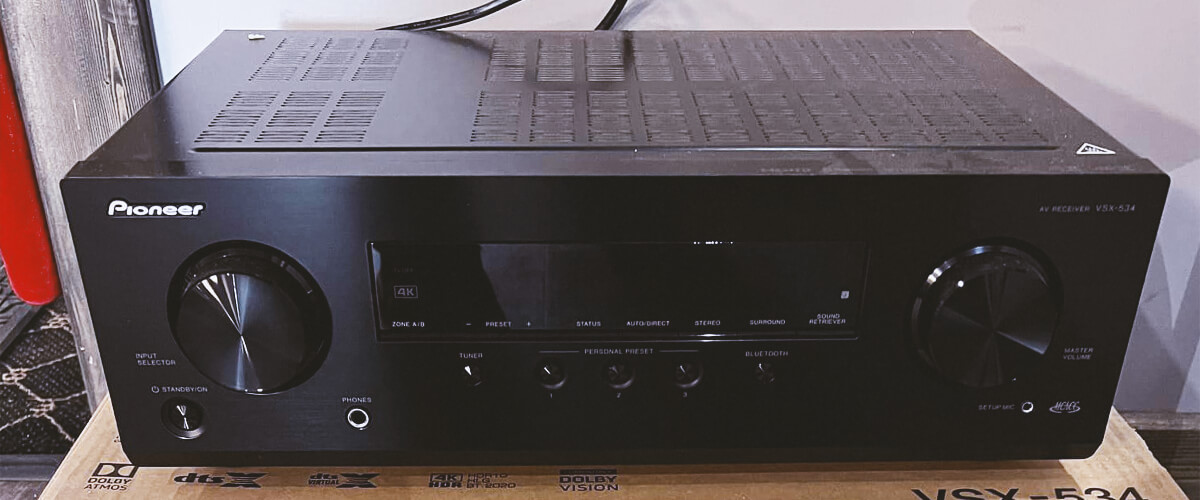 More than once, I saw Pioneer mentioning their Advanced Sound Retriever when they advertised the VSX-534 receiver. The unit even managed to surprise me with the clarity and detail of its sound. DTS Dialog Control worked great to keep the dialogues clear even through the most active moments. In addition, I have never heard such a classy and warm bass in this price range of receivers. Combined with the ability to separately control dialog loudness, a powerful amplifier makes a unit a solid choice in its class.
I hadn't noticed a moment when a receiver maxed out when listening to music because it didn't happen. Most of the time, the music sounded just like the authors intended, regardless of the genre. But, at the same time, the quality significantly decreased the more compressed MP3 or WMA files I used. So, keep in mind, when using a USB port or smartphone to listen to music, ensure that you have high-bit-rate music files.
Key specs
Channels: 5.2.
Power output: 80W/8 Ohm, 150W/6 Ohm.
HDMI inputs/outputs: 4/1.
Video functions: 4K/120Hz, 4K/60Hz, upscaling to 4K.
Bluetooth/Wi-Fi: yes/yes.
Streaming services: AirPlay2, Deezer, Tidal, Pandora, SiriusXM, Napster, SoundCloud, Amazon Music, Amazon Music HD, Mood mix.
Supports: HDMI ARC, HDMI eARC, HDMI CEC, HDCP2.3, HDR10, HDR10+, Dolby Vision.
Surround sound: DTS HD Master, DTS:X, DTS Neural:X, DTS Virtual:X, Dolby TrueHD, Dolby Surround, Dolby Digital Plus, Dolby Atmos Height Virtualization, Dolby Atmos, Auro-3D.
This model is the cheapest AV receiver on my list, and the brand has established itself on the market specifically for producing inexpensive but quality equipment. The detail of the dialogues will amaze you, even when there is quite an active sound background. Realistic, clear, and powerful sound is just what you need for a home theater in a small room.
Onkyo TX-SR393
Modern AV receivers are among the most technically advanced devices available on the consumer market. Unfortunately, not all users have the opportunity to buy such devices of the top level. Therefore, today's Onkyo TX-SR393 review features the 5.2 channel receiver from the mid-to-low price range. With 8 Ohm speakers, the receiver offers 80 Watts per 2 channels at 0.08% THD with 20-20kHz frequency.
The unit looks pretty pale in terms of power compared to the Denon or Marantz receivers. At the same time, the receiver supports the 4 Ohm speakers, which is very pleasant in this price range. This fact and some other specs may look surprising, but this results from how Onkyo positions its device. You can read more about it below.
Build and design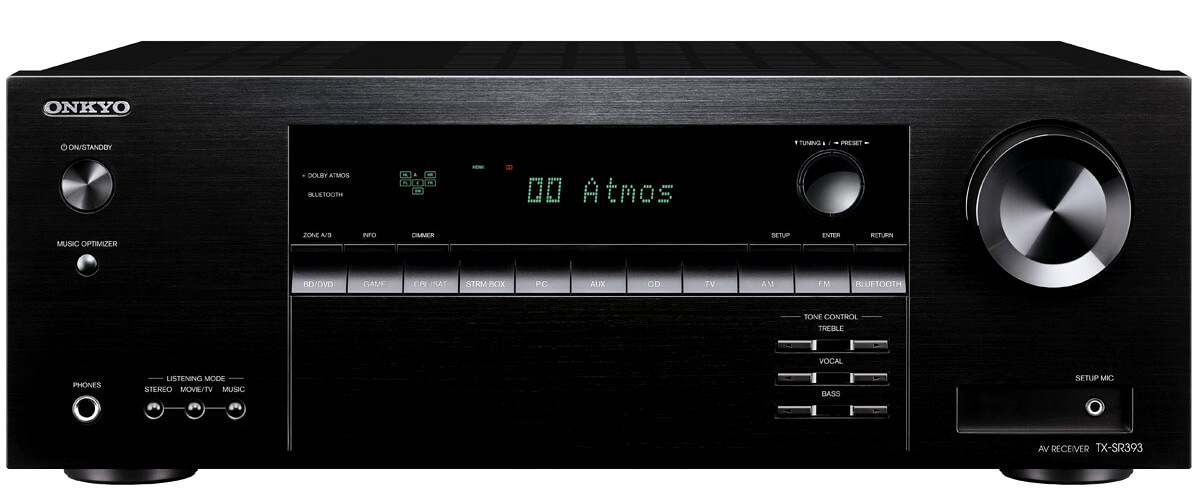 The receiver market is famous for its minimalistic traditions in design. While Denon and Marantz are the traditionalists and Yamaha tries to bring new forms and shapes into receiver design, Onkyo holds a balance. The receiver has a large control knob on the right side, supplemented by the smaller buttons shifted to the middle and left side of the unit. Traditionally, the TX-SR393 has a large display. It is easily visible from about 3 feet, which is a great result.
When browsing the receiver market, I don't think it's possible to find a poorly built unit from a well-known company. And the TX-SR393 is not the exception - Onkyo paid great attention to its body and chassis, making it robust, reliable, and stylish if it matches your taste and modest budget.
Ports and connectivity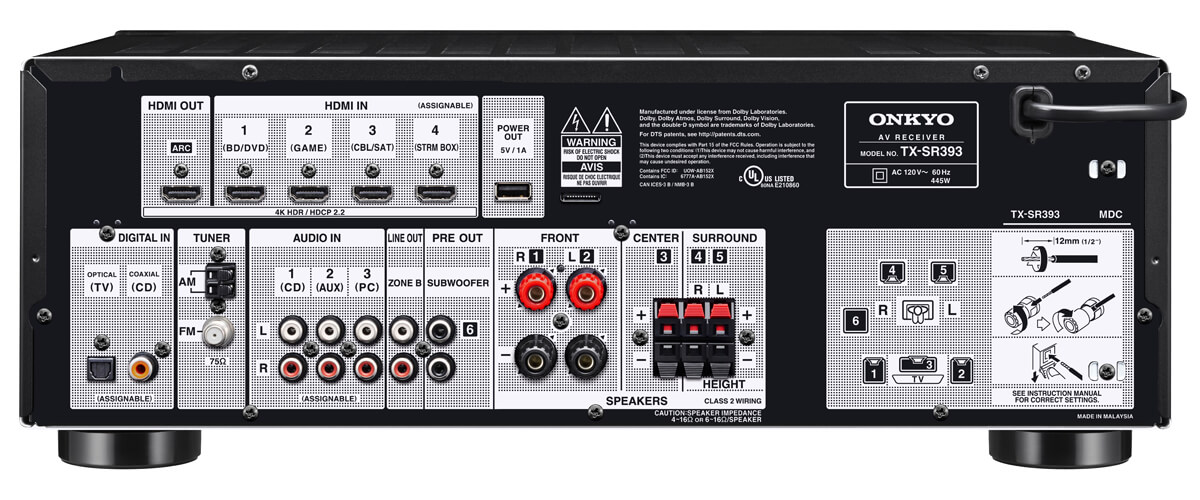 Onkyo followed the general trend and installed a rather generous set of connectors and ports into the receiver. So, according to the TX-SR393 specifications, the receiver includes the following: 4 HDMI inputs and a single output, 5 speaker posts, single assignable coaxial and optical connectors, 3 analog audio inputs, Zone B line out, a paralleled pre-out subwoofer connector, AM/FM antennas.
In my opinion, Onkyo tried to save on something one shouldn't, as only the front right and left channels have the binding post connectors. That adds certain inconveniences, as spring connectors may not be suitable for some cables.
The receiver lacks Wi-Fi, so no streaming capabilities are included. But I used my iPhone to listen to Apple Music through the receiver connected via Bluetooth. So it's not much of a flaw for me.
Features
The Onkyo TX-SR393 features zero Zone 2 capabilities. However, it has Zone B support and parallel subwoofer outputs. You can use an additional amplifier with speakers to deliver sound to another room. Another option is to use Bluetooth speakers, thus achieving the same - distributing sound around multiple rooms. Yet, both approaches share the same flaw, as you will have to play the same signal in all the rooms.
Like its counterparts from other brands (Pioneer VSX-534 and Yamaha RX-V385), the unit only supports an older HDR10, HDCP2.2 protocol allowing the unit to work with 4K video at 60Hz. The HDMI ports also support 4K upscaling from 1080p. In addition, the TX-SR393 features a 4:4:4 color space delivering true colors when gaming, watching movies, or other media.
Talking about the surround sound capabilities, the receiver has a rich set of technologies supported, including Dolby Atmos, TrueHD, DTS:X, and an older DTS-HD Master Audio. Combined with the proprietary Onkyo Subwoofer EQ technology, the unit, under certain use-case scenarios, provides sound quality similar to the older models.
Listening impression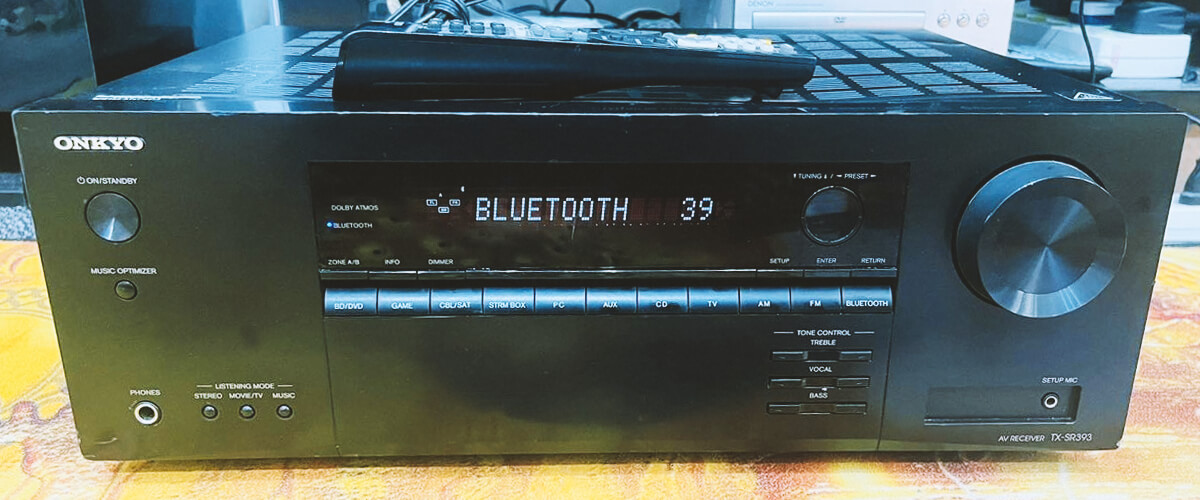 I started testing it with movies, and the result was way brighter than expected. The receiver gave a notable depth during action moments and vocable dialogues thanks to Vocal Enhancer. I didn't even have to adjust anything after the unit automatically set itself up. Good job, Onkyo.
Things get less pleasant with music. The Advanced Music Optimiser really tries to squeeze quality from the unit. It even succeeds, most of the time. The more active the song, the lesser the bitrate, and the louder you get, the more noises and problems you should expect. Altogether, nothing new, a solid amplifier for its money. The TX-SR393 doesn't make a revolution in sound, but it is a serious competitor in the market.
Key specs
Channels: 5.2.
Power output: 80W/8 Ohm, 155W/6 Ohm.
HDMI inputs/outputs: 4/1.
Video functions: 4K/60Hz pass-through, upscaling to 4K.
Bluetooth/Wi-Fi: yes/yes.
Streaming services: AirPlay2, Deezer, Tidal, Pandora, SiriusXM, Napster, SoundCloud, Amazon Music, Amazon Music HD, Mood mix.
Supports: HDMI ARC, HDMI eARC, HDMI CEC, HDCP2.3, HDR10, HDR10+, Dolby Vision.
Surround sound: DTS HD Master, DTS:X, DTS Virtual:X, DTS Neural:X, Dolby TrueHD, Dolby Surround, Dolby Digital Plus, Dolby Atmos Height Virtualization, Dolby Atmos, Auro-3D.
I have added Onkyo's affordable AVR to this list because it gives high-quality surround sound with remarkable depth and realism. A bright soundtrack with excellent frequency separation and availability of minimum necessary features is what you need when looking for a budget but productive enough device.
FAQ
Can you connect a receiver to a TV wirelessly?
To connect a receiver to a TV wirelessly, you can use a special wireless HDMI kit to connect its corresponding parts to the TV and the receiver. For other connection methods, please read
our article
.
Most common AV receiver audio issues
AV receivers' most common audio issues are distortion, lack of sound, inability to operate surround sound, delays in audio transmission, audio and video out of sync, and spontaneous device shutdown. You can read about the causes of receiver shutdown in our article: "
Why does my AV receiver turn off by itself?
"
Do expensive AV receivers sound better than cheap ones?
Expensive AV receivers sound better than cheap ones because they use higher-quality components, DACs, and manufacturer innovations. Due to this, the sound of such receivers is as close to the audiophile level as possible. Therefore, comparing budget models and devices of the top level is not quite correct.
Do amplifiers sound better than receivers?
I would not ask whether amplifiers sound better than receivers until we have determined your goals. Since the only purpose of an amplifier is to improve the sound, you can get a better quality unit for the same price by eliminating components, features, and video transmission solutions. If you want a full-featured home theater with high-quality video transmission – you will not fit an integrated amplifier but only an AV receiver.