Modern AV receivers are among the most technically advanced devices available on the consumer market. Unfortunately, not all users have the opportunity to buy such devices of the top level. Therefore, today's Onkyo TX-SR393 review features the 5.2 channel receiver from the mid-to-low price range. With 8 Ohm speakers, the receiver offers 80 Watts per 2 channels at 0.08% THD with 20-20kHz frequency.
The unit looks pretty pale in terms of power compared to the Denon or Marantz receivers. At the same time, the receiver supports the 4 Ohm speakers, which is very pleasant in this price range. This fact and some other specs may look surprising, but this results from how Onkyo positions its device. You can read more about it below.
Build and design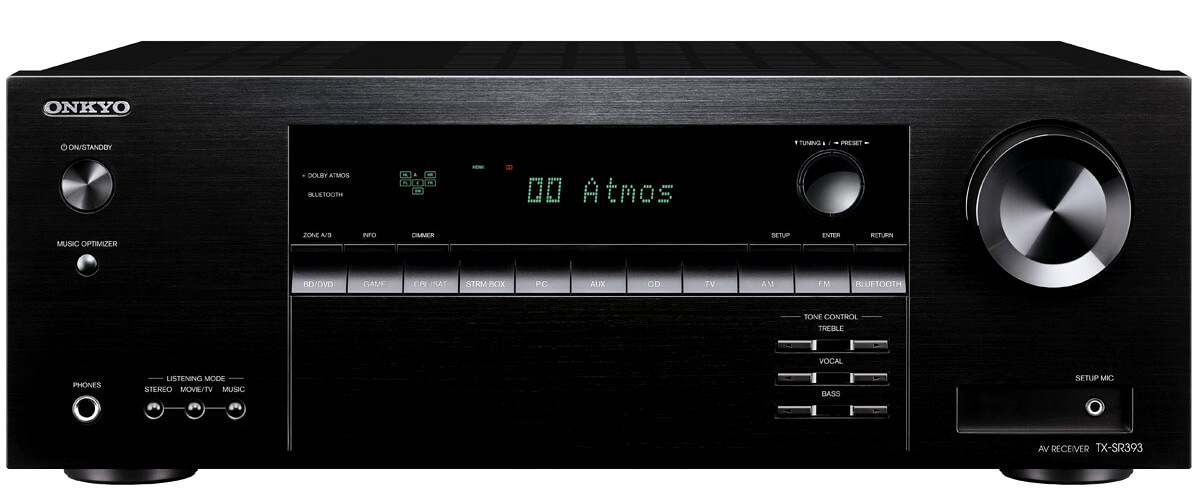 The receiver market is famous for its minimalistic traditions in design. While Denon and Marantz are the traditionalists and Yamaha tries to bring new forms and shapes into receiver design, Onkyo holds a balance. The receiver has a large control knob on the right side, supplemented by the smaller buttons shifted to the middle and left side of the unit. Traditionally, the TX-SR393 has a large display. It is easily visible from about 3 feet, which is a great result.
When browsing the receiver market, I don't think it's possible to find a poorly built unit from a well-known company. And the TX-SR393 is not the exception – Onkyo paid great attention to its body and chassis, making it robust, reliable, and stylish if it matches your taste and modest budget.
Ports and connectivity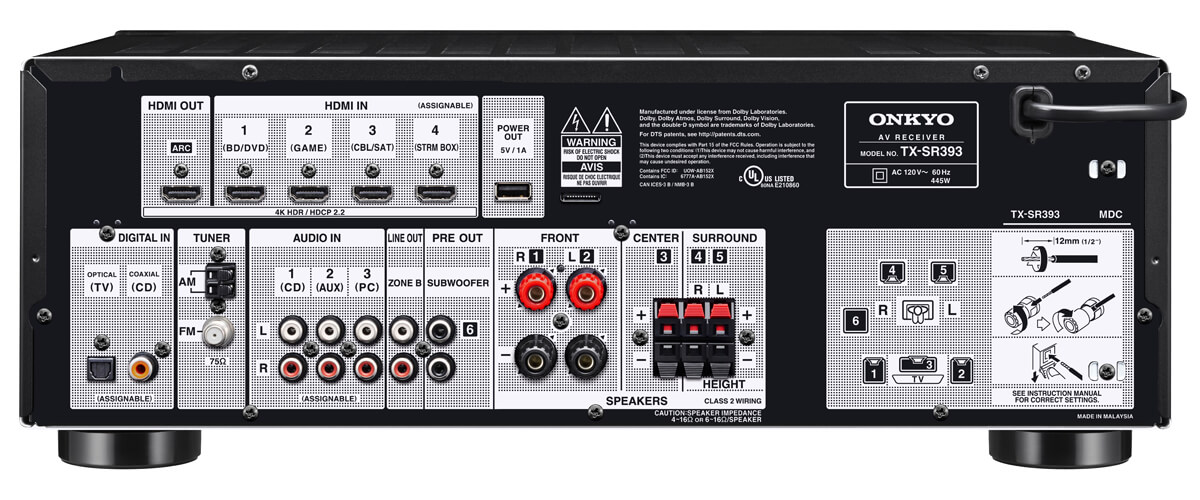 Onkyo followed the general trend and installed a rather generous set of connectors and ports into the receiver. So, according to the TX-SR393 specifications, the receiver includes the following: 4 HDMI inputs and a single output, 5 speaker posts, single assignable coaxial and optical connectors, 3 analog audio inputs, Zone B line out, a paralleled pre-out subwoofer connector, AM/FM antennas.
In my opinion, Onkyo tried to save on something one shouldn't, as only the front right and left channels have the binding post connectors. That adds certain inconveniences, as spring connectors may not be suitable for some cables.
The receiver lacks Wi-Fi, so no streaming capabilities are included. But I used my iPhone to listen to Apple Music through the receiver connected via Bluetooth. So it's not much of a flaw for me.
Features
The Onkyo TX-SR393 features zero Zone 2 capabilities. However, it has Zone B support and parallel subwoofer outputs. You can use an additional amplifier with speakers to deliver sound to another room. Another option is to use Bluetooth speakers, thus achieving the same – distributing sound around multiple rooms. Yet, both approaches share the same flaw, as you will have to play the same signal in all the rooms.
Like its counterparts from other brands (Pioneer VSX-534 and Yamaha RX-V385), the unit only supports an older HDR10, HDCP2.2 protocol allowing the unit to work with 4K video at 60Hz. The HDMI ports also support 4K upscaling from 1080p. In addition, the TX-SR393 features a 4:4:4 color space delivering true colors when gaming, watching movies, or other media.
Talking about the surround sound capabilities, the receiver has a rich set of technologies supported, including Dolby Atmos, TrueHD, DTS:X, and an older DTS-HD Master Audio. Combined with the proprietary Onkyo Subwoofer EQ technology, the unit, under certain use-case scenarios, provides sound quality similar to the older models.
Listening impression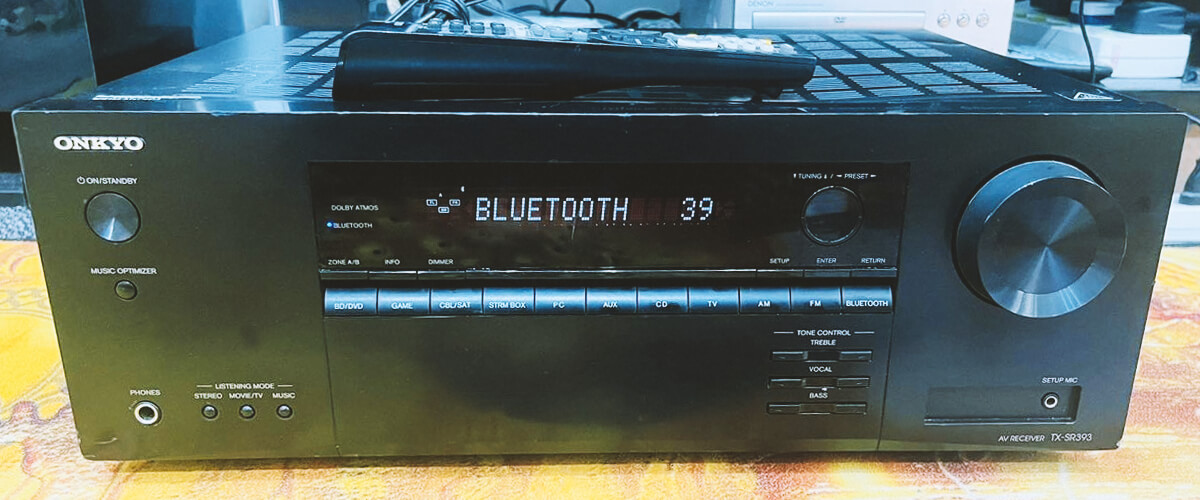 I started testing it with movies, and the result was way brighter than expected. The receiver gave a notable depth during action moments and vocable dialogues thanks to Vocal Enhancer. I didn't even have to adjust anything after the unit automatically set itself up. Good job, Onkyo.
Things get less pleasant with music. The Advanced Music Optimiser really tries to squeeze quality from the unit. It even succeeds, most of the time. The more active the song, the lesser the bitrate, and the louder you get, the more noises and problems you should expect. Altogether, nothing new, a solid amplifier for its money. The TX-SR393 doesn't make a revolution in sound, but it is a serious competitor in the market.
Key specs
Channels: 5.2.
Power output: 80W/8 Ohm, 155W/6 Ohm.
HDMI inputs/outputs: 4/1.
Video functions: 4K/60Hz pass-through, upscaling to 4K.
Bluetooth/Wi-Fi: yes/yes.
Streaming services: AirPlay2, Deezer, Tidal, Pandora, SiriusXM, Napster, SoundCloud, Amazon Music, Amazon Music HD, Mood mix.
Supports: HDMI ARC, HDMI eARC, HDMI CEC, HDCP2.3, HDR10, HDR10+, Dolby Vision.
Surround sound: DTS HD Master, DTS:X, DTS Virtual:X, DTS Neural:X, Dolby TrueHD, Dolby Surround, Dolby Digital Plus, Dolby Atmos Height Virtualization, Dolby Atmos, Auro-3D.