Today's Denon AVR-S570BT review features an entry-level receiver with 5.2 channels. It also has a surprising amount of power – 70 watts, 20 – 20000 kHz when using 8-ohm speakers, and a THD of 0.08%. The receiver can deliver 70 watts only per 2 channels, so when fully loaded, the amount of power distributed to every single speaker will decrease correspondingly.
Compared with solutions from Marantz – one of a few of Denon's rivals, the AVR-S570BT surpasses the Marantz NR1510 and shares the same power with their stereo amplifier NR1200. It means that the receiver has everything it needs in terms of power to fill a medium-sized room with quality sound using a 5.2 setup.
Build and design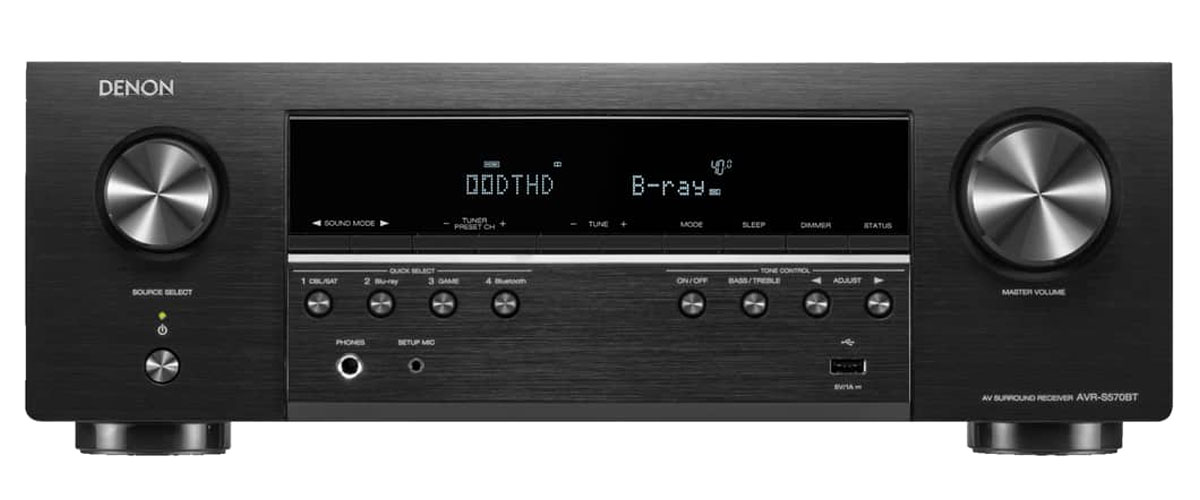 The receiver sticks to the traditional Denon design – with large control surfaces on the sides and a decently-sized screen on the front with small control buttons below it. It looks pretty dated to me, but good luck finding a person who judges receivers by their looks. A well-readable display is definitely what makes Denon and the AVR-S570BT stand out from the crowd.
Altogether, it is a classic black box, and I don't see anything terrible about it. It fits all the traditional environments and interiors. What bothers me is that I could have enjoyed larger buttons. In terms of size, the receiver is pretty standard for its class – 17.1 x 6.0 x 13.0 and weighs a little less than 17 lb. What Denon can't be blamed for is for following the tradition of building rigid, reliable, and firm chassis. The AVR-S570BT is not an exception.
Ports and connectivity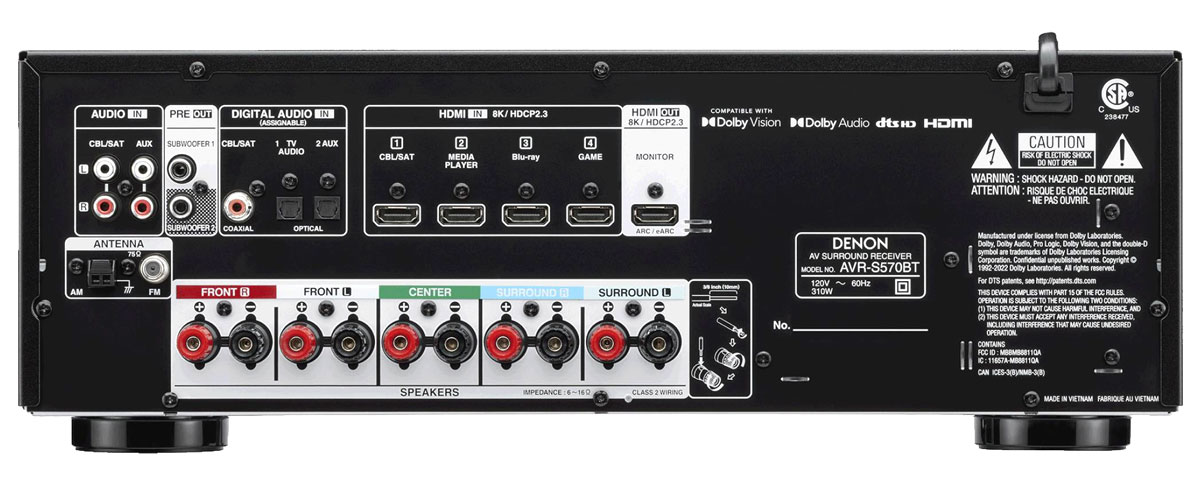 Denon is not one of those companies that fancy changes, so the list of AVR-S570BT specifications can hardly surprise anyone. The receiver has 4 HDMI inputs, a single HDMI output, a conveniently placed front USB, 2 RCA subwoofer outputs, 2 SPDIF inputs, 2 audio line-in ports, 5 speaker terminals, and a front 6.3 mm headphone jack.
The unit offers modern wireless streaming capabilities, including support for Spotify, Pandora, TuneIn, etc. With this in mind, the receiver has a solid set of connectors and ports without excesses. Denon managed to conveniently place them on the chassis and avoided saving money on things one shouldn't. Well done, Denon.
Features
Since the AVR-S570BT is a 5.2 channel receiver representing Denon in a relatively low-end market segment, it won't be right to expect it to support the Zone 2 function. However, the good news is that one can play music from multiple audio sources via Bluetooth. Thus, creating an integrated multi-room audio setup. Not an actual one, but still pretty capable.
From a video perspective, Denon surfaces the competitors by offering the support of 8K 60 Hz video tight out of the box and supports 8K upscaling on all 4 HDMI ports. Typically for its class, the unit offers 4K at 120 Hz and includes a pretty rich set of technologies enhancing the video experience – HDR10+, Dolby Vision, HLG, etc. In addition, Denon AVR-S570BT features DTS-Hd and Dolby TrueHD technologies enabling it to work with high-bitrate audio and video.
From a gaming perspective, the receiver supports 3 major technologies: QFT, VRR, and ALLM. This results in a pleasant lag and stutter-free gaming experience. It was a pleasure to return to Detroit Become Human again and experience it in full 4k 120 Hz with immersive sound. Those who are more into active games would enjoy the benefits of QFT and VRR, as it offers minimal latency.
Listening impression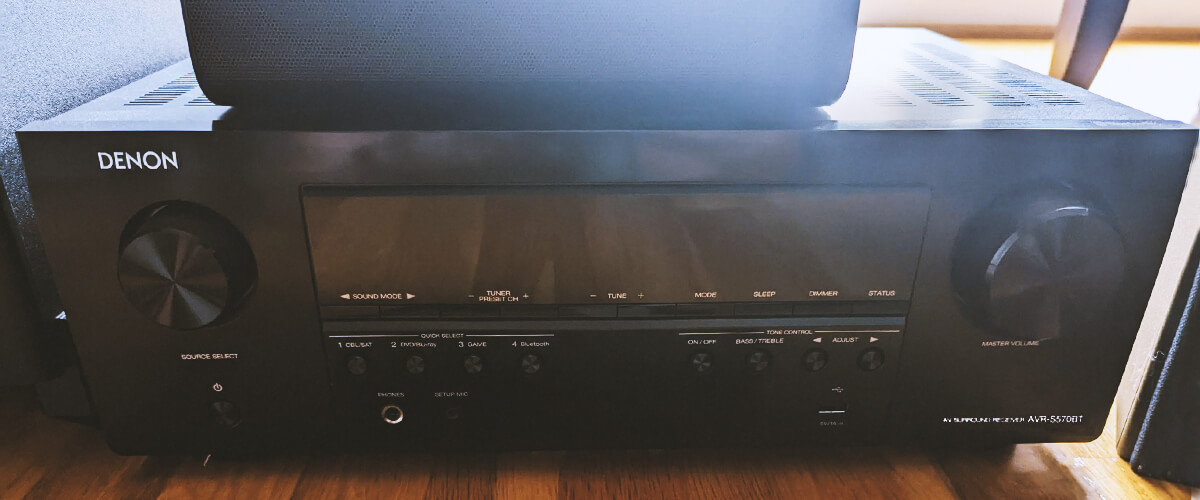 This time I began my tests with music to get me in a good mood. So, the AVR-S570BT first had to handle energetic classic rock sections with lyric ballads. The unit showed itself well during the active parts, with multiple instruments kicking in and vocal solos between them. Still not the finest choice solely for music, but it won't disappoint with the quality.
When watching movies, the receiver impressed me with its dynamic range, bravely handling the action movies I love. The receiver filled the room with immersive sound and juicy bassy sections. My wife and I also enjoyed several romantic movies. There wasn't a single flaw that could distract us from dialogues and soundtracks playing on the heartstrings of our souls. A pretty good result. Though, I don't recommend going bigger than a moderate-sized room. After all, it is only a 5.2-channel receiver, even if it carries similar technologies and offers as much power as some more advanced models.
Key specs
Channels: 5.2.
Power output: 70W/8 Ohm, 90W/6 Ohm.
HDMI inputs/outputs: 4/1.
Video functions: 8K/60Hz, 4K/120Hz, 4K/60Hz pass-through, upscaling to 8K.
Bluetooth/Wi-Fi: yes/yes.
Streaming services: AirPlay2, Deezer, Tidal, Pandora, SiriusXM, Napster, SoundCloud, Amazon Music, Amazon Music HD, Mood mix.
Supports: HDMI ARC, HDMI eARC, HDMI CEC, HDCP2.3, HDR10, HDR10+, Dolby Vision.
Surround sound: DTS HD Master, Dolby TrueHD, Multichannel Stereo.