The Denon AVR-S660H review is dedicated to a rather interesting entry-level receiver from the S-series. It is a 5.2-channel unit with 75 watts per channel with 8-ohm speakers with 0.08% THD. Note that the power would decrease when using all five channels. Still, the receiver is more powerful than the Marantz NR1510 and many other analogs.
This model's power and some other facts clearly show that this receiver is designed for use in small rooms with a standard 5.1 setup. That's why its size and weight allow one to place it almost in any room on any surface.
Build and design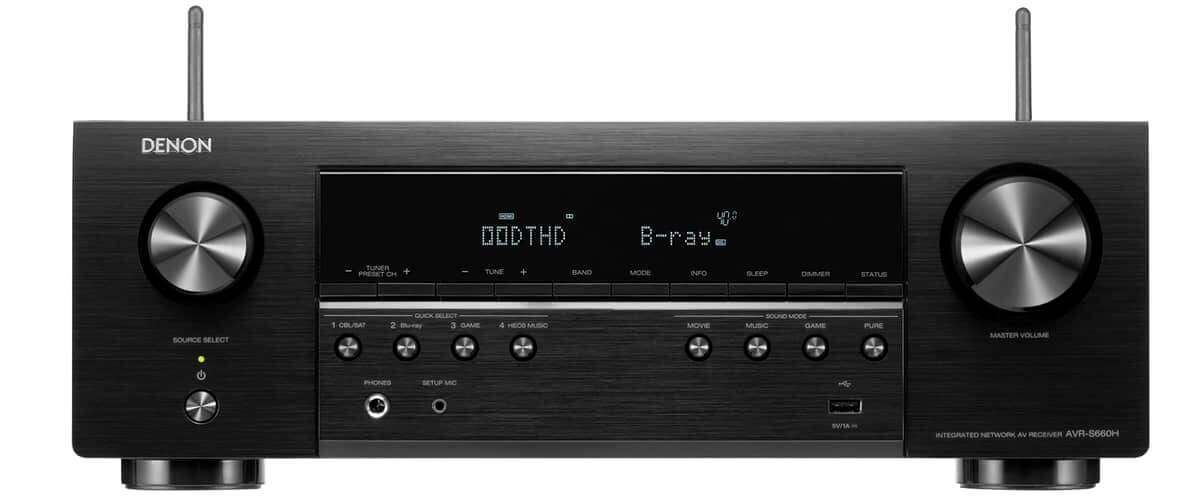 The unit shares the same design as the more expensive S760H. In terms of dimensions, the S660 measures 17.1″ x 13.3″ x 8.5″, including vertically put antennas. The only feasible difference is weight, meaning that the S660 has less powerful hardware. Overall, the size and weight of the device are in line with what you can expect in this price range.
Traditionally for Denon, the device has a large display in the center and several control surfaces and buttons on the sides. Those acquainted with other receivers in this manufacturer's line will find it familiar. Another thing that the AVR-S660H shares with its more expensive brothers is quality. The chassis is good; considering its weight, it holds up awesomely well.
Ports and connectivity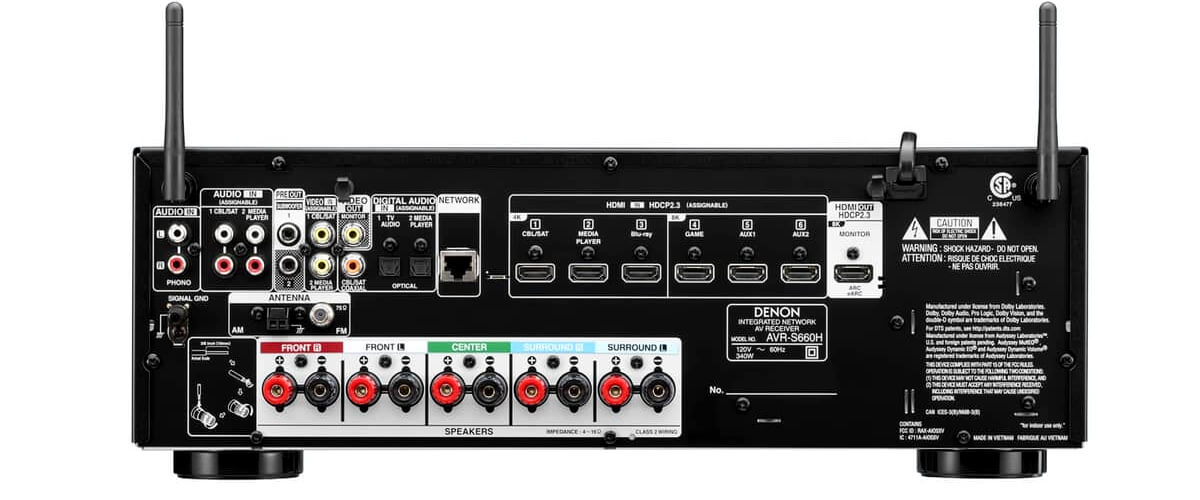 As it goes from the AVR-S660H specifications, the unit has 5 speaker terminals, 6 HDMI inputs, a single front one, and 3 HDMI 2.1 inputs, which distinguishes the receiver from the S650H as it has only 5. Two composite video inputs and an output, 2 optical and single coaxial input, Ethernet, 2 pre-outs, 2 analog audio, and a phono.
The receiver supports FM/AM radio, so it has a radio antenna, Wi-Fi, and Bluetooth. Compared with the S650H, the S660H also has a single coaxial input. So, the receiver surpasses its predecessor by the number of ports and stands in line with receivers from other manufacturers in this price range.
Features
The S660H lacks the Zone 2 feature but offers only HEOS multi-room integrated features, which is not surprising for this price range. It is also compatible with the Denon Home system.
Denon AVR-S660H features HDR10+, and its predecessor, Dolby Vision, HLG, supports Dynamic HDR, sub-sampling, Pure color, QMS, and QFT. The receiver also has ALLM, so you can significantly benefit if you have a device supporting this technology.
Altogether a very rigid number of features and technologies surpasses even the Marantz NR1510. The S660H supports 8K video at 60Hz, which puts it above many other units in its price range. Other ports support 4k at 120Hz, which is standard for this level of models.
The receiver also supports virtual Dolby Atmos technologies, providing multidimensional sound. Which again makes it more interesting than other receivers. However, it is essential to understand that the receiver won't show any good results with powerful speakers in a large room due to the relatively low power. So, Dolby Atmos requires one to pick speakers carefully and set them in a small room.
Listening impression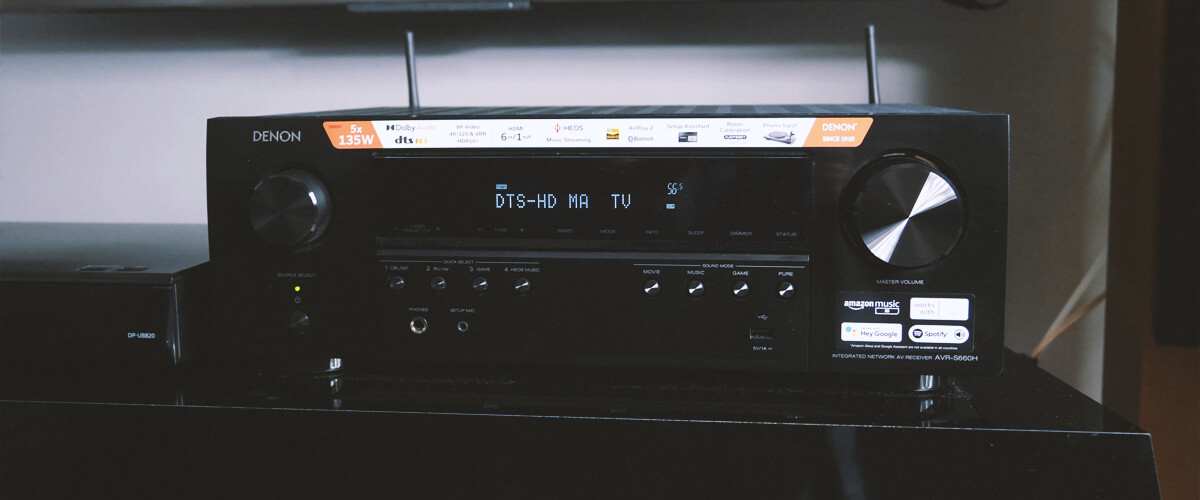 Since the unit supports only virtual Dolby Atmos and older Dolby Pro Logic II and DTS Neo:6, those still show great immersive sound. Undoubtedly, virtual Atmos doesn't work as well as the real thing, but it still can give one an understanding of what to expect from real technology. Also, despite a relatively low power, the unit never maxed out during my tests.
The receiver has several presets, including one for music. It helps a great deal the receiver to deliver a clear and nice sound. At the same time, while showing great results, Denon still can't catch up with Yamaha receivers when it comes to listening to music.
Key specs
Channels: 5.2.
Power output: 75W/8 Ohm, 100W/6 Ohm.
HDMI inputs/outputs: 6/1.
Video functions: 8K/60Hz, 4K/120Hz, 4K/60Hz pass-through, upscaling to 8K.
Bluetooth/Wi-Fi: yes/yes.
Streaming services: AirPlay2, Deezer, Tidal, Pandora, SiriusXM, Napster, SoundCloud, Amazon Music, Amazon Music HD, Mood mix.
Supports: HDMI ARC, HDMI eARC, HDMI CEC, HDCP2.3, HDR10, HDR10+, HLG, Dolby Vision.
Surround sound: DTS HD Master, Dolby TrueHD, Dolby ProLogic II, Multichannel Stereo, Dialog Enhancer.