There is hardly a company that can make a real revolution in the receiver market. Yet, this doesn't stop Denon from trying. Judging by the AVR-X1700H specifications, I can already state that while it may not be the revolution, it is an interesting product. Especially compared to the competitors sharing the same price range, such as the NR1510 from Marantz and RX-V4A from Yamaha. Well, let's take a closer look at what it is.
Build and design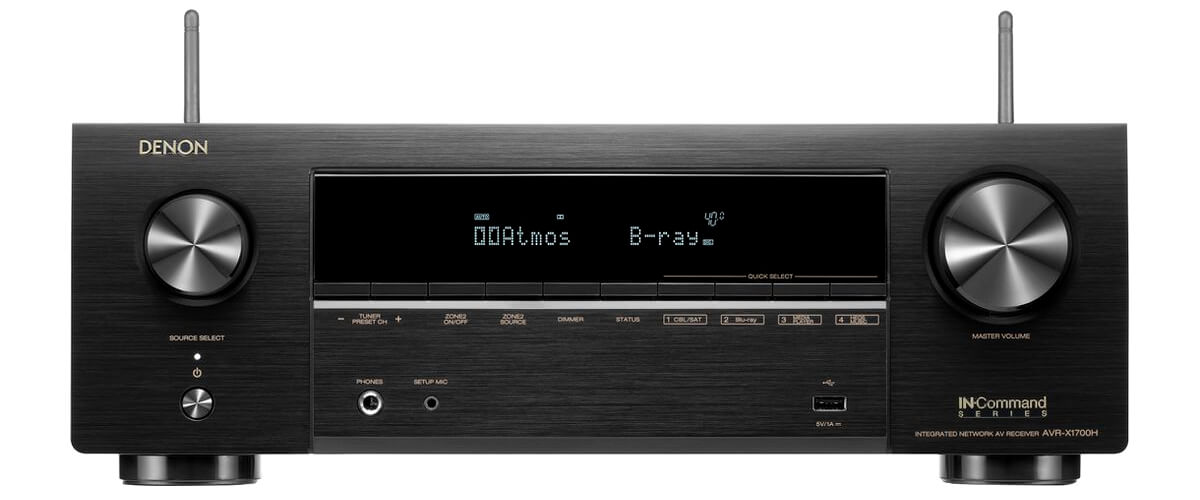 Starting the Denon AVR-X1700H review with design may not be the best way to promote this model. While Marantz comes with a slim NR1510, Yamaha tried to add new features to standard receiver looks with their RX-V4A. The AVR-X1700H resembles a classic black box with a screen onboard. It comes in a standard for this price range size of 17.1×13.3×6 inches and weighs less than the more expensive model, the AVR-X2700H.
The unit is far from impressive in terms of design–a standard but convenient-to-use receiver with buttons located just exactly where you would expect them to be. However, I can't deny Denon their passion for quality. It only takes one to open the cardboard box to get a feeling of holding a quality product. By the way, the AVR-X1700H and the more expensive model X2700H have the same chassis, which adds another plus for my "hero" in terms of quality.
Ports and connectivity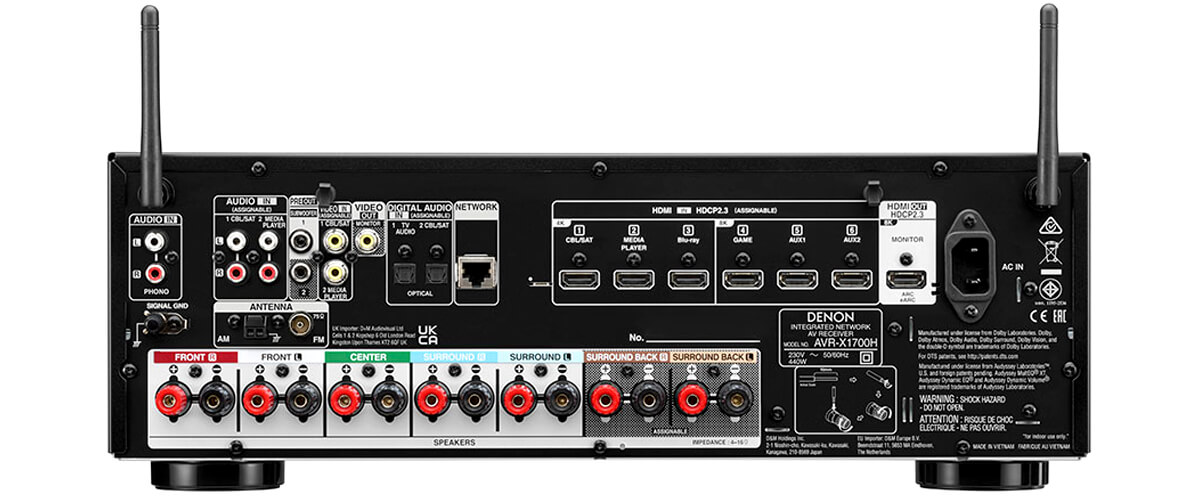 Being the 7.2ch AV receiver, the AVR-X1700H surpasses its 5.2 channel peers from Yamaha and Marantz. And this is while they come in the same price range. So, Denon offers 6 HDMI inputs with HDCP 2.3 support. Only 3 of the ports can work with 8K 60Hz content. It is typical for entry-level units. Like the competitors, the AVR-X1700H comes with a single HDMI output. Other ports include single composite output and 2 inputs, 7 speaker connectors, 2 subwoofer terminals, and Bi-amping. Regarding radio connections, it has an FM antenna and offers b/g/n Wi-Fi and Bluetooth support.
The support of Zone 2 allows for building a multi-room audio setup. Even though it only allows you to use two separate rooms, the difference is significant, as we should not forget that Yamaha and Marantz in this price range can only offer HEOS or Bluetooth, which is essentially not a true multi-room.
Features
The AVR-X1700H looks mightier than its counterparts in terms of power – with 8-Ohm speakers, and one can squeeze stable 80W from it, 20hz-20Khz range, and a THD of 0.08%. This is more than enough power to build a surround sound setup in a small to medium room.
The unit only lacks the DTS Neo:X while offering all the other DTS:X technology tree solutions. The same can be said about the support of Dolby technologies. Sadly, I didn't find Dolby ProLogic II here. The AVR-X1700H has the same upscaling capabilities as its peers, and they all offer HDR10+. As you can see, the Denon AVR-X1700H features are quite extensive and impressive.
Listening impression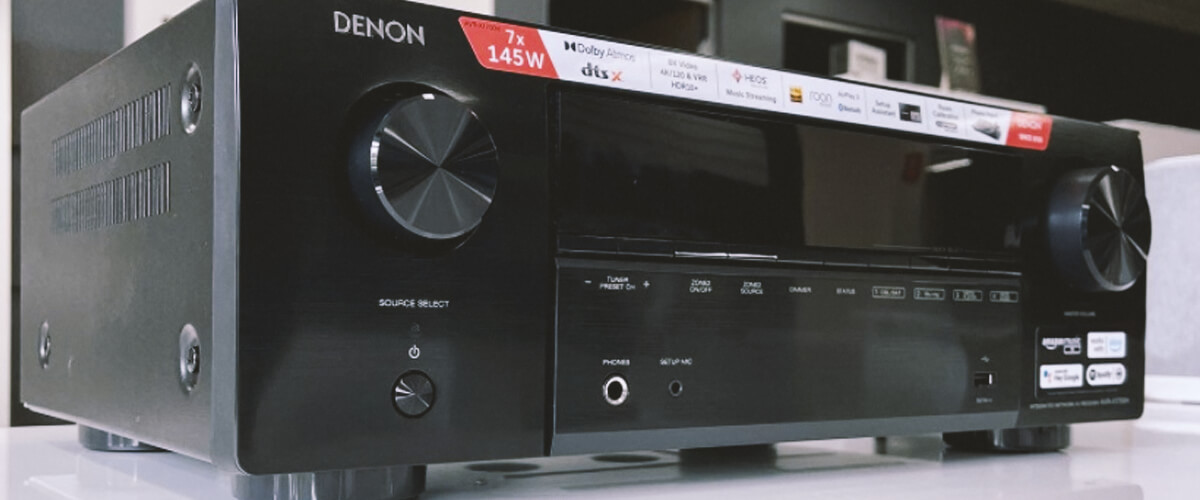 I decided to start testing this unit with music. True, it is not why one buys an AV receiver, but we all love listening to quality music. Regardless of the genre, it showed itself very well. It was stable during high peaks, juicy with lows, and offered a detailed sound, giving the ability to pick single instruments from the symphony. Well done, Denon. I barely heard the difference from the AVR-X2700H. Maybe these have more in common than just the chassis.
Switching to the movies, I used it in a medium room and tested the Audyssey MultEQ XT. It measured my room and automatically tuned the receiver. With the automatic setup, it performs just as you would expect – hitting with its theatrical sound. A single subwoofer offered clear bass sections. Then I tried to tune it myself to match my taste, but even without this adjustment, the sound was pure and energetic. No complaints and only positive impressions!
Key specs
Channels: 7.2.
Power output: 80W/8 Ohm, 120W/6 Ohm.
HDMI inputs/outputs: 6/1.
Video functions: 8K/60Hz, 4K/120Hz, 4K/60Hz pass-through, upscaling to 8K.
Bluetooth/Wi-Fi: yes/yes.
Streaming services: AirPlay2, Deezer, Tidal, Pandora, SiriusXM, Napster, SoundCloud, Amazon Music, Amazon Music HD, Mood mix.
Supports: HDMI ARC, HDMI eARC, HDMI CEC, HDCP2.3, HDR10, HDR10+, Dolby Vision.
Surround sound: DTS HD Master, DTS:X, DTS Neural:X, DTS Virtual:X, Dolby TrueHD, Dolby Surround, Dolby Atmos Height Virtualization, Dolby Atmos, Multichannel stereo.