There are many reasons to love Marantz products, and their NR series receivers are definitely among them. In this little Marantz NR1510 review, I will share my own experience with their lowest-level 5-channel receiver model. It is not expensive and therefore is affordable for most people. But will it work for you? That's a question you'll be able to answer in just a few minutes.
The NR receiver line is limited to only 50 watts per channel 20Hz – 20kHz, 0.08% THD. Indeed, the power is pretty low. For example, Denon AVR-X550BT (also a budget option) offers 70 watts per channel with the same 8-ohm speakers. So, it is clear that the NR1510 can only perform in small rooms due to the lack of power. So if you plan to use the receiver in a spacious room, look at other models.
Build and design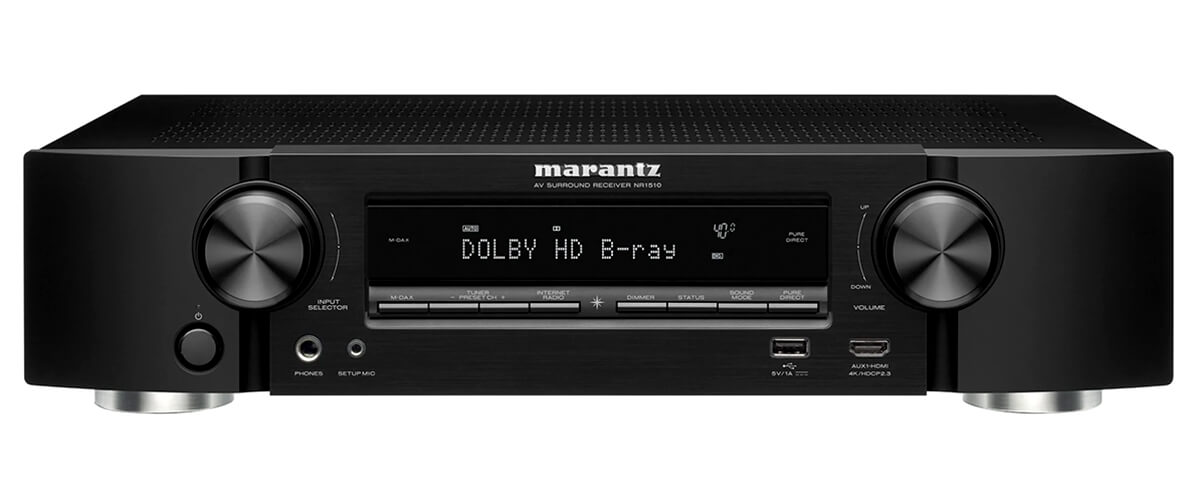 Marantz may not be as brave as Yamaha when experimenting with their receivers' looks. So instead, they tried new sizes. As a result, the NR1510 is considerably smaller than its counterparts from the same price range offered by other manufacturers. Talking about sizes, according to the NR1510 specifications, it comes in the following dimensions 17.3″ x 14.9″ x 4.1″ and weighs about 18.1 lbs which makes it a little black box in the world of huge ones. And this is a definite plus of this model!
As expected from a company with such a long history as Marantz, the NR1510 has a quality body made from quality metal and plastic. The chassis felt rigid without making those crackling noises when you try to squeeze and bend it, as often happens to cheaper receivers.
Ports and connectivity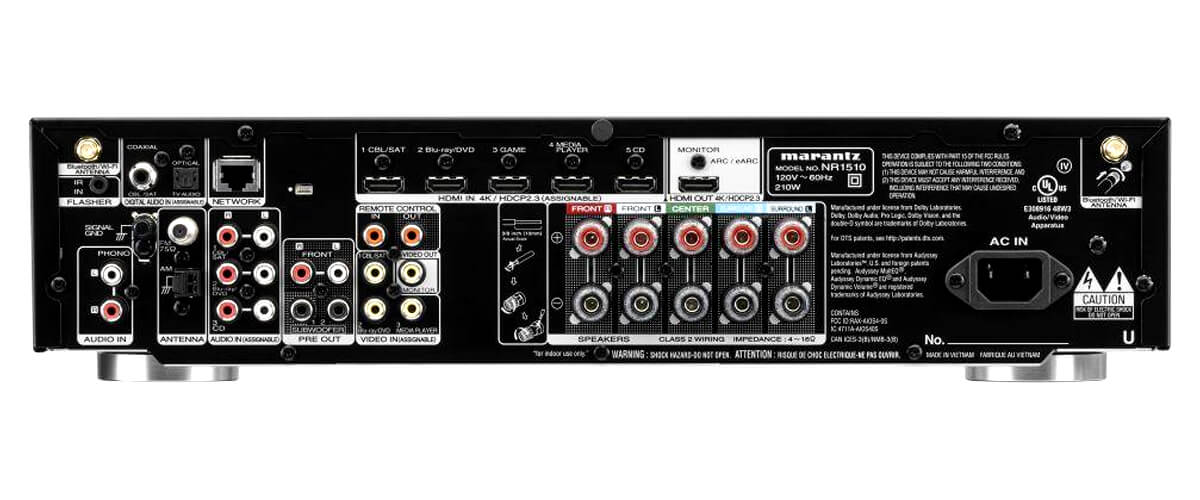 The NR1510 is smaller than other units but features almost the same ports as the older NR1710. Considering it is a 5-channel unit, we are offered 5 speaker terminals and 6 HDMI inputs which is unusual in its class, including a single front one. All HDMI inputs and a single output support HDCP 2.3 protocol and eARC.
Other connectors include 3 composite video inputs with a single output, 3 analog stereo and a single phono, digital coaxial and optical inputs, 2 ports for subwoofers, 2.2 pre-out channels, remote control IR receiver, flasher, Ethernet, Wi-Fi, Bluetooth, and FM/AM antenna connectors and support for modern streaming services.
Features
Regarding multiroom support, the NR1510, traditionally for Marantz, offers the HEOS technology. Of course, it is not a full-fledged multi-room, but in general, HEOS and Airplay 2 do a good job.
Marantz NR1510 features 4k video at 60Hz and comes with starting Dolby Vision, 3D Pass-Through, and HLG. In addition, Dolby TrueHD and DTS HD Master Audio allow for quality movie pictures. The lack of Dolby Atmos and DTS:X could have been an unpleasant problem if the receiver belonged to an advanced line and offered more power. And for budget models, it is absolutely normal. In turn, the ALLM technology enhances the gaming experience when using comparable devices.
While watching movies, the receiver utilizes the full power of DTS HD. It is a bit outdated but still offers astonishing picture quality. You have to understand that with only 50 watts per channel, DTS:X or Atmos technologies are useless because of insufficient power and space. I was also a little saddened that the unit lacks the up-mixing and virtual technologies. That is pretty strange, as those can be found in much cheaper units.
Listening impression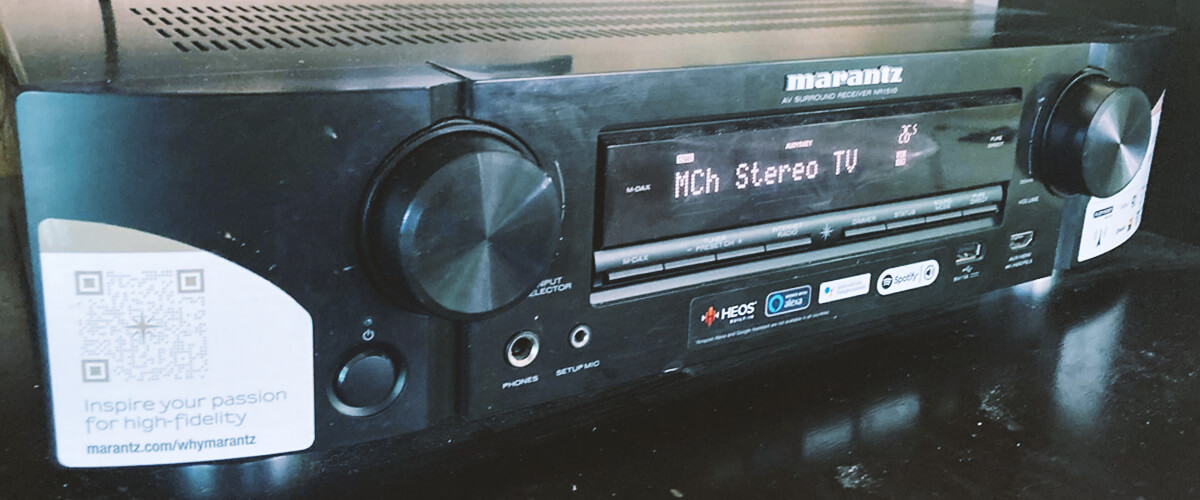 Firstly I tested the unit in movies, and despite the lack of certain technologies, the sound quality was still good. I tried it in a bigger room, but it showed an obvious lack of power. So, to get the clear bass and juice sound in movies, you definitely need to pick the proper sized room considering the small power of the unit.
In music, using only two channels and a subwoofer, the model shows decent results with a pleasant sound quality without drops and instabilities of any kind. So while music is not its element, the NR 1510 still shows itself rather capable.
Considering that the unit would be most attractive for those new to AV receivers, the Audyssey MultEQ automatic sound calibration technology would be very helpful. However, while manual adjustments are precise and exact, it requires certain knowledge and skills.
Key specs
Channels: 5.2.
Power output: 50W/8 Ohm, 60W/6 Ohm.
HDMI inputs/outputs: 6/1.
Video functions: 4K/60Hz pass-through.
Bluetooth/Wi-Fi: yes/yes.
Streaming services: AirPlay2, Deezer, Tidal, Pandora, SiriusXM, Napster, SoundCloud, Amazon Music, Amazon Music HD, Mood mix.
Supports: HDMI ARC, HDMI eARC, HDCP2.3, HDR10, HLG, Dolby Vision.
Surround sound: DTS HD Master, Audyssey Dynamic EQ.