Sony is one of those companies that operate almost in every industry one can find on the market of various modern equipment. Today's Sony STR-DH790 review uncovers their aspiration in the receiver market in a lower price range. Compared to STR-DH590, the DH790 has two more channels and supports certain modern features. It is a 7.2 channel receiver with 145 watts per channel 8 ohm 0.9% THD. The unit is capable of delivering 60–70 watts per single channel, all channels driven, yet it's not all that clear-cut. We will return to this matter later. Note that 4-ohm speakers are a go for this unit.
Build and design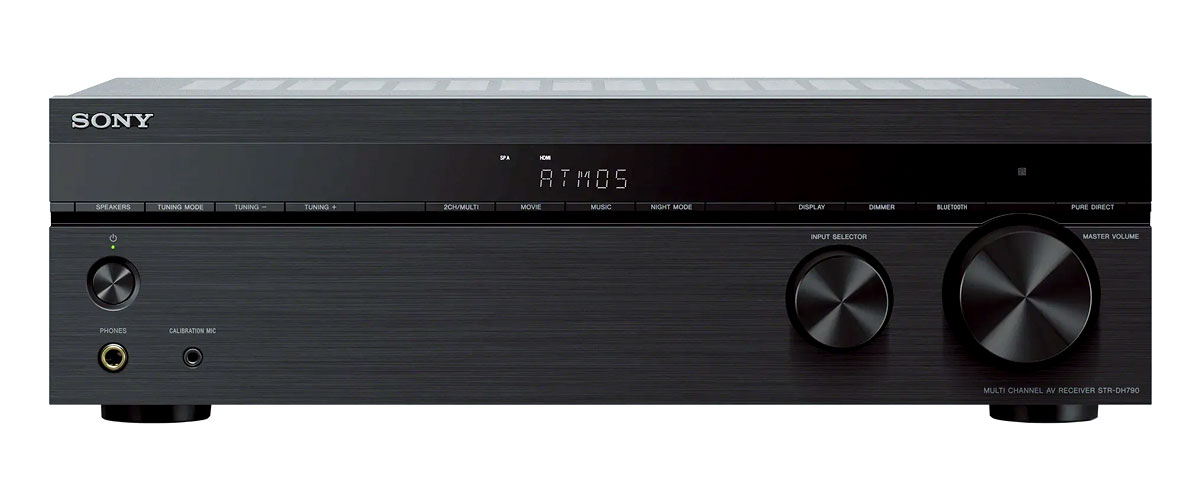 The STR-DH790 is one of the shortest units in its price range, meaning you won't have trouble finding a place for it. The receiver weighs about 17 lb. In terms of size, it is similar to the STR-DH590 – 17″ x 5.2″ x 11.8″. Consequently, both units share the same chassis. Even though it was initially developed for the lower-end model, it is reliable and rigid with additional anti-vibration built.
With this unit, Sony sticks to their approach to receiver looks. Typically, it has volume control surfaces shifted to a side that looks refreshing and stylish. However, they could have installed a bigger screen and buttons.
Ports and connectivity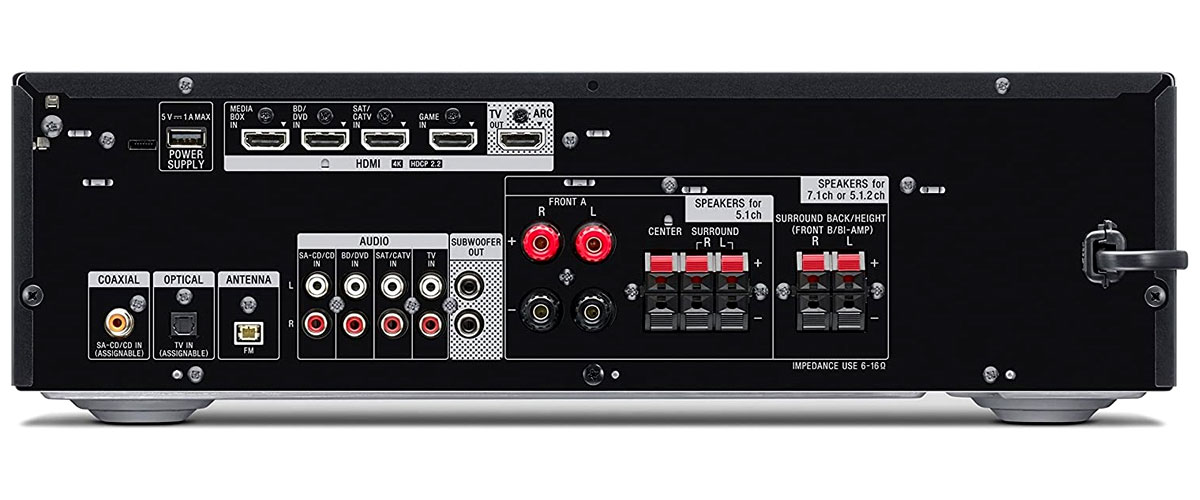 Following the STR-DH790 specifications, the unit has 4 HDMI inputs and a single output, 2 subwoofer outs, 2 binding posts for left and right channels, and 5 spring clip connectors for speaker terminals that support up to 1.5 mm thick cables. A rather disputable decision. Single digital audio, coaxial, and four analog audio inputs. The receiver has no analog video connectors but has a 6.35 mm headphone and USB socket.
The STR-DH790 doesn't support networking features at all. It lacks both Wi-Fi and Ethernet. At the same time, the unit has Bluetooth with AAC codec. So you can expect a quality sound with Apple devices. The device hasn't the aptX and Sony's proprietary LDAC as well. Altogether it has a decent number of ports to drive a low-end system but no more than that.
Features
As the manufacturer claims, Sony STR-DH790 features Dolby Atmos and DTS:X formats. All HDMI supports up to 4K at 60Hz with HDR10 and modern HDCP 2.2 protection technology. Sadly, no HDR10+ support. Apart from Atmos, the receiver supports Dolby Vision, Deep Color, 3D technology, and BT.2020.
Despite the lack of some popular technologies and functions, the receiver offers an amazing, concerning price range and 4K HDR pass-through capability – it can still be a reliable and modern heart for a home entertainment system at a mild price. The receiver can also be used for gaming, but I would not recommend buying one with this purpose in mind. For example, while coming in approximately the same price range, Denon AVR-X1700H has more to offer from this perspective.
The receiver has no support for the Zone 2 feature, even though it is a 7.2-channel unit. However, one can still use Bluetooth speakers, as the receiver supports a high-quality Bluetooth sound. This is not going to be a fully functional Zone 2, but it is still a valid option to bring quality sound to other rooms.
Listening impression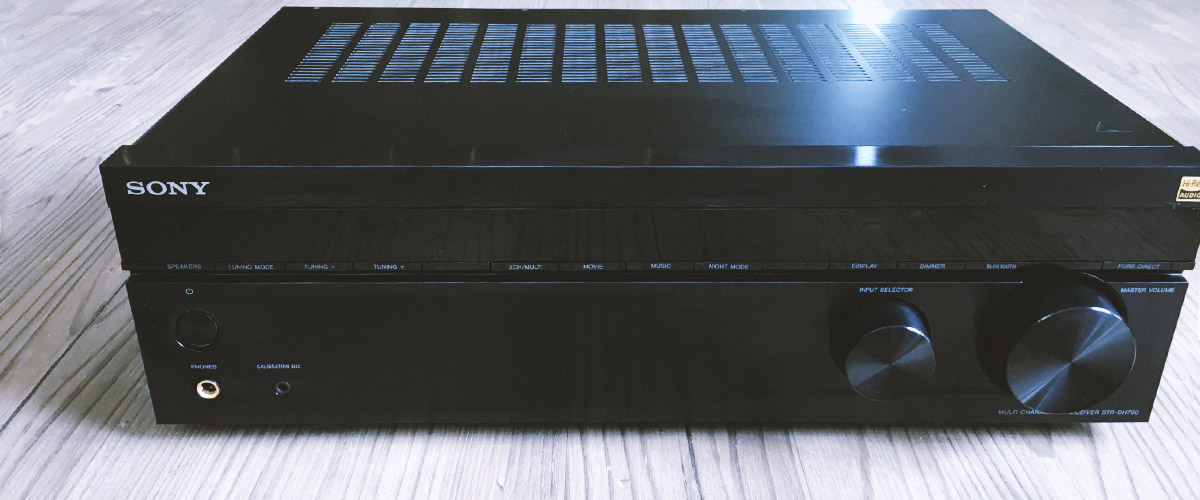 The sound quality is something that cannot be taken away from the STR-DH790. I was pleasantly surprised at how well the unit handles Atmos effects. I could easily notice them in movies. The receiver handled quiet moments very well. It also transitioned to loud ones keeping dialogues nice and readable. Yet, going too loud shows a power shortage, as it loses detail and focuses while adding noises.
The receiver handles music relatively well. However, commonly for the price range, it is better to buy a dedicated stereo receiver or even an external amplifier. The DH790 offers pleasant sound regardless of what genre you prefer. But in the case of movies cranking the volume too high showed problems with music, as it shows a clear lack of power.
Key specs
Channels: 7.2.
Power output: 145W/6 Ohm.
HDMI inputs/outputs: 6/2.
Video functions: 4K/60Hz pass-through.
Bluetooth/Wi-Fi: yes/no.
Streaming services: no.
Suppots HDMI ARC, HDMI eARC, HDCP2.2, HDR10, Dolby Vision.
Surround sound: DSD, DTS-HD Master, DTS:X, Dolby Digital, Dolby Dual Mono, Dolby Atmos.