In 2021 Yamaha made a bold attempt to take a part of the market from Denon with their AVR-X2800H. To achieve this goal, they released a new receiver – RX-A2A, which was supposed to compete in this niche. And now I'll tell you what came out of it.
Let's start the Yamaha RX-A2A review with a comparison to the main competitor. It has 7 channels, with 100 watts per channel if using 8-ohm speakers with 20Hz-20Khz at 0.06% THD. The AVR-X2800H offers the same 7 channels but with lower power. Not much of a difference. At first glance, these two units are very close, but Yamaha has an ace up their sleeve — Intelligent Power Amp Assign. It allows using two speakers in another room even while using the 7.1 system in the main one. And now, let's look at this model's other features and specifications.
Build and design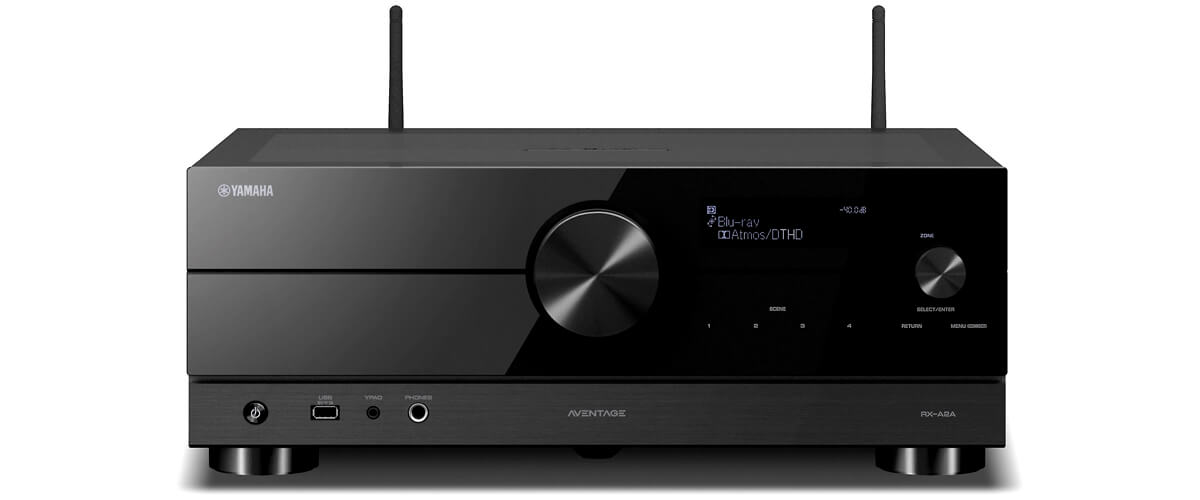 Yamaha also tried to rework the design. They moved the control surfaces to the side of the receiver and paired it with an LCD screen. Although the positioning of the control surfaces is up to the user's taste, and it matched mine, I was disappointed with the size of the LCD screen. It is too small to be readable from any feasible distance.
The unit measures 17.1 × 9.6 × 14.6/22.49 kg, and the build quality and components used are of a fairly high standard. Therefore, Denon and Yamaha retain parity in this aspect.
Ports and connectivity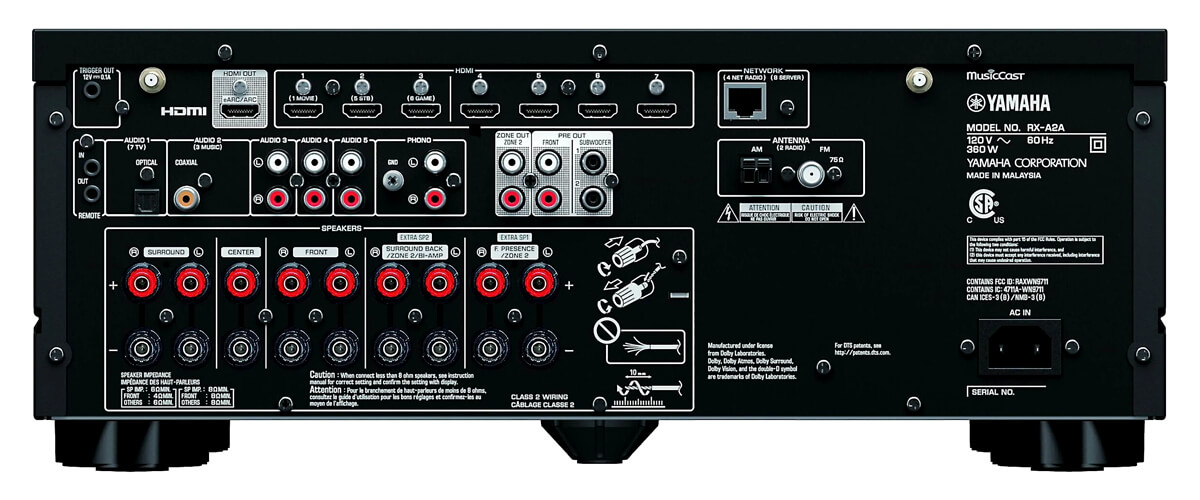 The Yamaha RX-A2A features multiple inputs—7 HDMI 2.1 with the latest HDCP version. Analog inputs include 3 stereo, single optical, and coaxial outputs. The unit supports Ethernet, Wi-Fi, Bluetooth, FM, and DAB+ radio and online streaming services. By the way, the receiver has a front USB connector, making it much easier to use the USB drivers.
When it comes to outputs, the model offers a standard for its price range 2 HDMI, single 2.1 analogs, 9 lines for speakers, and a 6.5 mm headphone jack.
Features
According to the RX-A2A specifications, the unit can play 4K 120Hz video and supports HDR10+. The receiver also works great with 8K content, but only at 60 Hz. Talking about watching movies on this receiver, it doesn't cause the wow effect. Despite this, the RX-A2A offers a fairly good picture quality and can even enhance it if the source material allows it.
And now for the nice part. Yamaha developed a proprietary technology—Cinema DSP HD3 processing. It pretty often has several precepts for a different genre, and this truly makes a tremendous positive difference, but sometimes I prefer the original picture. Anyway, it is always good to have more options. What truly always brings improvement is the support of various sound enhancement technologies, such as Dialogue lift, Virtual and Silent Cinema DSP, and Atmos Height Virtualiser from Dolby.
Some receivers in this price range lack a Zone 2 feature. The RX-A2A comes with a fully functional multiroom feature. It surpasses its counterparts with Bluetooth by allowing users to deliver sound into two separate rooms from independent sources.
Listening impression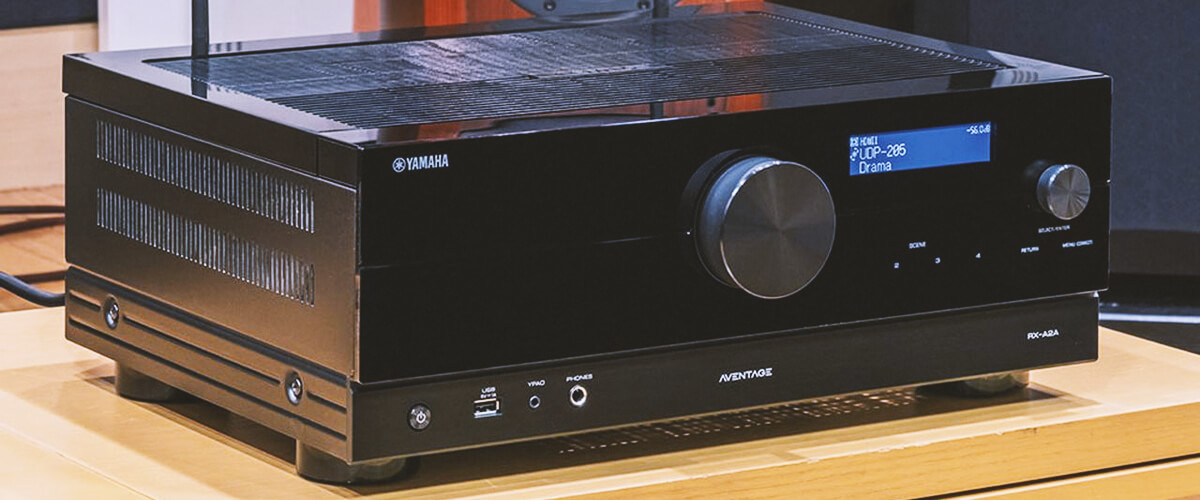 Firstly, I tested the self-configuration option to let the receiver set itself on auto, but I didn't like the result. So, I had to manually set it up and adjust it to my room. Not the easiest thing to do, especially if it's your first receiver.
In movies, Dolby Atmos technology offers highly immersive sound. The bass line was rigid, and the unit didn't max out on heights. The power and quality of the sound are beyond any concern. The model worked as I expected.
The RX-A2A also performed very well with the music of different genres—a pleasant and smooth experience regardless of the track complexity. Plus, various sound processing features may also be helpful to adjust the stereo sound to their needs.
Key specs
Channels: 7.2.
Power output: 100W/8 Ohm.
HDMI inputs/outputs: 7/1.
Video functions: 8K/60Hz, 4K/60Hz, 4K/120Hz, HDMI Upscaling up to 4K.
Bluetooth/Wi-Fi: yes/yes.
Streaming services: AirPlay2, Deezer, Tidal, Pandora, SiriusXM, Napster, SoundCloud, Amazon Music, Amazon Music HD, Mood mix.
Supports: HDMI ARC, HDMI eARC, HDMI CEC, HDCP2.3, HDR10, HDR10+, Dolby Vision.
Surround sound: DTS HD Master, DTS:X, DTS Virtual:X, DTS Neural:X, Dolby TrueHD, Dolby Surround, Dolby Digital Plus, Dolby Atmos Height Virtualization, Dolby Atmos, Virtual Cinema DSP.